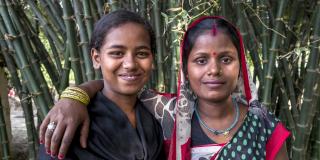 We are united by our shared values and commitment to making sustainable change for the most vulnerable, and have capabilities that complement one another.
Working together
At VSO, we believe progress is only possible when we work together.
We work with governments at all levels and with over 500 local organisations in 23 developing countries.
We also collaborate with a range of international NGOs, organisations and corporate partners to deliver impactful programmes around the world.
To us, VSO is not just a partner but rather an enabler that places its partners first. The VSO team offered the needed technical and professional assistance in making sure we collectively succeed to not only end Ebola, but most importantly, changing attitudes, culture and practices for improved health outcomes. What could we have done without partners like VSO in desperate health emergencies like what we experienced in Sierra Leone?

Musa Ansumana Soko,

CEO of Water, Sanitation and Hygiene Network (WASH-Net), Sierra Leone
Our partners
We would like to thank all of our partners for their support and dedication towards the eradication of poverty.
Below are some recent examples of programme delivery partnerships.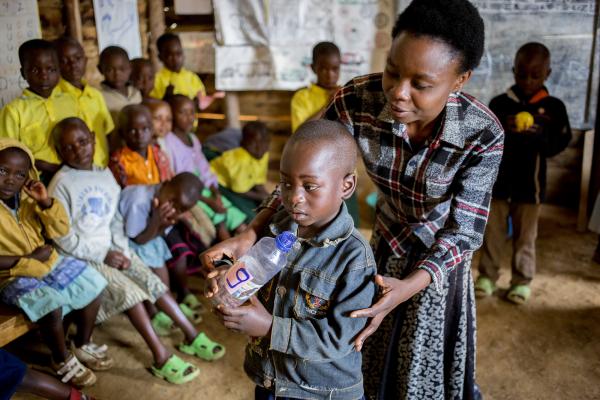 British Council and Education Development Trust
VSO, British Council and the Education Development Trust are working in partnership to deliver the FCDO-funded programme Building Learning Foundations in Rwanda.
Building Learning Foundations will be implemented in all 30 districts and will benefit 2,494 schools and 25,000 English and Mathematics teachers - ultimately reaching 1.6 million children.
All three partners are committed to improving education outcomes, sharing the same values and bringing complementary skills. The programme was co-created through a collaborative solution design process involving design workshops, field visits and joint bid development.
Building Learning Foundations in Rwanda
Working in partnership to VSO and its volunteers, we are able to extend our joint programming much farther into local communities.

Jovan Ilic

Country Director, British Council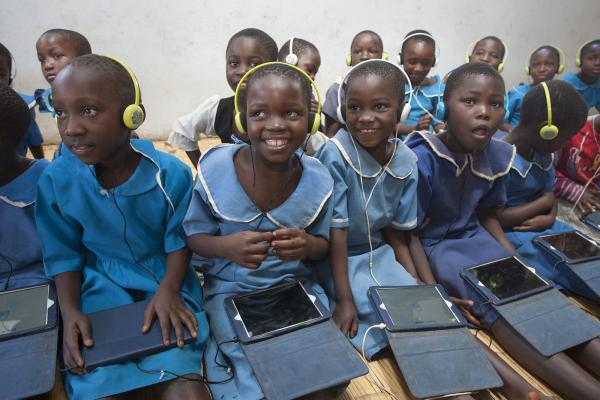 onebillion
VSO brokered a cross-sector partnership of non-profit, public and private sector organisations to deliver the innovative 'Unlocking Talent' programme to improve numeracy, literacy and English learning in Malawi and measure this new intervention.
At its core, the project uses innovative education technology, created by onebillion, to help overcome the education challenges that hold learners back.
onebillion is VSO's primary co-creational partner, not only creating world-class software but also working with VSO to design, deliver and scale up the programme.
Results have been impressive. Tests measure a 47% increase in learning gains and a 100% increase in reading scores. The project also won the Comic Relief Tech4Good for Africa award in 2018, furthermore, onebillion were awarded the prestigious Global Learning XPRIZE in 2019 for its onecourse software.
The project aims to reach 241,200 learners in Malawi alone.
Unlocking Talent is implemented in partnership with the Malawian Ministry of Education, Science and Technology, Onebillion, Cisco Meraki, Airtel, University of Malawi, and University of Nottingham.
Unlocking Talent project
Randstad 
Randstad partners with us to create programmes in East Africa that reflect Randstad's own strategic focus, namely on employability. This supports our work to help marginalized people to access the labour market.  
International Association for Volunteer Effort (IAVE)
We work closely with IAVE to promote volunteering in general, especially our volunteering for development model. IAVE is one of our important allies for embedding the volunteering standards in IVO's practice and amplifying volunteering contribution to development 
 
UN Volunteers
UNV and VSO have recently signed a revised MOU. The partners will work together to promote and advocate for volunteerism as an important means to deliver the SDGs. We will strengthen national volunteering networks and create an enabling environment, build local partner organisations' capacity, and carry out joint research to continually improve. 
African Union 
The AU is the premier intergovernmental policy organization in Africa making policies and setting common norms in areas such as health, education, peace and security. As outlined in the MOU between VSO and AU, we collaborate in many of our practice areas and also allows us to place volunteers at the AU and also develop joint programs in areas of common interest. 
Lewisham and Greenwich NHS Trust 
VSO brokered a twinning partnership between Nyagatare District Hospital and Lewisham and Greenwich NHS trust in April 2019. The overarching aim of the project is to strengthen the reproductive and sexual health services of both centres by building the capacity of local service-providers and reciprocal learning.
Evaluation of twinning partnership: Nyagatare District Hospital (Rwanda) and Lewisham and Greenwich NHS Trust (UK)