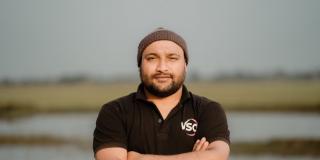 The global pandemic and climate change have both raised awareness of how fragile our global community is. We are all at risk but some face being made much more vulnerable than others. Creating a fair world for everyone means every person has an equal opportunity to realise their rights to a safe, healthy and purposeful life.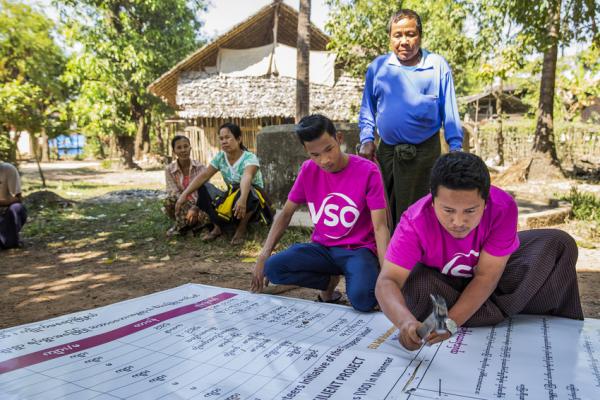 VSO's volunteering for development (VFD) method provides the opportunity for everybody to attain the capability to bring about lasting change. It does that by focusing first on those who are left out by society – those living in extreme poverty, or with disability and illness, those who face discrimination and violence for their gender, sexuality or social status. 
These are not passive "beneficiaries" of aid. They are the "primary actors" at the heart of our work. It is from their viewpoint and actions that we seek to define the issues, opportunities, and solutions that deliver sustainable and locally led change.  
Creating a fair world means re-imagining our social, economic and political systems to be more equal and more just. It means making sure everyone's voice is heard and that they have a choice. It means making sure that those living in fragile places can be supported to thrive. It means people can hold institutions, governments and organisations, including VSO, to account and can influence the decisions that affect their lives.   
Our VFD method recognises the importance of relationships in forging a shared understanding and commitment and building collective action to lasting change.
Through community, national and international volunteers, it brings together a diversity of perspectives and experience to generate insights, innovate ideas and undertake actions that can address the underlying causes to complex problems facing our communities. It inspires and ignites the potential for active citizenship everywhere across the globe to step forward and drive the change that will create a fair world for everyone.
Together We Are Changemakers.
The Context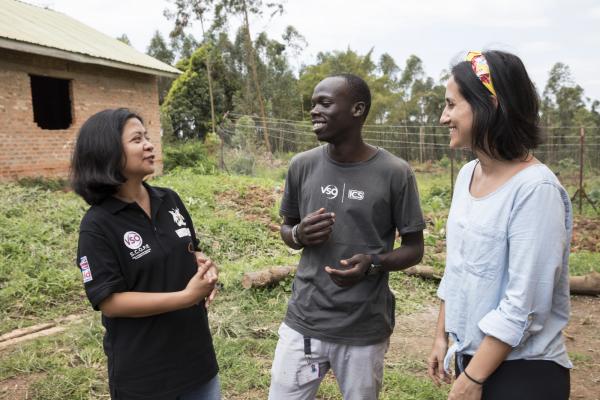 Over the last strategy period 2016-22, we have:
Developed a high quality, VFD method and theory of change focused on reaching those who have been made vulnerable or have been marginalised;
Used that method to extend the reach and impact of our global portfolio up from 2m to around 6m per annum between 2016-22;
Delivered an engagement plan that has established youth volunteer platforms in 17 countries and influenced national policy and practice around the world;
Consolidated our global leadership position through the development, launch and roll-out of the Global Standard for Volunteering for Development.
At the same time, we have overhauled our operating model:
Moved from a centralised, large headquarters structure to a distributed leadership model working to a clearly defined strategic framework largely led from Global south.
Applied our VFD method to scale up projects within our portfolio to build influence and impact.
Shifted our volunteering model to focus more explicitly on national and community volunteers in addition to international volunteers. Over the last six years, we have doubled the number of volunteers that we have worked with up from the 40,000 that we had worked with between 1958 and 2016 to 80,000 by 2021;  
Adopted a more flexible approach to delivery, building our ability to deliver into fragile contexts using the VFD approach, responding rapidly to new challenges such as Covid-19, and reducing our reliance on physical infrastructure to deliver our programmes.
Radically reduced our reliance on strategic funding from the UK government and diversified our funding base. UK government funding now represents around 30% rather than 60% of our funding.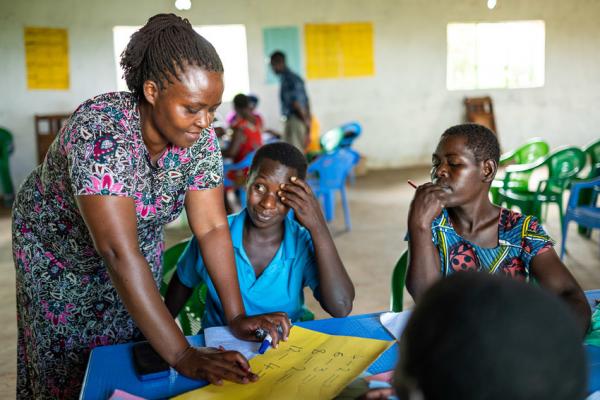 The success we have seen reassures us that we are on the right path. There is a strong incentive for the new strategy to be an "evolution" of the "revolution" that we initiated six years ago. Key choices have already been made although some of them are yet to be fully implemented or to fully realise their potential. These include:
Moving from a country to a project-led structure, enabling us to better quality assure implementation and to move in and out of territories as we secure resources to deliver our mission
Focusing on securing larger grants and contracts, usually in consortia rather than using up resource chasing smaller grants
Being willing and capable to operate in fragile spaces and contexts
Maintaining our range of programming in education, health and livelihoods based on our ability to respond through our volunteering for development method
Shifting VSO's organisational centre to the Global South
A focus on building national volunteer capacity
The Changing Context
There is of course, still much to do. Sadly, global inequality is rising as a result of the global pandemic, the impact of the climate emergency and shrinking civil society space globally. Together, these are also threatening the world's ability to deliver the SDGs.
There are ongoing debates around the future role of international non-governmental organisations and the move to decolonise development. At the same time, global development assistance is increasingly informed by narrow, national geopolitical objectives.
Finally, the resourcing environment for VSO is increasingly competitive with a saturated and mature public fundraising market and a shrinking institutional funding pool available to organisations like ourselves. This is the context into which our new strategy and operating plan must respond.
We know there is an opportunity to:
Use VFD to tackle the impact on inequality of the climate emergency, the global pandemic, and shrinking civil society space, particularly in fragile spaces 
Build and use our VFD evidence to be more influential in delivering the SDGs​
Push the boundaries of our business model to increase our resilience and sustainability
But we are challenged by:
A highly uncertain, volatile and competitive operating environment ​
The need to be clear on the role of VSO as a global organisation in the context of our ongoing commitment to challenging systems and structures that perpetuate inequalities of power and privilege​
Our ability to meet our commitment to reducing our carbon footprint
And we face constraints because:
Our financial model still needs to adjust if it is to sustainably, support the long-term core VFD capability we require to deliver at scale​
Our systems can still be more efficient and more mission-focused​
Our external relationships can be more diverse and strategic

Our Response: VSO's Strategic Ambition
In 2015, governments around the world signed up to the Sustainable Development Goals (SDGs). In delivering our strategy, VSO will focus on three principles underpinning the Goals:
Leaving no-one behind, which means the Goals include everyone;
Universality, which means the Goals apply everywhere, in all contexts and without exception, and;
Integration, that the Goals are interlinked and need to be people-centred if they are to be met.
We have framed our work to align with the SDGs. Within this, our focus has increasingly been on those who have been marginalised or made vulnerable to ensuring that primary actors1' voice is heard, and their choices are supported to drive an inclusive development process. The long-term impact of Covid 19 and the growing urgency for climate action only deepen our commitment to delivering on the Goals.
Our ambition remains to bring lasting and positive change in the lives of primary actors and make a significant contribution towards achieving the SDGs. We will work towards this ambition by using the transformational power of volunteering, focusing particularly on those who have been marginalised or made vulnerable.
We have identified four strategic priorities to deliver on this ambition:
Extend and deepen our impact on issues of inequality and marginalization by taking a rights-based approach and focusing on social inclusion, social accountability, and resilience across our Global Programmes.
Build Global Engagement to realise achievement of the SDGs by supporting the mobilization of active global citizens across the world.
Use our Global Leadership to position volunteering as a transformational contribution to delivery of the SDGs.
Ensure our Operating Model is sustainable and delivers on our commitment to challenging systems and structures that perpetuate inequalities of power and privilege
Our programmes, engagement, leadership and operating model are mutually supportive in delivering our ambition.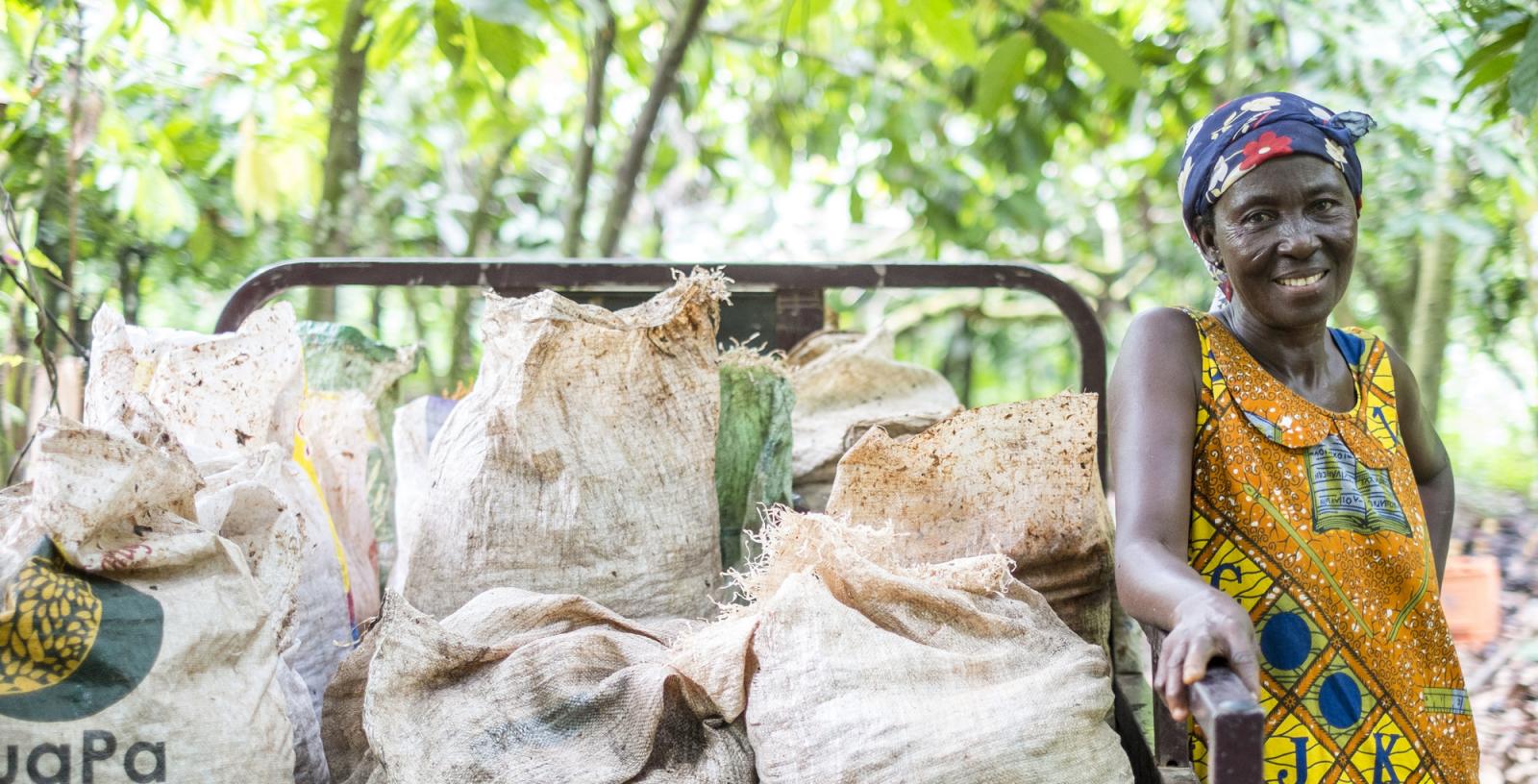 Support us with a donation
Related links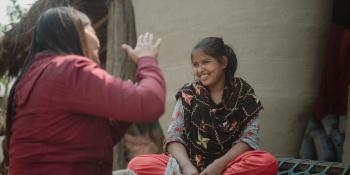 The ACTIVE programme is a multi-year grant from the UK government, running from April 2022, which will support the development of active citizenship across the Global South.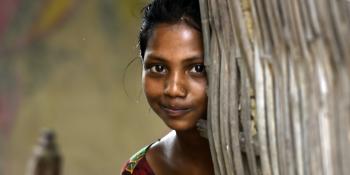 Read our full annual review for 2020-21, and download reports from previous years.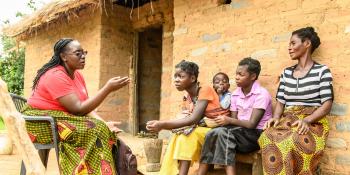 Our unique volunteering for development approach puts the most marginalised people first.