March 2021 to February 2025
Play is for every child everywhere. Play is at the heart of how children develop and learn. Children understand the world, build relationships and learn valuable skills through play. It fuels curiosity, sparks creativity, and can inspire a lifelong love of learning.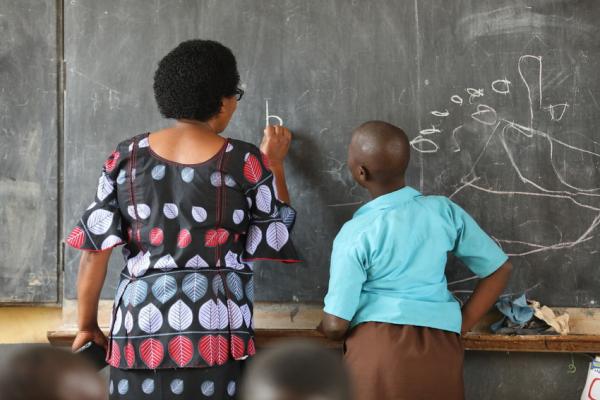 The project applies play-based learning in early childhood care and education as the basis for lifelong learning in all 30 districts of Rwanda, positively impacting over 250,000 children, 3,500 teachers, 2,400 school leaders and 145,000 parents as well as local leaders and community members in the school community.
It also supports the greater integration of play-based learning in education policy at a national level. Our goal is to see that children in Rwanda aged 3-6 years, experience quality and sustained play-based education in schools and education centers, which support their development as engaged lifelong learners.
We hope to change the way education stakeholders at all levels of the system understand the value of play and their role in promoting play-based learning, whether they are parents, teachers, head teachers or government officials and staff. Rwanda already has a focus on play in the national curriculum and has great ambitions for play-based education. The programme seeks to help make this ambition a reality.
We hope to:
Support the integration of play-based learning within the Rwandan early childhood education systems at all levels.
Improve the ability of teachers to facilitate play-based learning with children aged three to six years-old.
Increase support for play-based learning with key stakeholders.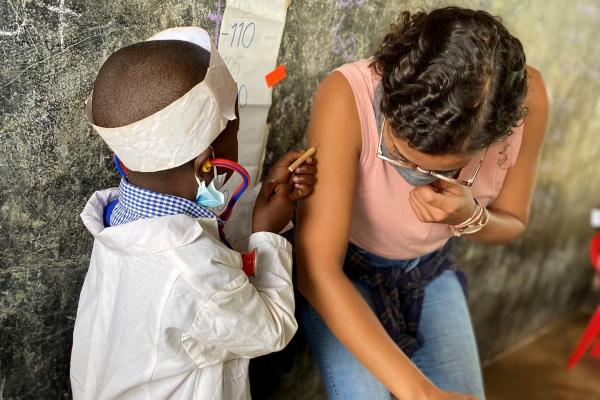 Play is the most important way for children to gain essential knowledge and skills. Homes, schools and communities that promote play encourage exploration and hands-on learning and are at the core of effective pre-primary education.
Twigire Mumikino Rwanda (TMR), or 'Let's Learn Through Play', is a four-year project funded by the Lego Foundation running from 2021 to 2025. By working with schools, parents, communities and decision makers, the project supports and promotes play-based learning as the foundation of early childhood education for three to six year-olds in Rwanda.
The importance of early learning is recognised globally in goal four of the Sustainable Development Goals (SDG), which seeks to ensure that, by 2030, "all girls and boys have access to quality early childhood development, care and pre-primary education so that they are ready for primary education." Pre-primary education is now considered an essential tool for achieving universal primary education and the SDGs.
However, play-based education is not always prioritised by governments, schools, communities and families in the face of competing demands for attention and limited resources. Often the value of play is misunderstood and underfunded. VSO's experience in early childhood care and education (ECCE) over the last ten years shows that when decision makers, school leaders, teachers, parents and communities can see for themselves the results of play-based learning, support for quality education increases and actors are motivated to invest more time, energy and resources in early education and learning through play.
Watch how we're creating change through play
How we're championing play
Tapping into our volunteering model
VSO's volunteering for development model provides opportunity for everybody to bring about lasting change. Through volunteers, VSO works with those in most need of support, building relationships and bonds to enable people-centered development. We seek to ensure those in greatest need, are able to access services and opportunities to create real change in their lives.
Volunteerism is at the heart of the project. International volunteers and experts in play-based learning will work alongside national volunteers, who focus on local engagement with the project and building relationships with community volunteers.
30 national volunteers act as mentors at the district level, ensuring the project is well implemented at school and community level for scale-up and sustainability. The national volunteers are trained and mentored by 10 full-time expert field-based international volunteers (early childhood care education advisors). Our national volunteers mentor the teachers through frequent school and community visits to initially establish the learning through play model, observe current teaching practices to guide how to implement the programme. The international volunteers will also support teacher training colleges to build tutors knowledge and skills in using play-based teaching methods and involve them in district level training.
Volunteerism has long been a cornerstone of Rwanda's development. The project seeks to harness this energy and work with community volunteers who are already actively supporting families across Rwanda especially in the most isolated areas. Together VSO international volunteers and community volunteers spread the message of the value of play amongst families and communities.
A blended approach to teacher development using digital technology and mentoring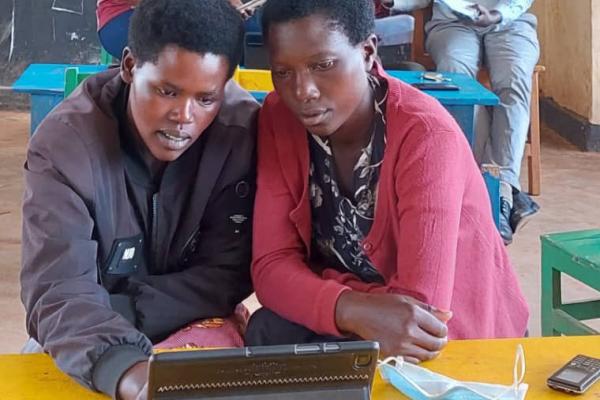 The project takes a 'blended' approach to strengthening the skills of pre-primary teachers. Teachers access tailor-made content through the VSO Schools App – which is already used successfully in a number of countries to reach isolated teachers. It works offline, does not need an internet connection and is available in local languages. This helps us to model the use of digital resources for remote teacher development.
The content has been developed taking into consideration both the government curriculum and the professional development needs of teachers. The pre-primary teachers can watch video models and improve their knowledge of play-based learning methods by completing interactive learning modules.
Combined with this, Let's Learn Through Play also promotes peer learning amongst pre-primary teachers through communities of practice - groups of people who share a common concern and who come together to fulfill both individual and group goals.
The project also mobilises school-level support by working with existing school-based mentors who currently support primary teachers.
Building on our experience and learning
The project approach to supporting teachers and creating change at all levels of the education system, draws on learning from our previous work in early childhood education over the last ten years. We also draw from our work in the Building Learning Foundations programme, where research showed improvements at a national level in learner-centered, inclusive teaching and pupil learning at lower-primary level. It also draws on VSO's knowledge of opportunities that can arise from recent key systemic developments, including school leadership.
You can follow the progress of the 'Let's Learn through Play' programme on Twitter at VSO Twigire Mumikino Rwanda (@VSO_TMR).
Find out more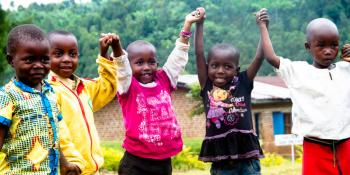 Here volunteer Anisa Hay from the USA talks about her role on our 'Let's Learn Through Play' programme in Rwanda. The programme is funded by the Lego Foundation and promotes play-based learning as the foundation of early childhood education.
Making sure everyone gets the skills they need to live a fulfilled, dignified life.
We helped over 3.2 million people to access the quality education they deserve in 2022-23.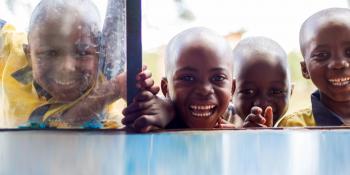 We've worked in Rwanda since 1998, building healthy communities and strengthening inclusive education systems.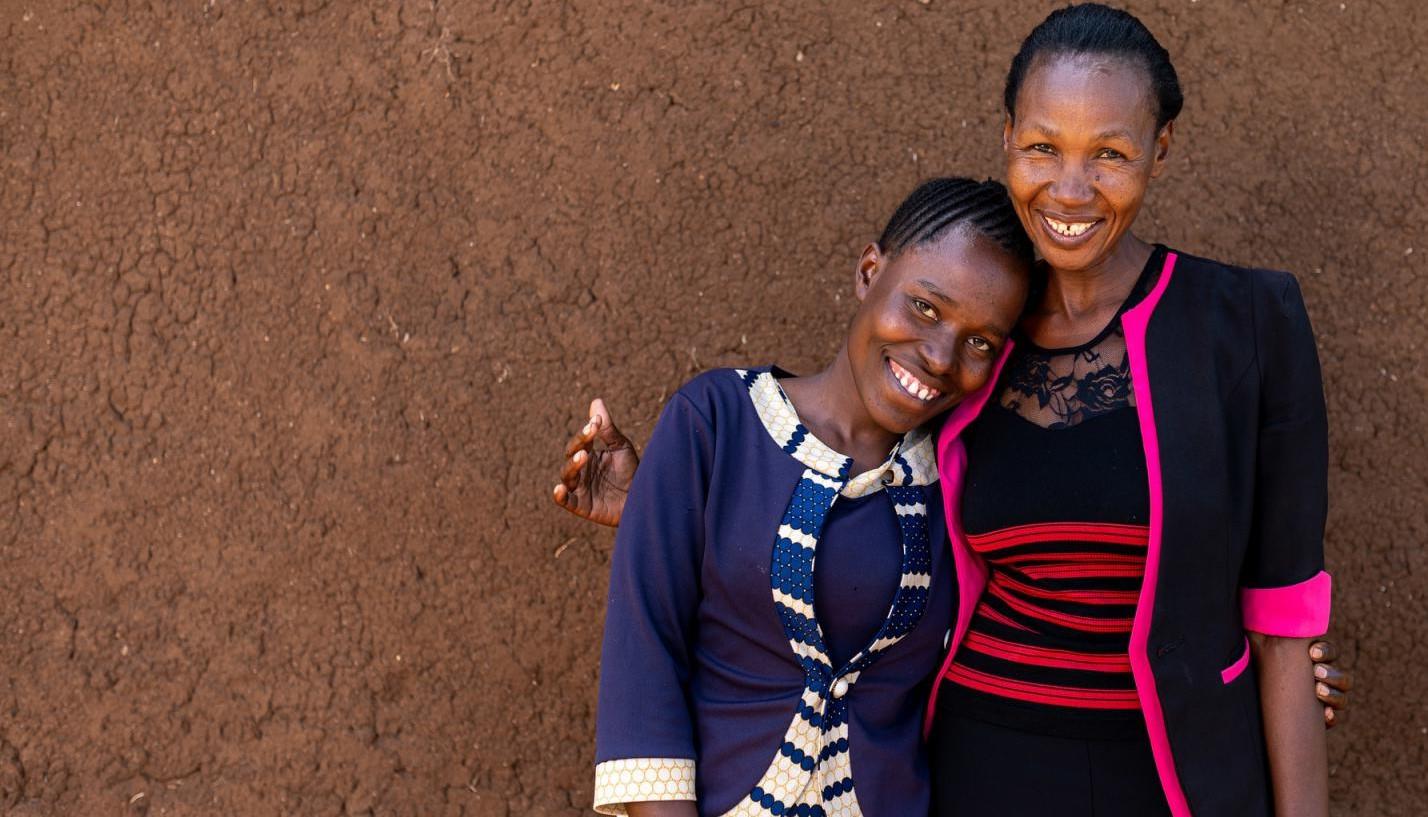 Support us with a donation