Coronavirus (COVID-19) statement
Statement about VSO programming and novel coronavirus (COVID-19)
At a time of global crisis, we here at VSO hope you and your loved ones are staying safe and well. The world-wide nature of the emergency underlines just how inter-connected we are and how much we all rely on the support of others to get through what is an unparalleled situation.
The novel coronavirus pandemic will have unimaginable consequences for the communities we work with. We are responding as quickly as we can to review every programme, talk to every volunteer, and follow the advice of national governments.
The wellbeing of the communities we work in, the volunteers, staff and our partners, are our highest priority.
As education, health and livelihood systems are disrupted, we will be urgently assessing how best our unique approach to development can best support the most marginalised. Our experience using local volunteers to strengthen communities and health systems in Sierra Leone during the Ebola pandemic, or in Mozambique following Cyclone Idai, will be invaluable.
Our dedicated international medical and security teams are closely monitoring the situation, including national government and international travel advice, and will act swiftly to ensure the wellbeing of all.
This is a uniquely challenging and uncertain time for individuals, organisations and communities, but we will not ignore our responsibility to the most marginalised.
I'd like to take this opportunity to thank you for any support you can offer VSO, especially during this worrying time. The current crisis is set to have a huge impact on communities that can least afford it. This means our work, and your support, is more important than ever.
I wish you, your family and friends, the very best of health.
Philip Goodwin,
Chief Executive Officer, VSO.
Frequent questions
How are we responding to the COVID-19 pandemic?
Last updated: 3 April 2020
VSO is pivoting to respond to the COVID-19 pandemic as quickly as possible. Our programme development team have identified five pillars which our programmes will be focussed around:
Pillar 1 – Health risk, protection and prevention, communication and community engagement
Pillar 2 - Supporting the health systems to respond to COVID-19
Pillar 3 - Strengthening existing market-based systems for livelihood options and continuity
Pillar 4 - Continued access to Education
Pillar 5 – Strengthening systems of emergency response
VSO staff are maintaining or shifting our programming. Whether its colleagues using youth platforms to raising awareness of coronavirus in the Philippines, or volunteers in Cambodia piloting online coaching and mentoring, we are finding ways to deliver our vision.
Please note this is a rapidly-changing situation and the following questions and answers are up to date as of 19 March 2020.
What is the risk of novel coronavirus (COVID-19) to VSO staff and volunteers?
The individual health risk of COVID-19 infection to most staff and volunteers in all VSO locations is low. Volunteers that are unwell or at high-risk of complications from infection are being advised to return home.
All staff and volunteers are following the relevant local precautions to protect themselves and the local community.
At the moment, staff in all VSO locations are reviewing the safety of our programmes and activities during the COVID-19 pandemic. All VSO volunteers living and working away from home have the option to return home at any time with VSO's support. Volunteers are being advised to follow the guidance from their governments. VSO volunteers on placement who are at increased risk of severe illness from the virus or who have other health risks are being advised to return home.
We are not currently making any changes to VSO volunteer placements which are due to start soon. However, the safety of each placement is under continuous review. Upcoming volunteers have the option of deferring their placement if they choose. We will not hesitate to defer the start of placements if our ongoing analysis suggests we need to.
If you are due to take up a volunteer placement with us, please do get in touch if we haven't contacted you already.
VSO manages the ICS programme, which provides volunteer placements for 18-25 year olds on behalf of the UK's Department for International Development (DFID).Having undertaken a thorough review, we have decided that all UK ICS volunteers currently on placement should return to the UK as soon as possible. Decisions about in-country ICS volunteers will vary from country to country, depending on the risk assessment for each location.
Our dedicated international medical and security teams are closely monitoring the situation, including national government and international travel advice, and their expertise is guiding our decisions.
What about the risks associated with air travel?
As a charity that works around the world, we are aware that many people are concerned about a perceived increased risk of infection associated with air travel. However, there is very little evidence that travellers are at higher risk than the general public. The World Health Organisation (WHO) is recommending people take normal precautions to reduce the likelihood of becoming unwell or spreading infection.
As per VSO's standard safety and medical procedures, we issue protective and preventative guidance relating to health risks, including coronavirus, to all staff and volunteers on our programmes which includes written information, access to a dedicated medical team by phone and email and a medical briefing with a health care professional during onboarding.
What would VSO do if COVID-19 enters a country where volunteers are?
It is likely that COVID-19 will reach all VSO locations before the pandemic is over. All VSO locations have contingency plans in place to protect all volunteers from threats, including the risk to volunteers' health. All locations have clear evacuation plans to trusted, risk-assessed facilities. VSO medical and security teams are continually monitoring the situation and are providing expert guidance on how to manage the impact of the pandemic in all locations where we work.
COVID-19 is spreading globally, could VSO volunteers spread it?
All volunteers and staff are being advised to follow national and WHO protective and preventative guidance. VSO will follow the advice of the relevant national governments and the WHO, alongside our medical and security teams.
Our message to all volunteers is not to travel to your overseas placement if you are unwell. This is the same for any illness or infection. If you have been in contact with someone who has been diagnosed with COVID-19 infection, please follow national government guidance where you are and self-isolate as instructed.
Where can I find reliable information about novel coronavirus (COVID-19)?
You can access reliable up to date information regarding the situation on the World Health Organisation's website, and the Johns Hopkins University dashboard. We recommend using these reputable scientific resources and not news media platforms.
Who can I contact for further information?
You can contact our international medical team at info@vsoint.org in the first instance.
---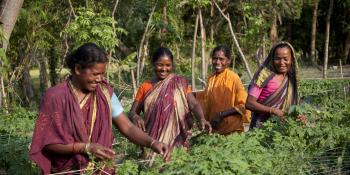 We fight poverty not by sending aid, but by working through volunteers and partners to create long-lasting change in some of the world's poorest regions.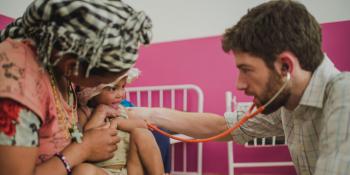 Find out more about volunteering with VSO