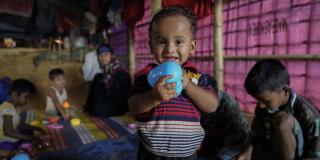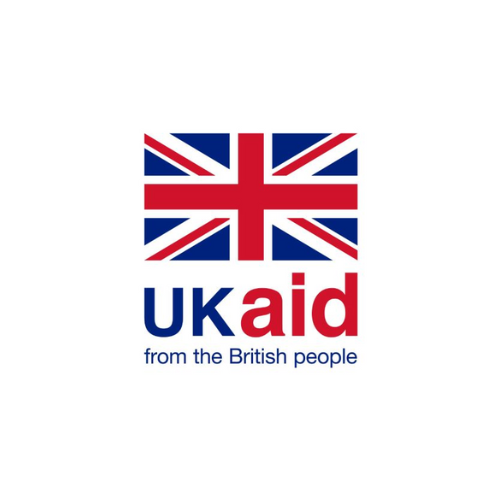 Providing Rohingya child refugees with vital care, home-based education, and safe places to learn and play.
There are hundreds of thousands of Rohingya refugee children living in camps in Cox's Bazar, Bangladesh. They have experienced violence and ongoing trauma in some of the most crucial years of their lives, yet most still lack the opportunity to learn and play. Being out of school – especially in such a fragile space with little to do – leaves children vulnerable to violence, trafficking and exploitation.
At this crucial time in their lives, it's essential that young children don't fall behind with their learning. We work with a network of community volunteers who open their homes to provide early childhood care and education (ECCE) for children aged 3-5, supporting their emotional development and introducing the basics of literacy and numeracy. 
For older children, we've built 12 learning centres, which provide a safe environment in which to learn, play and grow. Not only do these centres support children to continue their education, but they also help protect vulnerable young people from the dangers – and boredom – of day-to-day life in the camp.
We've reached over 6,600 children aged 3-14
We've developed 108 home-based ECCE centres
Between September 2018 and July 2019, the amount of children able to access education increased from 57% to 84%.
Almost all parents were satisfied with the cleanliness, location and safety of the home-based centres.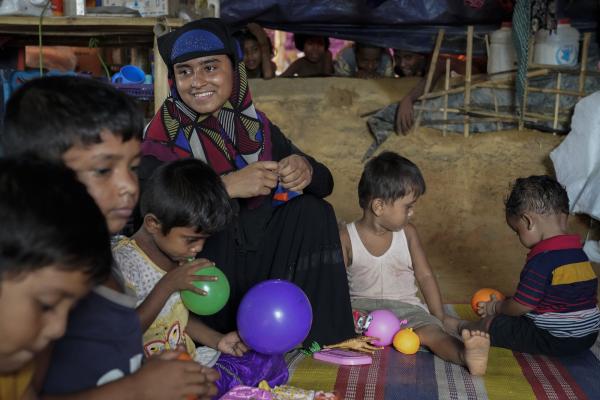 Home-based ECCE
We've worked with community volunteers in the camp to establish 108 home-based learning centres, which provide a safe and calm place for children aged 3-5 to learn through play – an essential activity at this crucial time in a child's development.
We support children's mothers and other female volunteers – known as 'Big Sisters' – to open up their homes to be used as temporary classrooms, equipping them with the skills they need to run basic lessons which introduce the foundations of literacy and numeracy through games and toys. Typically, volunteers run three two-hour sessions per day, with ten young learners in each – so enabling us to reach thousands of the camp's most vulnerable children.
Our home-based ECCE intervention offers an innovative solution to the lack of space in the camp, as well as providing a unique way of ensuring children's rights are met in such a fragile context. Alongside the home centres for the camp's youngest residents, we've built 12 learning centres for older children aged up to 14, stocking them with essential resources and ensuring a clean supply of water.
Harnessing the power of mobile technology
In partnership with Ustad Mobile, we've developed a mobile app to support learning, both in the classroom and in the home-based centres. The app provides a novel and portable way of accessing interactive content that supports children's social, emotional and linguistic development – including through videos, songs, stories and quizzes.
For mothers and other volunteers with no professional experience of teaching, this means that they have entire lessons at their fingertips, alongside plenty of games that help them to run enjoyable and engaging child-centred lessons and group activities.
"I am happy I can contribute"
Key to the project's success is the network of different volunteers driving it forwards – from local Bangladeshi youth and members of the Rohingya community, to national volunteers who contribute to sector-wide discussions, collaborating with other partners at a strategic level.
I am happy I can contribute something by supporting them.

Rima, local resident and community volunteer
Multiple stakeholders from inside the camp work together to continue developing education facilities: Big Sisters and mothers engage parents and community leaders, whilst working alongside volunteers from the local host community.
By bringing together volunteers at different levels and from different backgrounds, we're able to blend 'inside' and 'outside' knowledge, so contributing to the development of innovative solutions to the unique challenges faced by children in Cox's Bazar.
Developing community agency and ownership
Although the programme has children at its heart, it's also bringing about wider positive change for other residents of the camp too. Through their integral involvement in delivering the project, mothers and big sisters report feeling a sense of ownership and influence – crucially, going some way to restoring their agency and dignity after being displaced.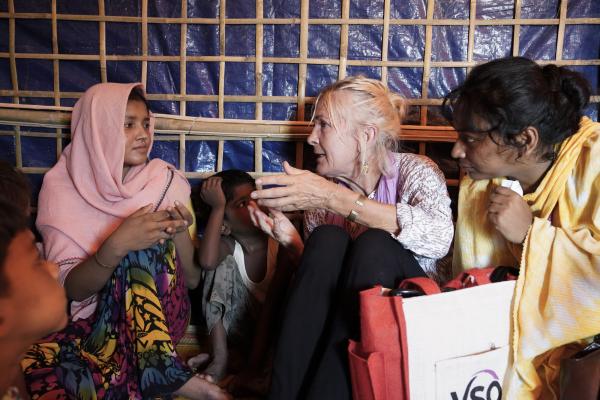 Challenging patriarchal norms
Through empowering women to act as agents of change in their community, the project is challenging patriarchal norms which limited the types of activity women were previously able to engage in. Thanks to the training and coaching they receive in order to become volunteer teachers, women involved in the project are also developing their own self-confidence and motivation.
Mothers and big sisters report being treated with more respect since volunteering – for example fifteen-year-old Humaira*, who has decided she wants to work as a teacher when she is older, is now addressed as 'madam' since volunteering.
I have more respect in the community now.

Humaira, 15, 'Big Sister' volunteer
---
Stories from our work supporting Rohingya children: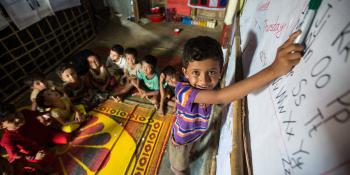 One year ago, VSO supporters donated £130,000 to help Rohingya children living in Cox's Bazar, Bangladesh. One year on, we look at the tremendous impact the project has made for thousands of people.
Thousands of Rohingya children are living in the refugee camps. They're out of school and risk being left behind for good, but VSO education volunteer Fiona Kirby is working to help them
About half a million children are living in refugee camps in Bangladesh. We're working together to help them.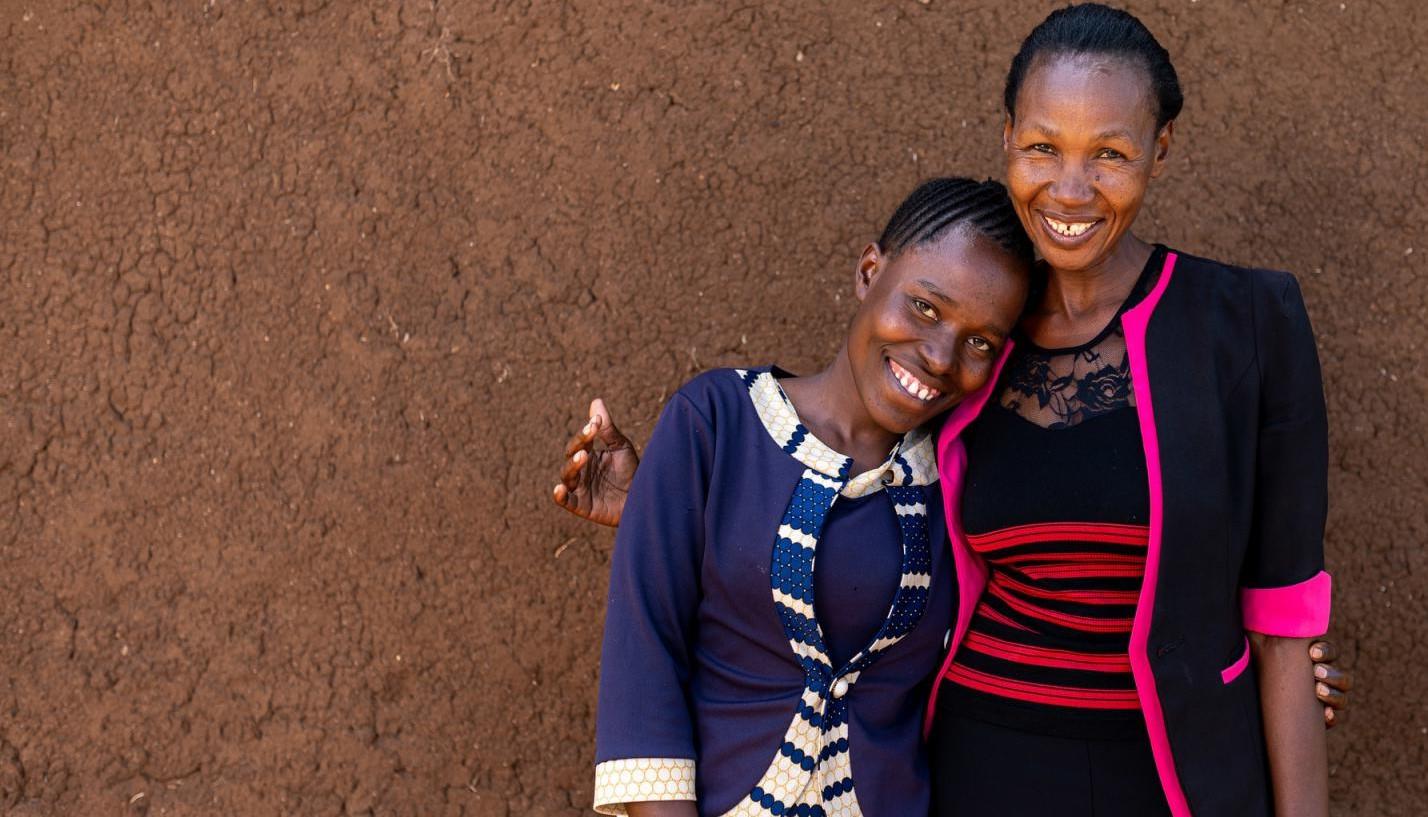 Support us with a donation