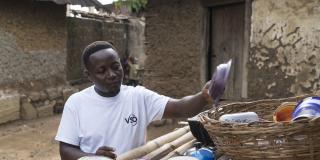 With most VSO volunteers staying in placement to help tackle COVID-19, three of them share first-hand perspectives on what they are seeing on the ground now.
COVID-19 has undoubtedly caused disruption around the world – but VSO is working harder than ever. While some aid agencies have been forced into retreating during the current pandemic, our volunteering model means we are able to continue working with some of the world's most vulnerable communities at a time in which support is more vital than ever.
At the time of writing, around 90% of VSO's community volunteers were still engaged in urgent projects, as were three quarters of professionals who volunteer in their home countries. Even among VSO international volunteers, almost half opted to carry on working amidst the pandemic.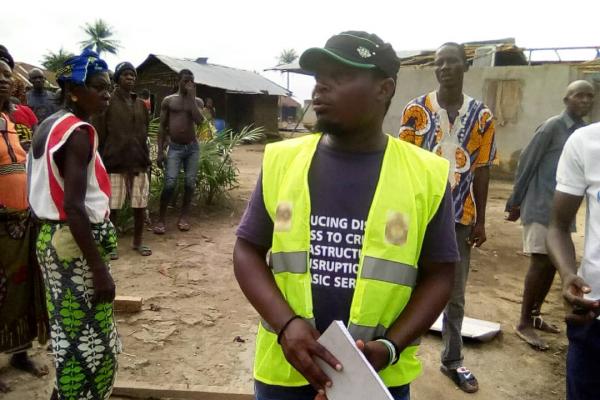 Reaching the most marginalised: James' story
James B Lansana, 30, is a volunteer from Bo district, in southern Sierra Leone. Working throughout the pandemic, James has single-handedly delivered life-saving information to more than 800 people in extremely remote communities.
James was trained by VSO in disaster risk and reduction theory and practice two years ago, and he's since been using his skills to help his local community, which is increasingly prone to flooding. When COVID-19 arrived in Sierra Leone in March, James did not doubt for a second that he would continue to volunteer.
"People in this community look to me, they trust me, because of the training I have had," says James. "Initially, I was just a community member like them, but now I am highly respected. As soon as I came with the information about COVID-19, people listened.
"People are mostly illiterate in my community, and lots of disasters used to happen. But since VSO trained us in 2018, we have been raising awareness. I'm seeing that people are now more aware, and they are following our education, so that makes me more motivated to keep going."
In March, James and other volunteers got additional training, including in COVID-19 preparedness and prevention. Armed with soap and buckets they've been travelling to the most marginalised communities, including slums and isolated rural villages.
"Most of the communities I'm travelling to are 10 to 15 miles from the nearest road. You can't even reach by car, so even the government will not go there. I have been travelling there, demonstrating hand washing, telling people to wear face masks, to use social distancing measures."
People in this community look to me, they trust me, because of the training I have had.

James B Lansana

VSO volunteer
James even used his own initiative to purchase locally-made face masks to distribute the poorest and most vulnerable members of his community.
"Life in Sierra Leone has changed dramatically - people are living in fear and anxiety, and the cost of living has drastically increased.
"Most people here earn their living on a day-by-day basis. So now, with the restrictions that come with social distancing, it's difficult for them to find food."
Just by himself, James has so far has shared vital information on staying safe from COVID-19 with over 800 people, many of whom would never have accessed this information without this support.
James says he knows that the people in his community are more likely to remember and follow his messages as he shares them through songs and 'skits', together with members of a club he has established that helps its community stay vigilant to threats.
"Being a volunteer is interesting, but also really challenging and taxing. Sometimes I feel depressed by the current situation. But I am proud of my work. I love serving humanity."
Helping small businesses thrive in a pandemic: Grace's story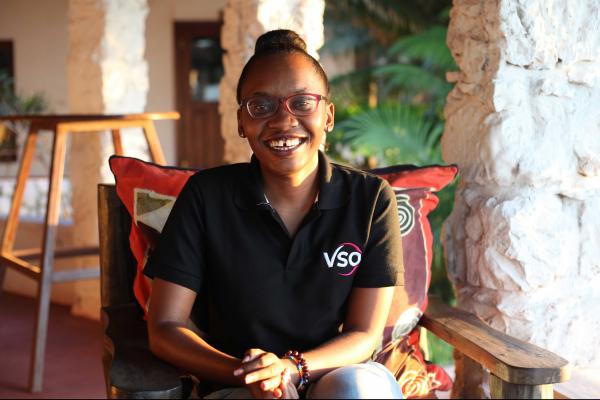 Grace Kajange, 29, is a volunteer business development service officer for gender equality from Mbeya region, Tanzania. She is especially concerned about the economic impact of the COVID-19 pandemic, especially for small business-owners and entrepreneurs, like those she has been supporting through a VSO project.
"Many business owners here in Tanzania don't have the skills and knowledge to develop their businesses and just do business to earn a living," says Grace.
Illiteracy (especially among women), lack of access to capital and credit as well as the paucity of business education, all make it very challenging to start a business in Tanzania. Now COVID-19 poses a huge new threat to the small businesses Grace has been supporting as a volunteer.
"We expect changes in sales for small business owners, as people now have changed their consumption behaviours. People are less able to move around and some people have lost their jobs, so many people are now focused on making savings rather than using their money to buy things they used to before COVID-19."
Many Tanzanians work in the 'informal sector' – meaning they have to go out most days to work for that day's living, such as selling items at a market or the roadside. For families struggling financially due to COVID-19 there is no furlough scheme or government grant available (Tanzania's economy is about 2% of the size of the UK's).
"The nature of life here means people need to leave their homes to go out to work and make a living," says Grace. "It is not that easy for people to reduce their movements and avoid gathering in some places, if they are to be able to feed their families and themselves. People are trying hard to take precautions but still the majority can't afford to buy things like face masks and sanitisers."
One of the reasons these items are so expensive for people in Mtwara, where Grace is a volunteer, is a lack of supply. But now, volunteers like Grace are helping address this challenge through the same small businesses she has helped to grow.
During the COVID-19 outbreak, VSO has provided training to well over a hundred small businesses, helping them adapt to selling products that are now in high demand but short supply – such as soap, hand sanitiser and face masks.
Since the training, these small businesses have won contracts worth thousands of pounds and even been able to hire on more staff. Through volunteers like Grace, business owners are surviving, and even thriving, amidst the most difficult circumstances.
Plugging gaps in health provision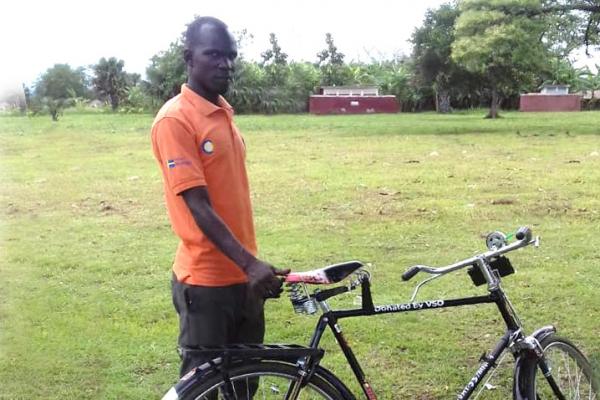 Wangdic Justine, 28, is a volunteer with his local village health team in the Gulu District of Northern Uganda. The area remains scarred by two decades of civil war. Many families who live here endure poverty and severely limited health services, especially in rural and remote villages. It is not uncommon for pregnant women to have to walk for hours whilst in labour in order to be able to reach a facility, tens of kilometres away, where they can deliver safely.
Usually, Wangdic's role involves helping local people access health facilities, including pregnant women, young children and malaria sufferers. Travelling large distances between remote villages on a bicycle provided by VSO, he's an important link between the community and health services.
When coronavirus arrived in Uganda, Wangdic was equipped with additional training in COVID-19 prevention to allow him to continue to volunteer safely.
"I'm now telling people to wash their hands, to avoid crowding, and to stay home if they have a cough," explains Wangdic. "Most people listen. They are very worried about this coronavirus, as am I. But as I see it, we are all fighting this virus together."
"All households in the community have now installed handwashing facilities for anyone entering or leaving their homes. That means that they are listening to us on the village health team."
---
Help us train more volunteers
If you have the means, please donate to our coronavirus emergency appeal and support volunteers like James, Grace and Wangdic to reach more families vulnerable to COVID-19.
Read more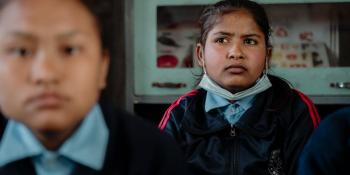 Izna was born with a hearing impairment and her school in Nepal didn't have the resources to support her, forcing her to drop out. With the help of the ENGAGE project, Inza is now back in education and thriving.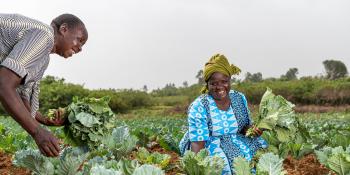 Already battered by the climate crisis and COVID-19, Africa is now facing rising food prices in light of the war in Ukraine.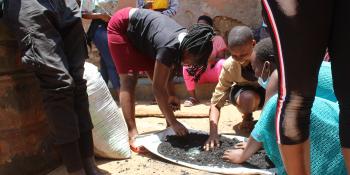 Meet Hosea Tumwine – an extraordinary young person and enthusiastic champion of women and girls' rights in Uganda. Hosea is a member of VSO's global youth network.