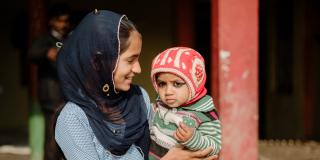 We've worked in Nepal since 1964, building healthy communities and strengthening inclusive education systems.
Our work has impacted over 600,000 people over the past five years.
We're working to support 9,800 adolescent girls to stay in school and take control of their futures.
We're empowering 5,600 students to advocate against gender-based violence and harmful social norms.
Healthy communities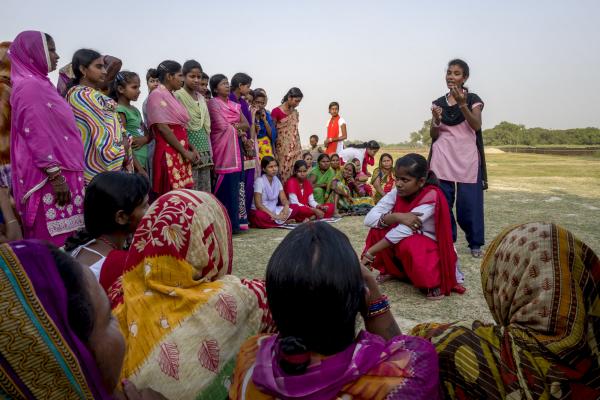 Gender based violence prevention
The Gender Based Violence Prevention and Response Phase 2 (GBVPR2) project aims to reduce all forms of gender-based violence (GBV) and discrimination against women and girls in Nepal, funded by the governments of Norway and Switzerland and managed by UNFPA. Phase two of the project was launched on 5th August 2020 by UNFPA, to implement the project in five districts of Sudurpashchim Province and three districts of Koshi Province.
Gender Based Violence (GBV) is a human rights violation, a public health challenge, and a barrier to civic, social, political, and economic participation. Contrary to what people often think GBV victimises all people, including men and people whose sexual orientation and gender identities are different from cultural expectations. 
We use a gender transformative approach, imparting knowledge and skills that allow people to reflect and change gender discriminatory attitudes. Interventions are designed with to transform harmful norms and break the culture of silence around GBV so women can seek help.
Learn more about our how we're transforming perceptions of gender
Interactive theatre for justice
We've trained young female community activists to lead interactive theatre groups, whose plays are tackling the issue of child marriage head-on. Drama workshops and performances give young people the space and confidence to share their stories and speak out against harmful customs, while asking power holders – including mayors, police chiefs and council members – what they can do to help prevent child marriage. Communities across Dhading, Lamjung, Parsa and Surkhet districts are now engaging with the issues and have reported increased awareness of the dangers of early marriage.
Using drama to challenge harmful social norms
Strengthening Access to Holistic, Gender Responsive and Accountable Justice (SAHAJ)
This project is now complete.
Our SAHAJ project worked to address gender-based violence (GBV) by challenging harmful traditional practices, improving access to services, and building the capacity of relevant institutions to support survivors. Over the past two years, we have worked directly with 1,120 marginalised adults and 5,600 students, with an indirect reach spreading across 46 palikas.
Within households, we've supported young women to pursue their own income-generating activities, liberating them from the control of male relatives and empowering them to become financially independent. In schools, we ran workshops and debate sessions on gender issues, training drama groups to stage performances about GBV, and developing a network of youth clubs who will lead advocacy against harmful social norms. At the community level, we engaged religious and community leaders through targeted events, and promoted intergenerational discussions between elders and young people.
We also worked to improve the capacity and accountability of the security and justice systems – including the police force – by training service providers in gender issues and positive social norms, delivering workshops on survivor-centred approaches, and developing links between different agencies to ensure a more joined-up response.
Inclusive education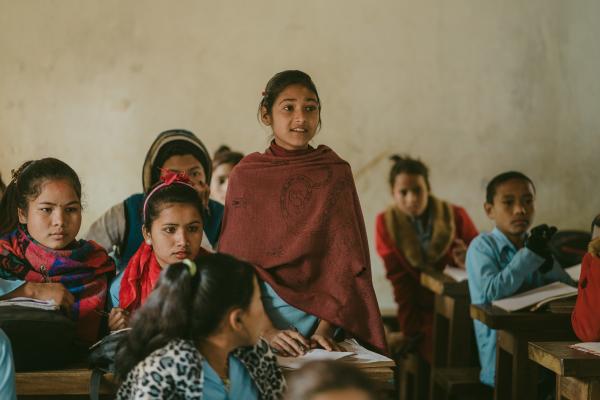 Our inclusive education programming in Nepal supports the most disadvantaged children to benefit from equitable and inclusive access to quality learning and skills development. Through a comprehensive 'whole-system' approach, we seek to contribute to a culture where parents, learners, teachers, and education managers are all actively engaged in their role in the education system – and where marginalised young people, especially girls, are empowered to participate fully both in the classroom, and in life after school.
Empowering a New Generation of Adolescent Girls with Education (ENGAGE)
In the Terai region, we're supporting 2,660 marginalised and out-of-school girls – especially those living with a disability – to benefit from a quality education, develop the skills they need to earn a decent living, and become empowered to control their own sexual and reproductive health. Our ENGAGE project is addressing socio-cultural norms which don't prioritise girls' education, raising awareness of the support available for girls with disabilities, and building the skills and capacity of 100 practising teachers and 90 student teachers through training and ongoing mentoring.
We're adapting the pioneering peer mentoring approach of our Sisters for Sisters project, so encouraging younger girls' participation and developing their self-confidence, whilst supporting them to rejoin formal education via nine-month 'bridge' classes.
How we're supporting disabled young girls to access quality education
SAHAYATRA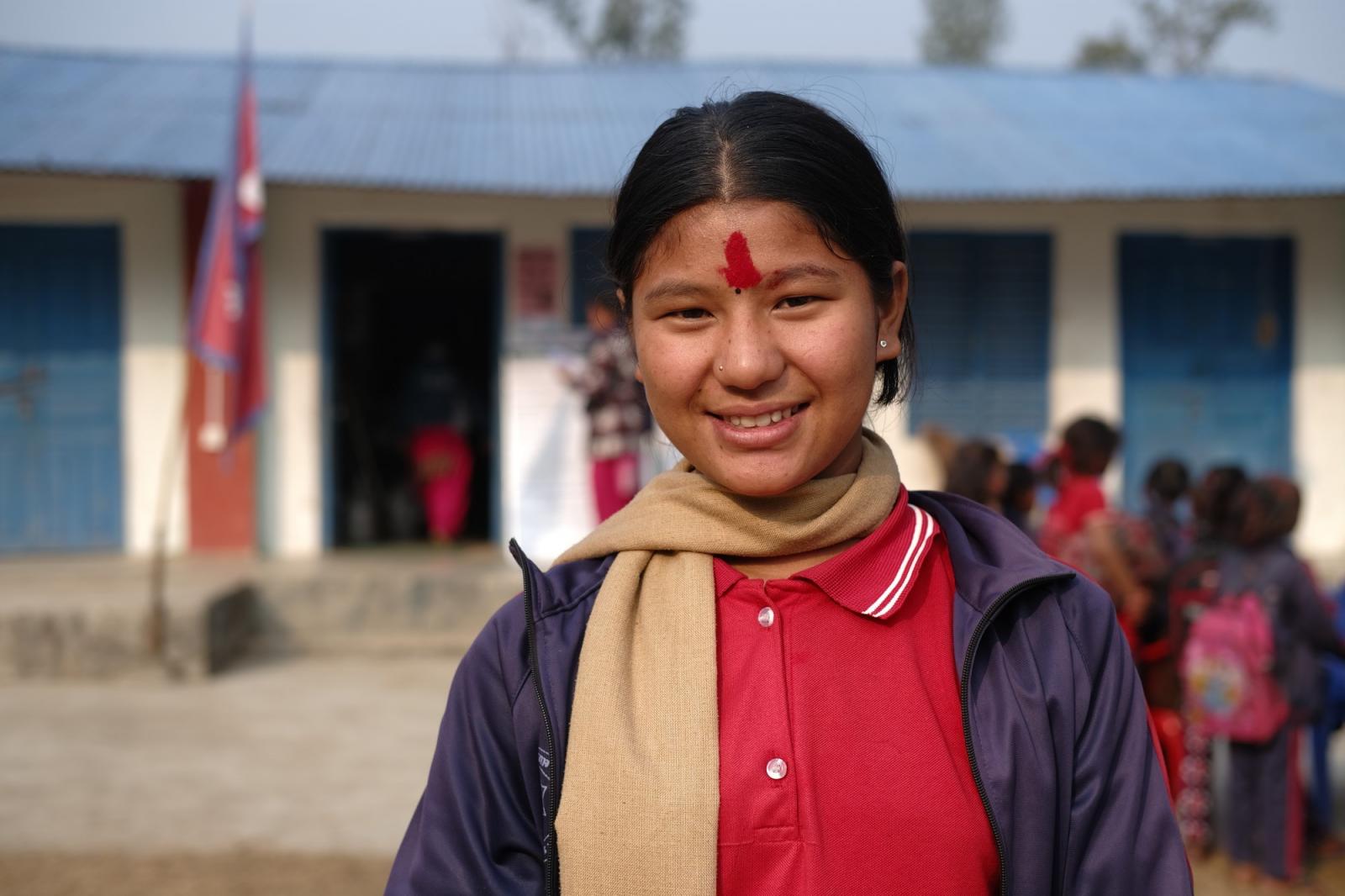 Every child has the right to quality education, without discrimination and on an equal opportunity basis. Yet poverty and prejudice still prevent many disadvantaged children in Nepal from receiving the education they are entitled to.
Through the SAHAYATRA project (Strengthening civil society organisation for resilient and inclusive education governance in Nepal), VSO is committed to promoting inclusive and quality education, so that these children too can develop and pursue their dreams. When children are offered appropriate education from preschool age, they learn more easily in subsequent years. They are more likely to complete school successfully and build a better life. With the SAHAYATRA project, we are improving educational opportunities for disadvantaged children aged 3 to 10.
Strengthening civil society organisations for resilient and inclusive education governance
Sisters for Sisters' Education
This project was completed in June 2021.
Our Sisters for Sisters' Education project is worked to support 9,800 adolescent girls to transition successfully from primary to secondary education, whilst equipping them with the self-confidence and life skills they needed to take control of their future after finishing school. Over three years, the first phase of Sisters for Sisters encouraged at-risk girls to stay in school by surrounding them with a holistic 'web of support' provided by volunteers at multiple levels – including individual peer mentoring from older 'Big Sisters', community engagement by adult champions, and specialist-led training for teachers.
The project continued to support the original cohort of girls through adolescence. Through a comprehensive suite of interventions including mentoring, teacher training, school capacity building and community-focused behaviour change, we empowered girls to make independent, positive choices regarding their health, employment and life post-school.
Transforming fragilities
Promoting Inclusive Resilience and Accountability through Youth Association Strengthening (PRAYAS)
The PRAYAS project aims to strengthen the role of youth-led community service organisations to engage youth and marginalised groups in climate and disaster resilience.
Youth are considered a key target group as they are the leaders of tomorrow and have the influence to create future change by contributing to governance and development processes. PRAYAS hopes to create an environment where youth are included at all stages of climate and disaster planning including response planning, government policy formulation and local implementation.
Local youth leaders, volunteers and ambassadors complete capacity trainings and pass on their knowledge to their peers. They also conduct action and awareness campaigns and coordinate with local authorities to educate youth on current climate policies.
Local governments value the input of these youth groups and invite them to share their perspective on various issues focused on youth, climate and disaster resilience and community development.
PRAYAS is a consortium project led by VSO and funded by the EU, in partnership with Association of Youth Organizations Nepal (AYON), Friends Service Council Nepal (FSCN), and Association of Community Radio Broadcasters (ACORAB).
Our research
Rapid assessment on the status of the quarantines: Strengthening access to holistic, gender responsive, and accountable justice in Nepal (SAHAJ).
COVID-19 pandemic has been an unprecedented challenge for marginalised and vulnerable groups such as women, children, people living in poverty and people with disabilities.
To assess the status of the quarantines in SAHAJ working palikas in Province 2 and 5 of Nepal, this is an evidence-based survey to understand the situation of the quarantines which will help to develop the measures to support them.
Rapid assessment on the status of the quarantines
Wellbeing survey in the context of COVID-19
A wellbeing survey, completed by primary actors in ten districts of Nepal, investigates the interplay of four critically interrelated components in the context of COVID-19: individual/group identity, gaps due to the crisis, access to services, and priority needs.
Wellbeing survey in the context of COVID-19
Sisters for Sisters' Education in Nepal: Current situation of communities and educational institutions during the COVID-19 crisis
Research undertaken to understand some of the factors affecting our primary actors in our girls' education programme in Nepal.
Current situation of communities and educational institutions during the COVID-19 crisis report
Mother tongue multilingual education report
As part of an ongoing partnership between the Language Commission of Nepal and VSO International, a recent study on mother tongue based multilingual education takes a magnifying glass to selected schools in the Nepali municipalities of Temal and Phidim.
Mother tongue multilingual education report
Contact us
We work with a number of partners including Aasaman Nepal, Common Platform for Common Goal (CoCoN), PeaceWin, Bhimpokhara Youth Club (BYC), British Council, Prerana and Jan Jagaran Youth Club (JJYC). Our work is funded by the FCDO, UNFPA, EU, Swiss Development Cooperation, Norwegian Embassy and the Hempel Foundation.
If you are interested in supporting our work, or if you have another query, get in touch:
Address: VSO Nepal, PO Box 207, Kathmandu, Nepal
Tel: (+977) 1 544 1469 (main number), (+977) 1 542 1616, (+977) 1 544 0269, (+977) 1 544 0264
Fax: (+977) 1 542 4743
Email: vsonepal@vsoint.org
Follow us on social media
Twitter: https://twitter.com/vsonepal
Instagram: https://www.instagram.com/vsonepal
Facebook: facebook.com/VSONepal
Volunteer with us
We are always looking for more skilled specialists.
Find out more about volunteering with us in Nepal
---
Find out more about our work in: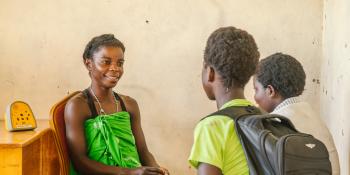 Supporting the most vulnerable people to realise their sexual and reproductive health and rights.
Stories from Nepal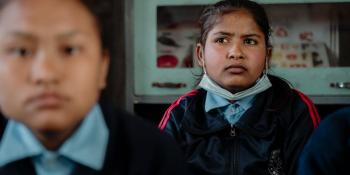 Izna was born with a hearing impairment and her school in Nepal didn't have the resources to support her, forcing her to drop out. With the help of the ENGAGE project, Inza is now back in education and thriving.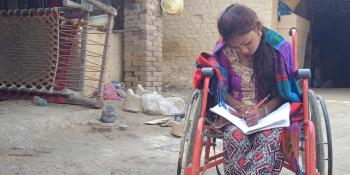 This International Day of Persons with Disabilities (IDPD) meet Rabina from Nepal. Rabina with her strong will power also coupled with support from ENGAGE Project lives more independent and dignified life.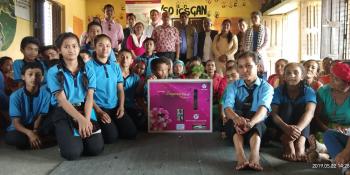 Supplied by VSO's ICS, Surkhet's first sanitary pad dispensing machine will allow the girls to quickly, affordably and independently get sanitary pads when they need them.