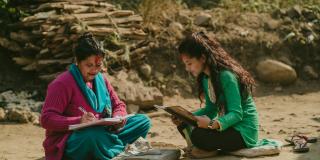 December 2018-22
Our ENGAGE project in Nepal is addressing socio-cultural norms which don't prioritise girls' education, raising awareness of the support available for girls with disabilities, and building the skills and capacity of educators through training and mentoring.
The issue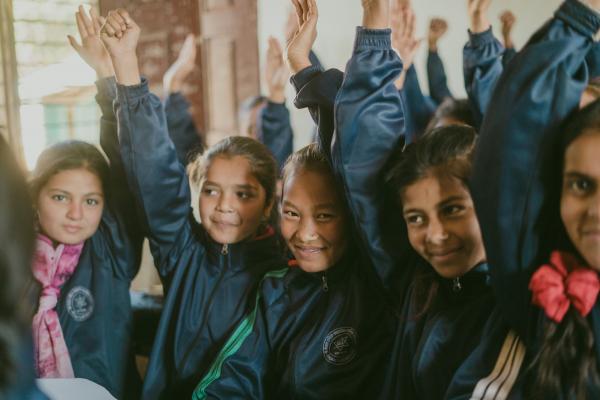 In the Nepal, we're supporting marginalised and out-of-school girls to benefit from a quality education and develop the skills they need to earn a decent living.
Girls in southern Nepal face unique barriers to accessing quality inclusive education. Girls are not only far more likely to be out of school than their national peers, but they are also 25% more likely to be out of school than boys within the region.
Girls from ethnic and religious minority groups face cultural biases and discrimination that shape expectations about their roles and behaviours. Disability is also a major predictor of poor educational achievement; thousands of girls with disabilities have never been to school in part because their condition has not been evaluated.
ENGAGE aims to help improve learning opportunities for thousands of marginalised out-of-school girls, and girls with disabilities in three districts in Nepal. Through the project, 2,525 girls are taught new skills to increase their future employability and raise their self-esteem. The project also teaches and empowers girls to have control over their own sexual and reproductive health.
ENGAGE addresses critical factors of marginalisation including:
Socio-cultural norms that place a low priority on girls' education;
Lack of awareness and support services for girls with disabilities or functional impairments;
Poorly equipped teachers and educational institutions to support the needs of out-of-school girls and girls with disabilities; and
Poor implementation of inclusive policies by local service providers and duty-bearers.
Creating a safe space for education
Gender-based violence is a widespread and deep-rooted fact for many girls in Nepal. The vast majority of incidents go unreported. Regardless of age, violence and harassment prevent girls from attending school. The psychological impacts can result in girls not showing up for class and performing poorly in school.
Among the types of violence that girls often face are:
Physical abuse in domestic settings, denial of rest, nutritious food, and chhaupadi (isolation during menstruation)
Psychological violence that leads to girls feeling incapable of making decisions.
Never-ending household chores and unpaid work.
Child, early and forced marriage and dowry systems
Economic violence and denial of access to money
Discrimination and bullying by teachers and students.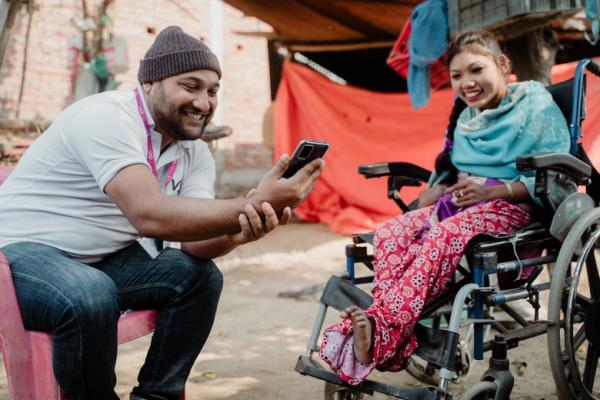 Girls with disabilities are far more likely to experience sexual abuse and neglect than their non-disabled peers and face greater obstacles reporting abuse and accessing support services. Further, in Nepal access to adolescent and youth sexual and reproductive health (AYSRH) services are limited. Those with disabilities can face discrimination from health services and often don't have access to information, skills and technologies that could help their impairment.
ENGAGE strengthens survivor-centred response within the education system by ensuring sufficient resourcing and expertise are in place to prevent occurrences of gender-based violence by raising community awareness and working with teachers, community members and other stakeholders to create safe learning environment for girls, both in school and at home.
How ENGAGE works
Many of the barriers to girls' education in Nepal stem from low levels of engagement from stakeholders in the system. Given the country's strong and progressive education policies, change is only possible if parents, teachers, school managers, and policy makers know their roles and are inspired to act.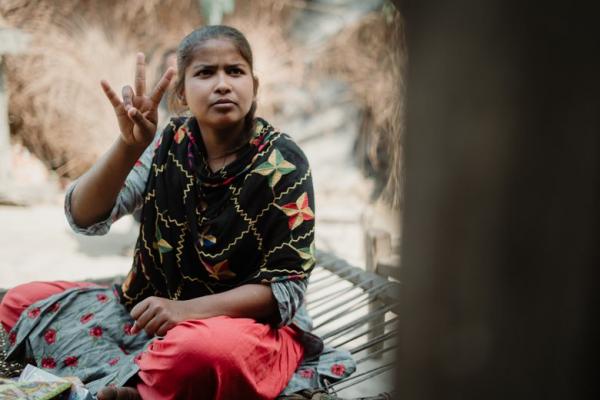 At the heart of the ENGAGE project is the big sister's mentoring scheme which provides peer support to girls through the power of positive female role models. 'Big Sisters' – local women with training in life skills and education – mentor, inspire and motivate their 'Little Sisters', encouraging them to go to school, empowering them to speak out in lessons, and ensuring they get the education they need to unlock their potential.
Outside the classroom, Big Sisters act as role models, sharing their own experiences and offering invaluable advice and information, especially around sexual and reproductive health.
By boosting the confidence and self-esteem of their mentees, Big Sisters foster younger girls' sense of independence and self-worth, empowering them to take control, not only of their health and education – but of their future life choices.
ENGAGE focuses on strengthening stakeholder engagement in inclusive education at household, school and system levels.
My little sister is like my own sister to me. We share everything with each other. Because we have built up the girls' trust, we can talk to each other about all kinds of issues. For example, child marriage. We have agreed not to marry before we are 20.

Najbun

Volunteer Big Sister
Each girl benefits directly from ENGAGE through:
Personalised social support for girls and families
Identification and assessment of disabilities of girls
Peer-based mentoring of younger girls by older girls to encourage participation and help girls address barriers.
9-month "bridge classes" to help acclimatise girls to education and accelerate their re-entry into formal education
Coordination with local government authorities and support services
Training, coaching and mentoring hands-on practical experience in inclusive, student-centred pedagogy and practice for 100 educators and 270 student teachers.
Optional livelihood training (small scale business) for girls.
Success stories
Nisha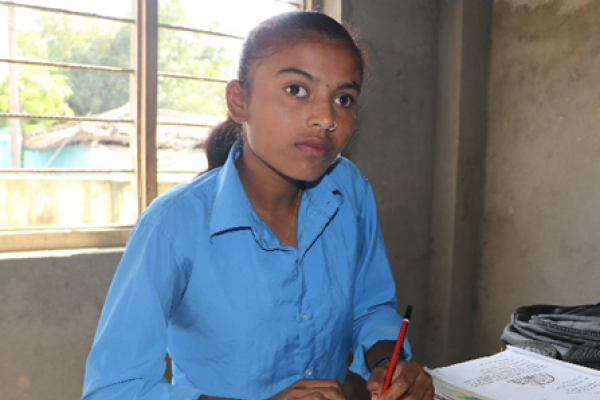 "I vividly remember my father fighting against the community's stereotypical belief that people with a disability cannot achieve anything in life. But after the ENGAGE project supported me to re-enrol in school and with my hard work I started attaining second rank in the class, the perspective of people of my community have changed. They now claim that I can become anything I desire in life."
Sahista
"I dropped out of school after completing grade 4 due to financial problems at my house. Big sisters from the ENGAGE project visited our village and educated us on the value of education. I then re-enrolled to school in grade 6. I'm currently studying in grade 8."
"I can feel a lot of changes in myself these days. I am more self-assured these days and can talk to anyone without being shy, move around freely and comprehend things on my own. I want to become a banker in future."
Chadani
"I belong to a low-income family. My parents couldn't afford to send me to school and didn't want me to study. They did not understand the value of education but after the big sisters from the ENGAGE project visited my house and counselled my parents, I got enrolled in school. I have a strong passion for learning and intend to become a staff nurse in the future."
Pratima
"I never knew that blind people like me can study and get jobs. Nobody ever told us about resource classes. Only after the Braille trainer at VSO told us, I became aware."
Nursat
"I live in a Muslim community where girls are not permitted to leave their homes. I had no idea that women could go to school, pursue a job, and assume leadership roles in businesses or organizations. However, the ENGAGE project supported me to enrolled in school, exposed me to the outside world, and gave me hope that I could have a professional life."
"I want to express my gratitude to the ENGAGE project for all the advice and help it has given me in dreaming a new life."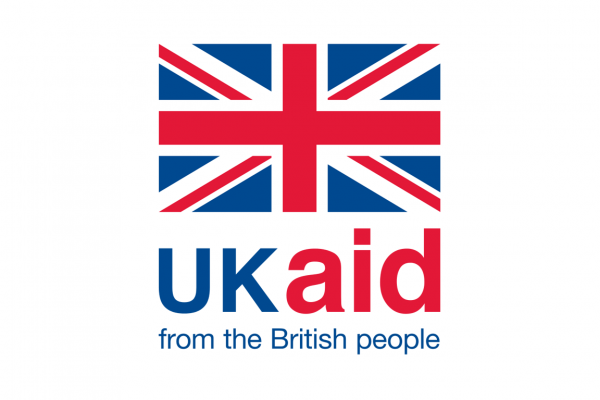 Sisters for Sisters
The project builds on VSO's pioneering Sisters for Sisters peer mentoring project, which supported nearly 10,000 girls from marginalised communities to succeed in school.
More from the ENGAGE project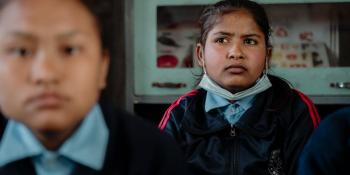 Izna was born with a hearing impairment and her school in Nepal didn't have the resources to support her, forcing her to drop out. With the help of the ENGAGE project, Inza is now back in education and thriving.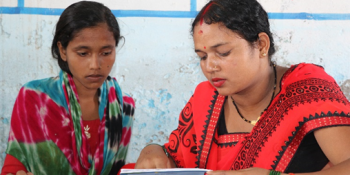 Dhanmati's work as a volunteer on VSO's ENGAGE project has changed attitudes to girls education in her community and helped girls to return to education. She firmly believes that education is the key to unlocking a better future and living a happy life.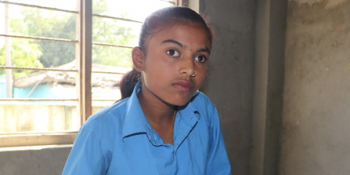 15 years old Nisha is a resident of Sakraul, Nepal. She lives with a disability and has difficulty in walking. People in her community used to call her names which hurt her feelings and broke her confidence down. Now she's returned to school and the communities sees that she can do anything.