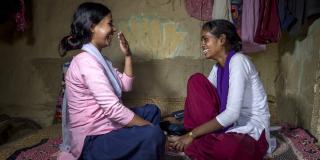 Arti was only 14 when her parents arranged her marriage - but Big Sister Anu stepped in, working with her parents and the community to delay marriage and keep Arti in school. Arti is now focusing on her studies, with the hopes of becoming a teacher.
Arti is one of 26 Little Sisters in her community. Through the Sisters for Sisters project, older girls have been mentoring younger girls to stay in school and pursue their education, while teaching the parents the benefits of educating girls.
Arti's story
My name is Arti and I'm 15 years old, I'm in class 10 and I'm a Little Sister. When I heard about the Sisters for Sisters project, I was already missing two or three days of school a week. I had to help out at home, and help my parents in the field. My mother wanted me to stay home so I could learn how to do the housework.
Community attitudes
In my community, people think that when girls go to school they'll be promiscuous and misbehave with the boys, and damage the reputation of the family. So instead of going to school girls are encouraged to stay at home.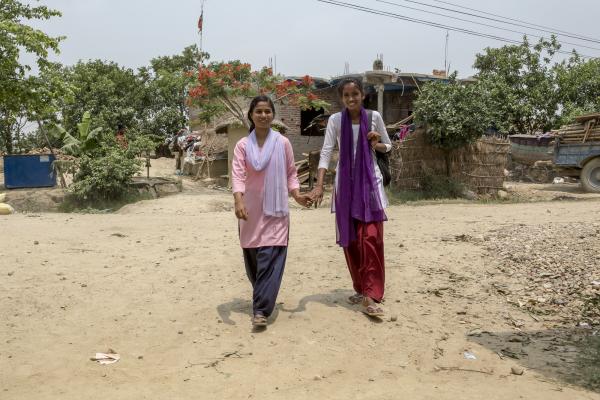 When young girls stop going to school and don't finish their education, they end up getting married and having children. They have to take on the housework in their father-in-law's home. They often have to work a lot, and sometimes get beaten.
One of my friends, aged 14, had her parents arrange a marriage for her. She got pregnant, but when she went to the doctor for a check-up, the doctor said she was not old enough to bear the child. The child had already died in the womb. I felt very sad when I heard this. If my friend married at the right time, she could have had a better life, and her child would not have died.
Becoming a 'Little Sister'
I told my parents about the Sisters for Sisters project, who let me join as a Little Sister. We started to have meetings with the Big Sisters, who said they were here to help us and encourage us to come to school regularly.
But my parents tried to force me to get married, and I got engaged at 14. All the decisions for a young girl to get married are taken by the parents and other relatives.
I came home from school one day, and my mother told me people were coming to arrange a marriage with me. I started crying and asked, "Why are you arranging my marriage now, when I'm so young?" She said it wasn't just me, my sisters would also have to get married.
I didn't want to get married, but people in the community said that because I'm from a poor family and I've got lots of sisters, that it would helpful for me to get married. So I finally said yes.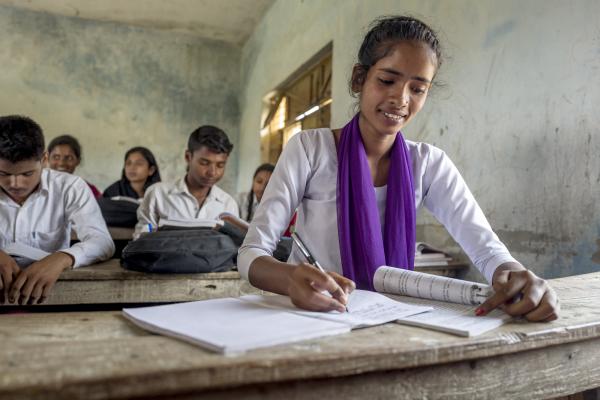 My Big Sister
However, my marriage was interrupted by my Big Sister. She came with the other Big Sisters to talk with my parents.
When Anu stopped my parents from marrying me, I felt so happy. I think if all the girls here were to go to school, they would learn more things, and with that education they could play a better role in looking after their family.
I feel very happy to have a big sister. It's easy to talk to Anu, and I share any problems I have with her. She helps me solve my problems and help me with my homework. Without Anu, I wouldn't be in school, and I wouldn't feel confident to talk freely with other people.
Now I love to study. I want to have the chance to study further and fulfil my ambition of becoming a teacher. My parents now tell me to study and to go to school regularly.
---
Find out more about our work in: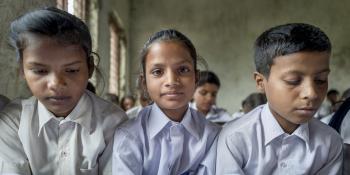 We've worked in Nepal since 1964, building healthy communities, strengthening inclusive education systems, and developing community resilience.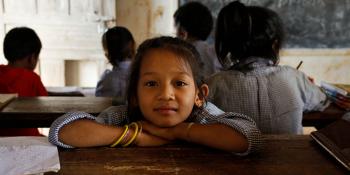 Supporting vulnerable girls to succeed in school – and beyond.