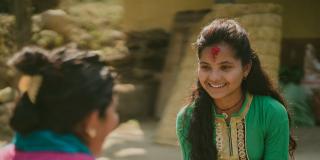 Sixteen-year-old Nirmala used to struggle at school. It's little wonder - Nirmala was told by her parents to prioritise domestic work over education, on average missing seven days of school a month. Three years after joining the Sisters for Sisters project, however, Nirmala's grades and confidence have been greatly boosted.
'Big Sister' Durga Bista convinced Nirmala's parents of the value of education and inspired her to attend school regularly. Durga also taught her to make reusable sanitary pads. Meanwhile her school has been supported to make lessons more inclusive and girl-friendly.
Nirmala tells her story:
I really like coming to school. It's much better than sitting in the house alone. I like studying, the teachers, and most of all I like being here with my friends. Every time I go to school, I learn new things.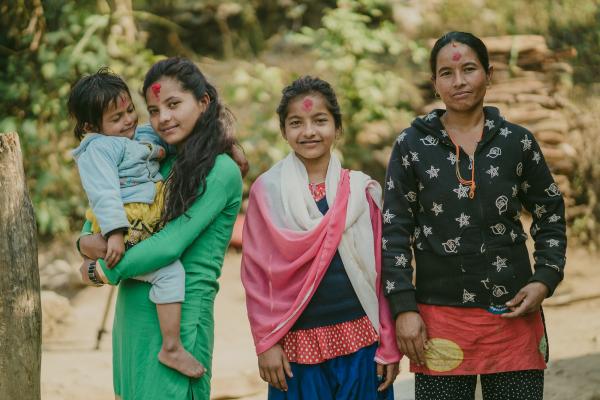 But before, my school attendance was irregular. There used to be a lot of housework. My parents would say, "don't go to school today, you can go tomorrow – but today you will do work". It made me feel bad. I wanted to go to school and study and see my friends rather than going to work. When they said I had to stay home I used to cry. Sometimes I used to argue with my parents and I used to go to school, but not every time, because I need to respect what my parents say and sometimes I would stay at the house to work.
The economic condition of my family is very poor. My mum is usually sick, and during the time of planting and harvesting, I have to support my mum. We work in other people's fields to make some money. My little sister and I have to lend a hand working in the fields. At home I need to cook rice, I need to feed the cow, I need to cut the grass and bring the water from the tap, which is very far from the house - and that's why I didn't get time to do my homework.
Being a 'Little Sister' has helped my life
Durga is my Big Sister. She's helped me a lot. She supported me by convincing my parents to send me to school rather than do a lot of housework. These days I still do work but it's less than before. My studies are a priority. Now even if, for example, I have a sore throat and want to stay home my parents tell me, "No! You must go to school; you can't miss your class". The same parents who used to say I should stay and work!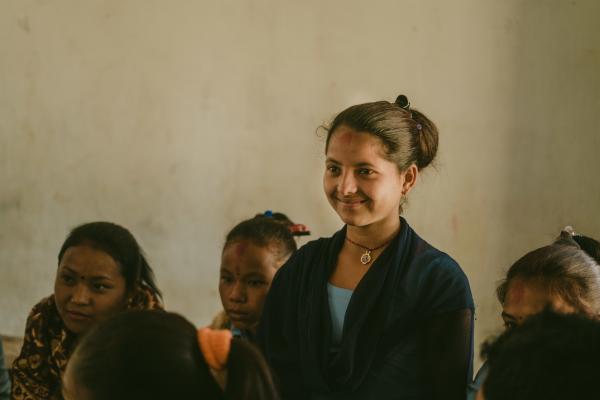 Nowadays I don't have to do a lot of housework. I go to school regularly and I get time to study as well at the house. She has helped me be so confident and able to talk to anyone. Being as a Little Sister has really helped in my life: in terms of my academic performance, in terms of my other performance in the school and in the community.
Training in making sanitary pads
Before, there were a lot of girls missing classes during their period. But there was training on making reusable sanitary pads to use during menstruation. I'm not able to use the disposable pads that are available in the market, so I have to use the reusable pad or folded cloth. The market is very far and the pads are expensive.
I felt like if they missed out, then they might miss their classes. So I thought if I bring them pads, it can help them go to school. There are very few girls who miss school in this community now.

Nirmala, 'Little Sister'
I made and distributed some extra pads for my friends who missed the training using what I learned. I felt like if they missed out, then they might miss their classes. So I thought if I bring them pads, it can help them go to school. There are very few girls who miss school in this community now.
Big Sister Durga has shown me how to become more confident. The way she acts is like a role model, being so patient. She has a very nice character. She is like a teacher as well as a sister.
Last year Durga and I went to a national event in Kathmandu. I performed in drama in front of over a 100 people. It's part of the project. In this society the community does not usually allow a girl to move outside because they think it will have a bad influence on us. But thanks to Durga, I was able to travel to Kathmandu for the first time and get exposure. It was like a dream.
---
Find out more about our work in: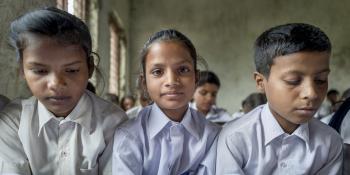 We've worked in Nepal since 1964, building healthy communities, strengthening inclusive education systems, and developing community resilience.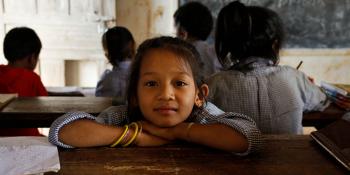 Supporting vulnerable girls to succeed in school – and beyond.