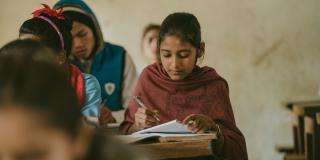 13-year-old Pramila used to have to prioritise homework over studying – but with the support of her Big Sister Rama, she's now thriving at school and dreams of becoming a teacher one day.
Pramila, whose family's economic situation is poor, used to have to take on the lion's share of domestic work to allow her parents to focus on earning a living, leaving her very little time for studying.
Since she started being mentored by 'Big Sister' Rama, however, her attendance, academic performance and confidence have greatly improved. She was also given exercise books, pens and school uniform, which provided additional motivation to go to school.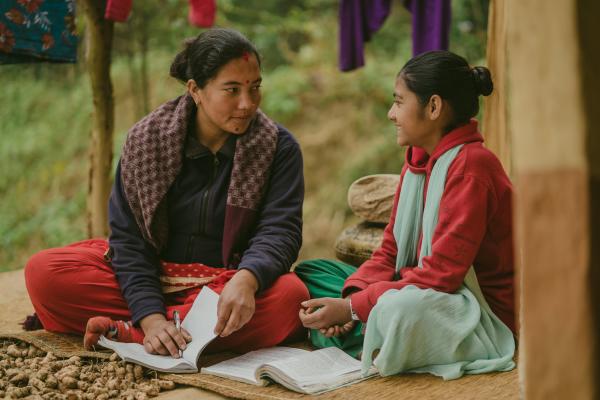 "I am studying at grade eight, but before I rarely used to be present at school. The school is far from my home and I have to cross through the forest and the river Bheri, which means it can easily take 45 minutes to reach my lessons. In monsoon time, the river flows high and I can't cross it at all. It's not safe for me to travel to school early in the morning or late in the evening.
"Before I joined this project, I had to spend a lot of time doing chores at home. I also had to do things to help my older brother. Because I am a daughter, my parents used to ask me to focus on household work. After, all I have to get married one day.
"Also, my right hand got injured when I fell into a stove when I was two. It makes it difficult to use my right hand – I can't write for longer than ten minutes at a time with it. When I miss school I am sad; I loved playing with friends at school, rather than working at the house.
"When I was selected as a Little Sister, I got a Big Sister, Rama, to support me. She inspired me to go to school every day and talked to my parents to convince them to send me to school. She used to visit four times a week at my house and helped me do my homework. I am very thankful for her.
I have learned that I need to speak up and be active
"I used to feel bad about my low school performance. I was too shy to ask any question to teachers. After I took part in different games and interaction programmes, I have learned that I need to speak up and be active. I am inspired by my Big Sister to be good in study and extra activities.
Today, I am regular at school and very happy to be there. I like to study and be with friends, and my dream is to be a teacher so I can serve in my community."
---
Find out more about our work in: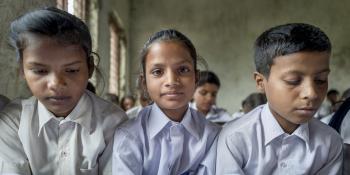 We've worked in Nepal since 1964, building healthy communities, strengthening inclusive education systems, and developing community resilience.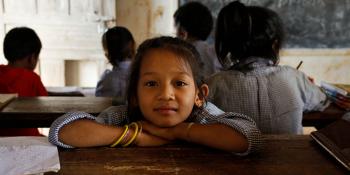 The Sisters for Sisters' Education project has been getting some of Nepal's most vulnerable girls into education.