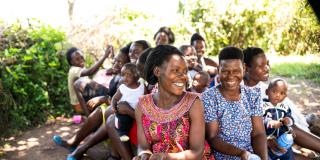 Over the last 60+ years, we've worked in over 90 countries with more than 80,000 volunteers, supporting over 50 million people.
Our year in numbers
4,158 volunteers joined us in pursuit of our vision of a fair world for everyone.
We reached over 4.5 million people in total.
Our programmes brought about lasting change for people in 20 countries in Africa and Asia.
2019-20 financial review
In 2019-20 our income levels reduced, but remain healthy. Most of the decrease is linked to a reduction in income from our ICS contract. The UK's Department for International Development (DFID) - now the Foreign, Commonwealth & Development Office (FCDO) - remained a main income source, although the overall proportion decreased.
Over the past year, we have continued to diversify our income portfolio with the support of other institutional donors, companies, and individuals.
Our total income for the year was £60 million, and our total spend on charitable activities was £56.8 million.