What to expect from the application process.
Finding and applying for a role
Step 1
Browse our current opportunities and select the role that's right for you. Complete the registration form on the application page. When you have completed the form, you will receive a confirmation email with a link to our VSO Values self-assessment. This is a module designed to give you an insight into VSO's ethos and provide you with an understanding of how your values align with ours, helping you to decide if you would like to join our organisation. The self-assessment module typically takes about 10 minutes to complete. 
Step 2
After completing the VSO Values self-assessment, you can opt out or proceed with the application process. You will need to upload your CV in Word or PDF format detailing your employment and educational history, and any volunteering experience. Please note that you will need to complete the full application form in one go as you cannot save it to fill at a later time.
Step 3
When you have submitted your application, you will receive an email inviting you to complete two assessments which focus on how you process information and what your work approach is. 
You will be shown instructions and example questions prior to the assessments to help you increase your familiarity with them. You will also have access to a short profile report on completion of the assessment. Your application will be reviewed by our Resourcing Team when you have completed these assessments. 
Browse all current opportunities
What you'll need to apply
It will take around 10 – 20 minutes to complete the online application form. Before you start, make sure you're ready with:
your personal details,
details of your current or most recent employment (your job title, dates of employment, and summary of responsibilities)
your CV in Word or PDF format (maximum file size 1MB).
You must submit your application in English.
All job applications must be submitted online on our website. We are unable to accept or review applications, and speculative CVs submitted through email. 
After you've applied
After you've reviewed and submitted the form, you'll receive a confirmation email, and we'll be in touch once we've reviewed your application. 
Our commitment to safeguarding
We have zero tolerance of abuse and exploitation of vulnerable people. We expect all our volunteers to ensure we protect children, young people and vulnerable adults from harm and abide by our safeguarding policies and global code of conduct.
Background checks
If you receive a conditional offer to become a volunteer, we will carry out mandatory background checks as part of our safer recruitment processes.
As part of these checks, we will ask you to:
provide evidence of your identity and eligibility to work in the location required,
explain any gaps in your employment history,
declare any information that is likely to appear on a criminal background check,
provide at least two professional references, covering the past five years.
Volunteering with a criminal record
Having previous cautions or convictions does not automatically exclude you from volunteering with us. We will discuss these with you and consider each situation on a case-by-case basis, depending on the nature of the offences and the level of risk involved with the role.
Successful applications
If your application is successful, you will then need to be medically cleared by our expert Medical Team, before starting training as part of your preparations to volunteer.
---
Find out more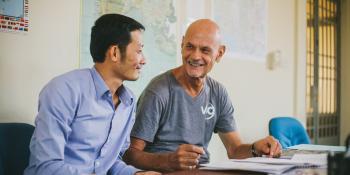 Keeping you safe, healthy and happy.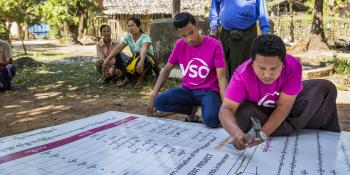 Our current roles for expert volunteers in Africa and Asia.