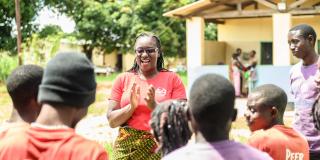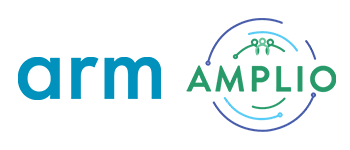 We're partnering with Arm - the world's leading semiconductor IP company, whose technology reaches 70% of the global population - to ensure that young people in Zambia are not left behind by lack of access to technology, information or services.
Together, we're working with non-profit organisation Amplio to introduce their Talking Book technology to the Adolescent TALK! project in rural Zambia - so enabling us to reach even more vulnerable communities with essential information on their sexual and reproductive health and rights.
Reaching thousands of people in rural Zambia
Via Arm's Global Goals Immersion Programme (GGIP), two teams of Arm employees will volunteer their skills in in rural Zambia. The teams will work with VSO and Amplio to introduce the Amplio Talking Book, an Arm-based audio-technology, to increase community access to essential sexual health messaging.
Ten Arm volunteers will work alongside community members, VSO staff and other volunteers to empower 1,000 young people and over 8,000 family and community members to access community-created information about sexual and reproductive health and services.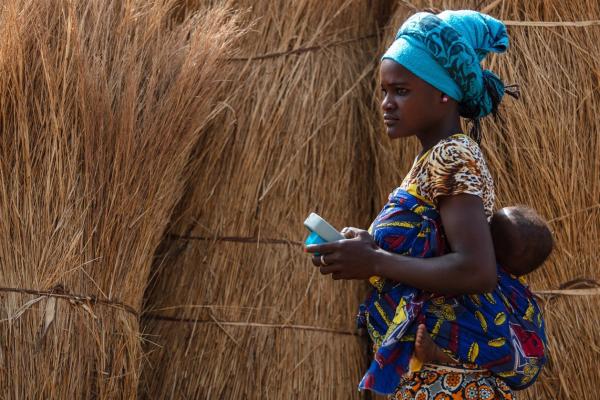 "Creating and leveraging digital technologies that address human needs is an imperative to unlocking progress on many global challenges", says Anna Malan (Manager, Community and Inclusion at Arm). That's why Arm supports the UN's Sustainable Development Goals, and is invested in developing partnerships that use technology to build thriving communities.
Talking Book technology
Amplio is a Seattle-based not-for-profit that provides digital technology to help governments and global development organisations widen their reach and impact in rural, remote and off-grid communities.
With the easy-to-use Talking Book audio device, organisations can share information with people with low levels of literacy. Users can play messages on demand in their local language, and record their feedback. A built-in speaker allows families and groups to listen and learn together.
Because Amplio's technology collects usage data and user feedback, Talking Book partners can monitor engagement, identify issues and trends, and continually update content for greater impact.
As a result, people can gain new skills and knowledge to improve their livelihoods and lives.
Some of the most important targets in the SDGs are about human capacity... if you want to achieve the goals around reducing or ending hunger, you have to make sure people are equipped with the knowledge to take control of what they have available to them.

Cliff Schmidt

Founder and Executive Director, Amplio
Arm volunteers will train VSO staff on Amplio's technology and field test the Talking Book 2020 prototype, which works with rechargeable batteries and features an Arm Cortex M4 processor.
VSO volunteers will use Talking Books to reach marginalised communities via songs, dramas, and interviews in the local language, with quarterly content updates. Community agents will use Talking Books to share messages and facilitate discussion, assisted by expert VSO volunteers.
Young people will also be able to take home Talking Books to listen to with their families, though a household rotation model.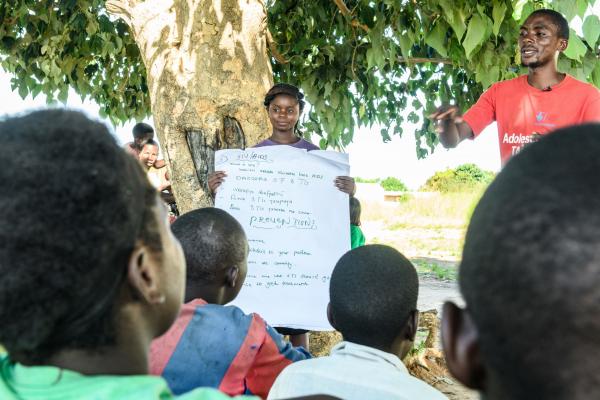 Tackling sexual health taboos
We have been working in Zambia since 1958, and have partnered with Planned Parenthood Association of Zambia (PPAZ) and the Zambian Ministry of Health on the Adolescent TALK! (Training And Local Knowledge) project.
Adolescent TALK! works to address the high rates of teenage pregnancy caused by poverty, isolation from sexual and reproductive health services, and harmful traditional attitudes. To date, the project has:
reached nearly 8,000 young people in the rural district of Samifya,
recruited and trained 90 volunteer peer educators,
enabled community-based distributors to provide contraceptives 24/7,
established 5 youth-friendly corners in health centres.
We look forward to partnering with Arm and Amplio for the next stage of the Adolescent TALK project.
It wasn't easy for families to sit and talk about sexual health. There were many taboos. But thanks to VSO's work, that's all changed. When I visit families, schools and clinics now, I see these issues being discussed openly.

Alfred Mwiza

Volunteer peer educator, Mbabala
Partner with us
Knowledge Exchange is VSO's corporate employee volunteering programme. Develop your talented employees, while changing lives in the world's poorest communities.