We have collaborated with Syngenta since 2014, working together to sustainably improve the livelihoods of smallholder farmers in Bangladesh.
The project has also increased Syngenta employee engagement, and provided valuable supply chain insights.
Growing together to create thriving smallholder communities
An estimated 36% of Bangladeshi people in rural areas live below the poverty line.
Smallholder farmers face huge difficulties, including the adverse effects of climate change, limited land availability, and poor access to markets. In rural areas many families struggle to grow enough food to feed their families, let alone enough to sell at market.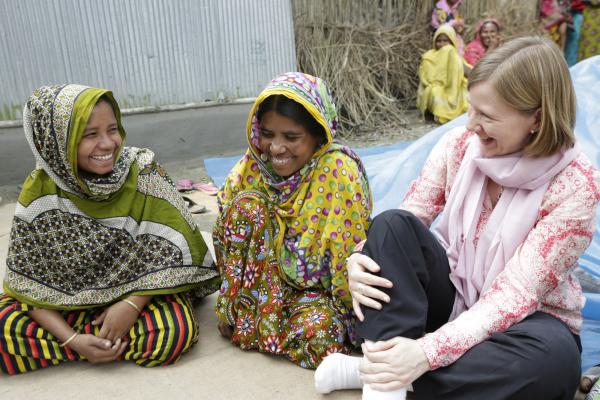 Our Growing Together programme harnesses the expertise of senior Syngenta employees who volunteer on short-term assignments together with our local partner, Rural Development and Relief Services.
Each year, two teams of 15 Syngenta volunteers travel to Bangladesh for four weeks to share their expertise.
Find out more about the Growing Together programme
Programme objectives
The Growing Together partnership aims to:
Improve livelihoods - reaching 45,000 farmers by 2020 with improved productivity, better inks to market and higher household incomes.
Build employee engagement - connecting employees with Syngenta's sustainability strategy, the Good Growth Plan, in a deep and meaningful way.
Develop business insights - helping Syngenta and its partners better understand the needs and challenges of smallholder farmers.
Reaping the rewards
By sharing expertise in modern agricultural techniques and technology, Syngenta and VSO have brought about improvements in the lives of poor farmers, including:
an increase in farmer yields and gross incomes,
the establishment of 'farmer hubs', allowing farmers to secure contracts with private sector companies that guarantee the sale of produce at an agreed price,
a reduction in the use and costs of fertilisers and pesticides.
Meeting employee engagement goals
90% of participants reported enhanced leadership skills.
95% of participants increased their understanding of Syngenta's business and role in global food production.
90% of participants met their personal and organisational goals.
100% of participants felt proud to work for Syngenta.
Working for an international company, I have worked in many multi-cultural teams, but this experience has added a new dimension as we learn to collaborate across the business and development sector. There's a strong sense of partnership, which is really exciting. Most importantly, it could ensure sustainable and scalable outcomes for vulnerable people and communities.

Jonathan Richards

Supply Chain Manager, Syngenta
Corporate social responsibility
Syngenta's Good Growth Plan outlines its commitments towards solving global food security challenges in a world where around a billion people go to bed hungry every night.
Partnering with a respected international development agency like VSO allows Syngenta to tap into decades of experience in the field of poverty reduction, including key local knowledge.
Organisational benefits to Syngenta include making business practices more sustainable, increasing knowledge of smallholder agriculture and value chains, and investing in the leaders of tomorrow.
Partner with us
Knowledge Exchange is VSO's corporate employee volunteering programme. Develop your talented employees, while changing lives in the world's poorest communities.