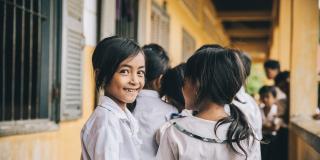 We've worked in Cambodia since 1991, strengthening inclusive education systems and supporting people to develop secure and resilient livelihoods.
Since 2017, over 1 million children in rural schools have benefited from improved planning and management systems.
8,080 farmer households are now benefiting from increase yields and improved access to markets.
Since 2018, we've trained 750 farmers to improve their yields through adopting the Sustainable Rice Platform growing standards.
Inclusive education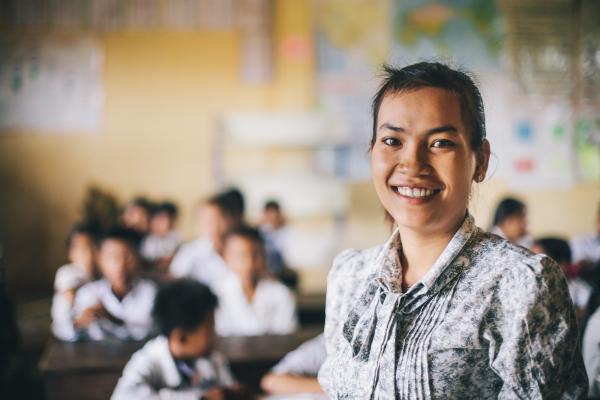 In partnership with the Cambodian Ministry of Education, Youth and Sports, we work to increase the capacity of teachers, school managers and other stakeholders in the education system, supporting them to develop and deliver high-quality, result-based and inclusive education plans. Our volunteer advisers provide expert coaching and training on child-centred teaching methods, alongside practical on-the-job support and mentoring – in total benefiting over 1 million children in rural schools since 2017.
This capacity-building approach has proved to be so successful that research conducted by the Royal University of Phnom Penh found that our Basic English Language project – which increases the ability of practitioners to teach English - was as effective for students as private tuition.
PDUSS
VSO is currently working with the Ministry of Education, Youth and Sports (MoEYS) and a local NGO, Kampuchea Action for Promoting Education (KAPE), to implement an education project called the Professional Development in Upper Secondary Schools (PDUSS). 
The programme aims to enhance the inclusiveness, effectiveness, and relevance of upper secondary education in Cambodia's Kampong Cham, Takeo, Kandal, Battambang, and Siem Reap regions. The goal is to jointly develop, plan, and deliver an innovative professional development programme for teachers and school leaders that will benefit students and professionals alike. 
The focus is to improve skills in four key areas: STEM (Science, Technology, Engineering, and Maths), Library Management, Career Guidance and Counselling, and School-Based Management.
Resilient livelihoods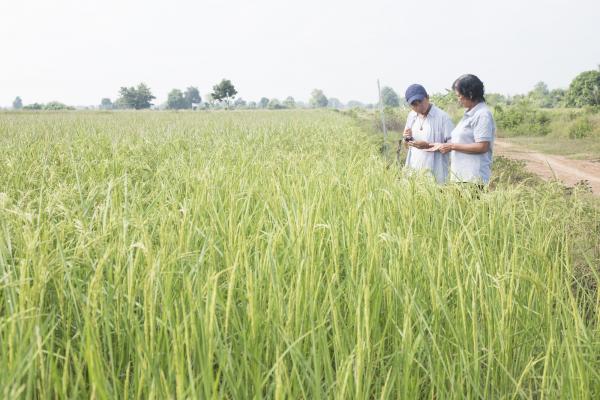 GREEN
Those living on the shores of the Tonle Sap Lake in Cambodia depend on its resources for their income, yet climate change and overfishing are increasingly threatening their livelihoods.
The GREEN project (2021-25) is helping to boost incomes and create sustainable agriculture for the most vulnerable communities through strengthening green value chains, creating awareness of environmental issues to create behavioural change and through establishing a green business incubator programme to support vulnerable youth and local businesses.
Generating Resilient Environments and Promoting Socio-Economic Development of the East Tonle Sap Lake
RECOVER
RECOVER intends to support vulnerable rural communities within provinces in Cambodia in their economic recovery after the pandemic, specifically to prevent them from experiencing extreme poverty, high levels of debt and food insecurity.
This is done through improving food security, income and employment opportunities for fishing and farming communities and returnee labour migrants. Our volunteers create a lasting impact by providing interventions to influence and inform systemic changes for producers in these communities, so they are less dependent on external emergency support.
Rural Employment for COVID-19 Economic Recovery (RECOVER)
Improving Market Access for the Poor (IMA4P)
Please note this project has now ended.
Supported by the FCDO and corporate partner Accenture, our Improving Market Access for the Poor (IMA4P) project in Battambang worked to empower agricultural collectives and smallholder farmers – including women and young people – to develop a greater and more secure source of income. We trained farmers and supported them to adopt new, more productive growing techniques as part of the UNEP's Sustainable Rice Platform (SRP) – a global initiative which promotes more sustainable agricultural practices and a fairer economic model for rice growers.
We supported over 3,000 farmers to adopt these techniques which, combined with training and business skills development, lead to more secure and profitable contracts with major buyers.
Supporting poor farming households to make a sustainable living
Contact us
We work with a number of partners including the UK's Foreign, Commonwealth & Development Office (FCDO), the EU, Accenture, MoEYS, UNICEF, SIDA, GPE, and USAID.
If you are interested in supporting our work, or if you have another query, get in touch:
Address: VSO Cambodia, #09, Street 269, Teuk L'ak 3, Toul Kork, Phnom Penh, Cambodia.
Tel: +855 (0)23 882 758
Facebook: facebook.com/vsocambodia
Volunteer with us
We are always looking for more skilled specialists.
Find out more about volunteering with us in Cambodia
---
Find out more about our work in: