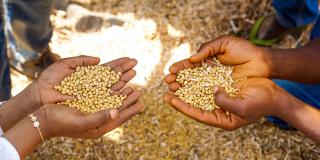 The Improving Market Access for the Poor (IMA4P) project is supporting Nigerian farmers to upgrade their smallholdings into fully-fledged businesses, giving them the skills and knowledge they need to compete in the global economy.
The last five years have been very busy for one group of farmers in Minna, Nigeria. Through IMA4P, thousands have been trained to improve their agricultural skills, as well as their ability to run their farms as serious businesses. Five years since the project started, 1,800 people have either increased their earnings or have established their own businesses.
1. Getting a better price
Negotiating a better price isn't easy for a farmer who works independently on a smallholding.
When farmers come together, pooling their resources in a co-operative, they can get a higher price for their produce by selling in bulk, attracting larger buyers.
Many of the farmers we've been working with in Nigeria were already in co-operatives, but the groups weren't meeting regularly, or individuals didn't take on the responsibility of their roles within these groups.
In the past five years, we've worked with 150 co-operatives, supporting them to assign clear roles, such as chairman and secretary, and the groups are now working far more effectively.
Volunteers, through coaching and mentoring in leadership skills, have helped new leaders emerge, and helped co-operatives to hold these new leaders to account.
By processing crops into food items to sell to their community, many farmers have now developed another way of making additional income, which they can put to household emergencies or their children's school fees.
Fatima Al Hassan, a maize farmer in Mokwa, now makes fried masa [a crumpet-like snack made from corn], popcorn and stew:
VSO taught me that after I harvested the maize from my farm I could process it. I grind the maize at the mill and then combine it with sugar and fry it with groundnut oil to make fried masa.

Fatima Al Hassan
2. Introducing modern farming techniques
Nigeria has a long history of farming, and agriculture is the backbone of Nigeria's economy. In fact, two-thirds of the labour force are farmers – but traditional techniques and outdated tools can hold them back.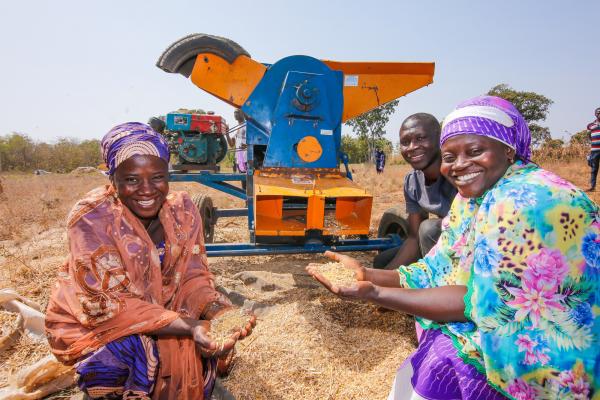 Soya bean farmers in Niger State used to spend days beating their harvested crops with a stick to remove the husks and stalks from the seed. Threshing by hand is incredibly exhausting, and there were reports of injuries.
We've trained eight co-operatives how to use and maintain thresher machines, which process soya beans in a fraction of the time it takes to do it by hand. The machines were provided by our partner PropCom Mai'Karfi, funded by UK Aid.
One threshing machine in Mokwa has been rented out to more than 150 local farmers, earning the members of the co-operative 136,000 naira (£290) in total, in just three months.
The former chairman of this co-operative, Kudu Muhammed, has seen first-hand the benefit of updating old farming practices:
"The threshing machine is a labour-saving device. Threshing by hand is a health hazard: it tires out the body, and some women injured themselves doing it. This device is making my community's life easier."
3. Championing gender equality
It's common for wives in Nigeria to work for free on their husband's farm, alongside carrying out household chores and looking after the home.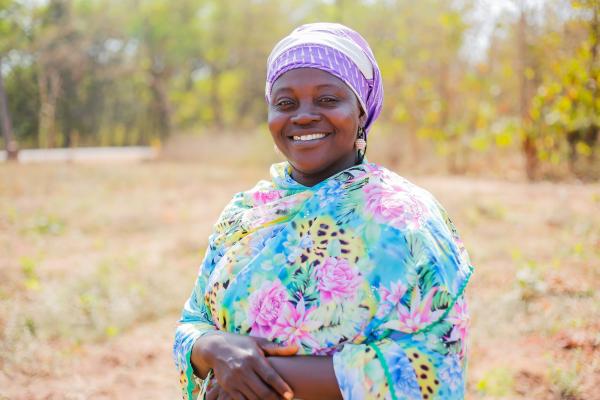 IMA4P sought to have this farm work acknowledged, so women could start to influence decisions to do with their business, home life and community.
In total, 1,800 women were trained in how to start their own farming business – including demonstrating modern farming techniques and how to manage their money.
Volunteers have delivered training on gender issues, encouraging husbands and wives to share financial decisions more equally.
Fatima Zubairu is one of the farmers who received gender training:
"Through the project I learnt about gender roles. I had training with a volunteer who asked me some questions that made me think. She asked me if I got paid to work on the farm.
"Now, my husband and I will discuss upcoming financial needs but ultimately I make decisions over how my money is spent. I spend it on my children and assist my husband with school fees, medical bills and food."
With this new income, women have something to contribute to the costs of running the household, which helps persuade their husbands to include them in financial decisions. In turn, women are able to contribute to costs around the house.
"It makes me really happy to treat my children," said Fatima. "Sometimes they just want a snack and now I don't have to think too hard whether to buy it for them."
4. Supersizing crop yields
Access to land is a major hurdle for farmers in Nigeria, so it's important to maximise yields.
When we started using the new techniques, people were very surprised with the results.

Aisha Usman, farmer
Using test plots of land, our expert agricultural volunteers showed farmers how to adopt different techniques to make their work more efficient, and ultimately improve their crop yield. By seeing practical demonstrations, farmers like Aisha Usman discovered how to improve their own plots:
"Before the IMA4P project, people left large gaps between their seeds when planting. The agricultural volunteer taught us that we were wasting the land, and that we should plant our seeds much closer together.
"When we started using the new techniques, people were very surprised with the results. People in my community didn't think it would work, because they've been farming this way for years."
The innovations didn't stop there. We've trained selected individuals in each community to source and identify good quality fertilisers – invaluable knowledge which is then shared widely with other farmers, helping them get the best results without over-applying pesticides and fertilisers.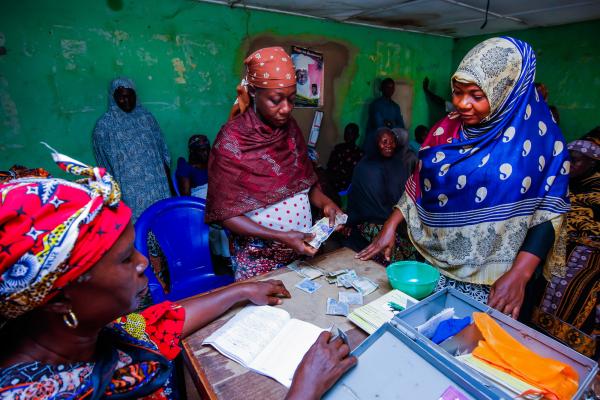 5. Saving for a rainy day
If there's no bank in your town, how can you save money? How can you access a loan? For rural farmers in Nigeria, the answer is to join a local savings and loans association.
These associations have been given advice on how to work more effectively, with steps to take when a farmer doesn't pay back their loan.
On an individual level, training sessions on financial management have encouraged farmers to set aside money for the future and to cover emergency costs.
Now, these farmers have the resources to recover from a bad harvest or a medical emergency.
"Since the financial literacy training, I now save a third of the money I earn, in case of an emergency," said Aisha Usman, a farmer on the IMA4P project.
"It's important because emergencies can happen at any time. Now, when I see someone in my village wasting their money, I say, 'Why are you spending money like this?'"
"With the money I've saved, I've started up my own ginger drinks business that I run alongside farming. With the money I make from the shop, I can buy things for myself, clothe my children, and even help my husband when he needs extra money."
---
Find out more about our work: