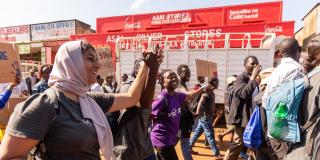 How we work to ensure we leave no one behind.
Across all our programmes we focus on building communities that are resilient, inclusive and accountable.
Our three 'core approaches' are fundamental to our volunteering for development approach, ensuring that the people we work with have the confidence and capacity to bring about change in their own lives:

Social inclusion and gender
Around the world, thousands of people are discriminated against because of who they are. This may be on the basis of their gender, age, disability, cultural background, sexual orientation, and many other factors.
We aim to understand and address the systemic causes of this discrimination, and all our programmes are underpinned by a rigorous social exclusion and gender analysis. As a lead partner on the Leave No One Behind initiative, we are committed to inclusivity in all we do.
Examples of our work ensuring social inclusion and gender equality
We're tackling discrimination in Pakistan, where there is a stigma attached to women reporting crimes like rape and honour-based abuse. Working with local NGO Rozan and the Pakistan Forum for Democratic Policing, we're creating environments where women feel safe reporting gender-based violence, and building the police force's capacity to deal with these crimes sensitively and effectively.
In Tanzania, we're challenging structural discrimination and working to ensure everyone has an equal opportunity to earn a living. The Tanzania Local Enterprise Development (T-LED) programme focuses on supporting the most disadvantaged people when it comes to building small- and medium-sized businesses: women and people with disabilities.
Case studies from our work in social inclusion and gender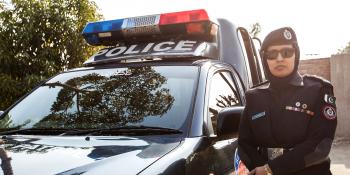 Working with the police force, NGOs and civil society organisations to combat gender-based violence, and challenge longstanding attitudes towards harmful cultural practices in Pakistan.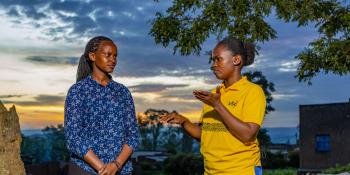 Improving sexual and reproductive health and rights for marginalised and at-risk Deaf young people.
Using drama to empower marginalised groups.

Resilience
Disasters, disease outbreaks and other shocks and stresses can have a devastating effect on communities - especially those which are already marginalised. We know that resilience is essential to ensuring sustainable development.
Building resilience isn't just about responding to crises as they happen. Rather, we work to develop communities' ability to identify, prepare for and respond to a range of threats, whilst creating the social, practical and financial safety nets needed to help cushion the impact when disaster does strike.
Examples of our work building resilience
After Cyclone Idai hit Mozambique in March 2019, entire communities were left without food and shelter. We were able to move faster than other organisations and rapidly distribute 180 tonnes of food and essential supplies to over 13,000 people, thanks to our network of hundreds of community volunteers, already trained in resilience and disaster preparedness.
In Sierra Leone, we're also working through community volunteers to help residents prepare for, and lessen the impact of, disasters like the 2017 mudslide which devastated the capital, Freetown. We've also trained hundreds of teachers across the country in disaster risk reduction and response, empowering them with essential knowledge of how to avoid hazards and what to do in an emergency.

Social accountability
Millions of the poorest people around the world are denied the basic rights and entitlements that are guaranteed in law. Yet corruption, fear and power dynamics can stop people from speaking up and demanding what they deserve. We are committed to giving people a voice, no matter who they are or where they are from, as well as helping authorities to better respond to that voice.
Our volunteers work to bridge the gap between communities and those in positions of power. They empower communities to hold decision-makers to account, whilst also supporting policy-makers and service providers to build their capacity and respond more effectively to people's concerns.
Examples of our work developing social accountability
Volunteers are working with prisons across Zimbabwe, supporting inmates to identify areas of improvement in prison health services - and empowering them to hold authorities to account where standards fall short. As a result, access to sexual and reproductive health services has improved, and the nutritional standard of food provided has increased.
In India, we're using citizen-led monitoring approaches to measure progress on the Sustainable Development Goals. As part of this, VSO volunteers are empowering people with disabilities to demand access to the services they deserve, with awareness-raising campaigns reaching thousands of people.
Case studies from our work in social accountability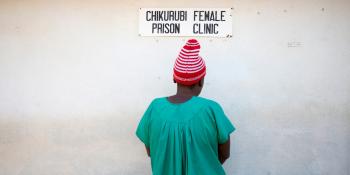 We've been working with the Zimbabwe Prison and Correction Services (ZPCS) to empower inmates to identify areas of improvement in prison health services - and hold authorities to account where they fall short.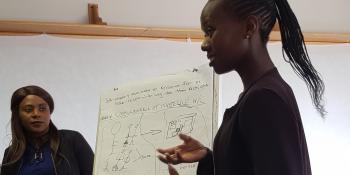 We've partnered with the Ministry of Health to improve young people's access to sexual and reproductive health information and services, whilst supporting a citizen-led monitoring approach that holds authorities to account.