The Black Lives Matter (BLM) movement in the Global North has recently been confronting issues of systemic racism, institutionalised power dynamics and police brutality. To date, over 10,000 people have been arrested in demonstrations in the US, and activism in the UK and Europe has raised important questions about historical monuments and institutional racism.
We have been reflecting on this in the context of our global work to address issues of diversity, inclusion, equality and anti-discrimination to create a fair world for everyone. VSO recognises the intersectionality of vulnerability and that race cuts across class, caste, gender, disability, age and other vulnerabilities. It is complex, and has different connotation in different contexts which we are aware of.
VSO's Social Inclusion and Gender model is to dismantle this ideology of superiority and inferiority, and the power dynamics that lie behind it. This has been at the core of our internal social inclusion and gender training, to challenge assumptions and prejudices to bring about a transformative change within our organisation. It is an opportunity for all of us at VSO, and our partners, to reflect and acknowledge that we all have power and privileges, and then to take affirmative action to change this disparity, injustice and inequality.
We have also been addressing diversity, inclusion, and anti-discrimination through:
our programming: the introduction of our core approaches, which examine at the systemic causes of marginalisation and injustice, has been a fundamental shift in our work
our leadership: challenging power and hierarchy by adopting a distributed leadership model and shifting the balance of VSO leadership to the Global South
our governance: ensuring our Board better reflects the diversity of our stakeholders and brings deeper insight and experience to bear in delivering our mission.
Whilst we continue to challenge discrimination, we need to be honest that this is a journey, and there is always more we can do. We will:
Work more strategically and systematically, both internally and externally, to put accountable mechanisms and policies in place
Continue to hold a zero-tolerance approach to racism and explore where barriers to inclusion exist within our organisation
Highlight the effects of racism and its implications as we continue to build and roll out our online training curriculum on social inclusion and gender
Collect evidence of oppression and discrimination based on race, focusing on the issue through our Social Exclusion and Gender Analysis (SEGA) and other contextual analyses
Create platforms for people, particularly youth, to speak out so that they can lead and tackle systemic barriers and discriminatory practices, including in our internal practice
Review our global Code of Conduct to see if there is anything that can be improved
Continue to review our recruitment practice to ensure we identifying and removing barriers to inclusion and gender equality.
As an organisation, one of our key principles is to be reflective in our practice. This means challenging ourselves on discrimination and constantly looking for ways to meet our vision of a fair world for everyone.
Geeta Pradhan, Lead Advisor – Gender
Praveen Kumar, Lead Advisor – Social Inclusion
Philip Goodwin, CEO, VSO
Latest posts
Mounting evidence shows food security has dwindled during the pandemic, especially for the most marginalised. Without urgent action, a year of famines looks increasingly likely in 2021. We must harness the power of volunteering for development to provide urgent relief and build more resilient livelihoods fit for the future.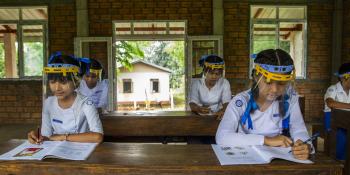 After the coronavirus pandemic sparked a nationwide lockdown in Myanmar, we look at how VSO has been supporting students in Myanmar, whether they are in school or at home.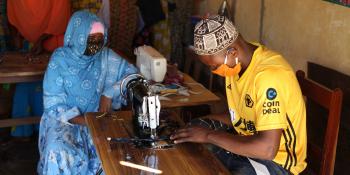 People supported by VSO showed marked resilience through the pandemic but have emerged with changed priorities. A survey covering nine countries reveals farmers and business owners urgently need support with innovation and training to help them rebuild their incomes.