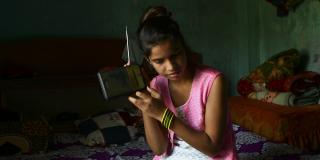 Schools around the world have begun to reopen, but the attainment gap for children will be wider than ever. VSO's Lead Education Adviser Purna Shrestha outlines how to close it.
It's back to school time in Europe, but most children around the world are still long away from returning to the classroom. In almost all countries where VSO works, schools have not yet reopened.
It has been complicated enough here in the UK for schools and the authorities to work out how children could return safely to education.
Now imagine the challenge in a country with far fewer resources, where schools already lack textbooks and toilets... How do you deliver lessons with social distancing, when the normal class size in your school is over 100 children? How do you maintain hygiene when your school has no access to running water?
Adapting to the 'new normal'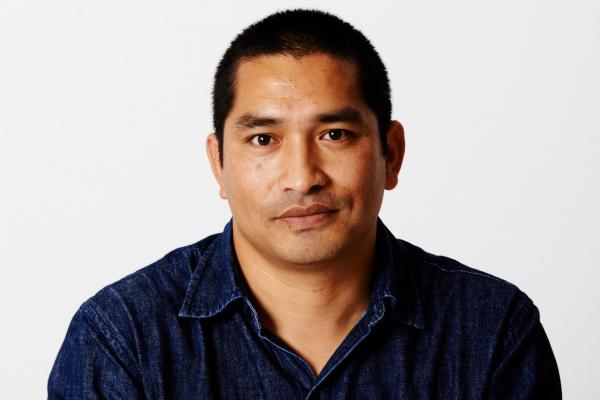 As VSO's lead education adviser, I have learned so much through the current pandemic.
I have found out just how resilient our staff and volunteers are. I have seen how quickly things people once said were impossible, like using technology in low-resource settings, have become our 'new normal'. But what's affected me most deeply has been the stark reminder of the inequality among the world's children today.
When my two children's school closed in March in the early phase of the COVID-19 outbreak in the UK, we had no extra equipment at home with which to home-school them. Almost straight away, their school arranged for them and their peers to borrow laptop computers with which to continue classes remotely, delivered at home using information technology.
They had lessons over Google Meet and stayed in touch with friends online, and yes, like so many parents, Monday morning YouTube PE classes with celebrity fitness coach Joe Wicks became a new fixture in our household.
While of course it isn't ideal that my children haven't been in school for five months, I feel that my children are lucky to have access to technology and teachers' support: their wellbeing has been provided for, with a steady stream of opportunities to continue learning, socialising and receive important information about how to stay safe and healthy during the pandemic.
Growing inequality among the world's children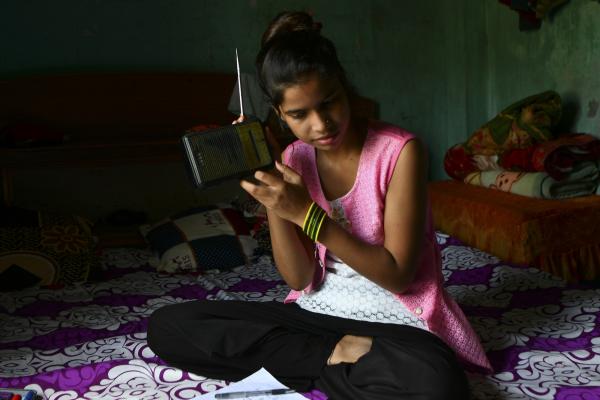 When I compare my children's experience with that of children in my birth country of Nepal, I am saddened by the gulf of opportunity between them.
Our research during the Nepali lockdown has shown that not only do most children lack access to the internet and therefore services like Zoom and YouTube – many of them do not even have a radio at home with which they could at least follow along with the educational broadcasts the government and organisations like VSO are providing.
Our research findings have been similar in Myanmar and Nigeria. Children in rural and remote areas in these countries, for the most part, have been cut out during the lockdown, not just from learning opportunities, but from the social benefit, protection and wellbeing that comes with education.
While my children's school is preparing to reopen imminently, the children in almost all of the communities VSO works in have longer to wait before schools reopen. The longer these schools remain closed, the greater the risk of harm.
Existing inequalities are worsening, and our community volunteers who are delivering education services have reported an increase in child marriages and violence against children. This has huge ramifications for children, who are not just suffering now, but face a life of reduced opportunities as a result.
It's not just six months of lost lessons – the impact could last a generation. Many children are unlikely to ever return to class.
The pursuit of education 'vaccines'
Not in our lifetimes have we faced a common global threat like coronavirus.
Just as the world's scientists hunt for a vaccine to provide a solution to the coronavirus crisis, VSO's global education team has similarly been brought together in the pursuit of a common purpose. While there are some local differences, essentially we're all grappling with the same challenge around the globe - how to ensure the wellbeing of, and minimise the harm to the millions of learners who are still out of school.
This common challenge has created a renewed sense of urgency in our teams and new levels of cross-country collaboration. Colleagues around the world are using collaborative digital tools to share weekly what is – and isn't – working, in our mission to reach these left-behind children. VSO people in Ethiopia are using insights from Myanmar, and those in Bangladesh are adapting lessons learned from Nigeria.
Reaching the most marginalised children and ensuring they keep learning while schools are closed
As we've seen, it's not enough to deliver a few educational radio broadcasts and hope for the best. Children can't engage with these if they don't even have pencils and paper at home. VSO is providing learning resources, such as worksheets and exercise books and pencils so that children can follow along with broadcast lessons. Around the world, local VSO volunteers have remained active in their communities, visiting children at a safe distance where appropriate to check on their wellbeing and progress in learning from home.
Supporting school management teams and local authorities to bring about a safe return to school
We're helping schools prepare for reopening, including by helping school management teams assess their local situation and how to manage it. We're also delivering water, sanitation and hygiene facilities in countries like Rwanda. When schools do reopen, VSO's extensive expertise in delivering catch-up classes for the most disadvantaged children will prove vital. We are working with UN agencies, governments and local partners to engage key stakeholders such as children, parents, teachers, and school leaders to assess risks and develop mitigation strategies so that when schools reopen, they are safe environments for learners and teachers.
Delivering psychosocial wellbeing training to educators (including parents)
The pandemic has proved the proverb: it takes a village to raise a child. Education does not just happen in school, even in 'normal' times. Parental support is vital to a child's prospects, and so they are included in our definition of educators. While most parents are not trained to teach, they play a pivotal in children's learning. Their own psychosocial wellbeing affects learners' wellbeing as does their ability to adapt to shocks and stresses. Wellbeing also goes beyond learning. It is about teaching children how to cope, and how to express and take care of themselves.
Volunteers: The unsung heroes of the pandemic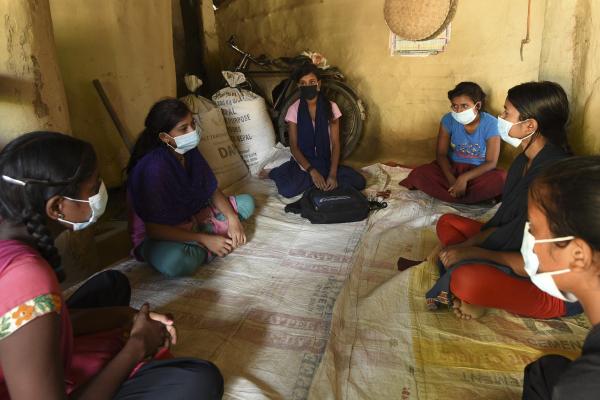 This is all happening in the context of a paradigm shift for our volunteering approach.
Despite hardships and the risks that come with the COVID-19 pandemic, international, national and community volunteers have continued their vital contributions to our education work.
Our community volunteers are critical, remaining on the ground and allowing us to continue delivering impact at the grassroots throughout this pandemic.
In places like Enugu, Nigeria, where access to even radio is low, VSO community volunteers are providing solar-powered radio listening clubs, making sure children are engaged with education and safe while schools are closed. They're even providing sign language lessons to children who are Deaf. The work of these community volunteers is under recognised - for me they are the unsung heroes of this pandemic.
The proliferation of technology and flexible home working has also allowed for more e-volunteering, through which VSO benefits from the inputs of technical experts and specialists from all over the world. They don't have to commit to a two-year placement – it may be that 10hrs per week developing new training materials is what's required to make a difference for the most disadvantaged children. Elsewhere, we have returned VSO volunteers who already have worked in communities for years and understand their challenges and needs continuing to support and coach remotely.
Overall, VSO has a distinct advantage in responding to the new challenges we face. We are benefitting from an ecosystem of collective wisdom derived through a diverse network of volunteers – solving local problems through global knowledge and community experience.
I am moved to see the passion of our volunteers who have gone the extra mile to help children learn during this pandemic and who are committed to developing more resilient education systems.
We're all in the same boat. COVID-19 is our common enemy and as a team we are stronger than ever to face it.
Read more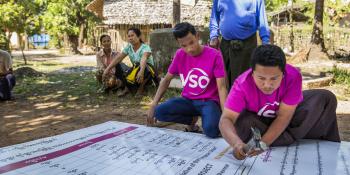 Until now, although good practices and methodologies have existed across the volunteering sector, there has been no globally agreed set of standards. Together with the International Forum for Volunteering in Development, VSO has launched the Global Standard for Volunteering.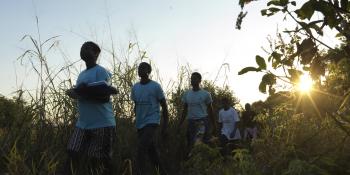 Volunteering is too often badly misunderstood. Too often, it is seen as a "worthy" activity undertaken by people with time on their hands. However, it really is a fundamental part of any country's development journey and when done properly, it can be a powerful tool.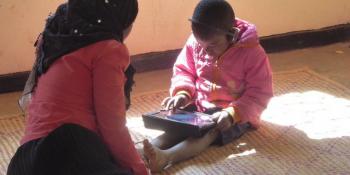 In 2017 Mike Barnes, an ex-primary school headteacher, joined VSO's Unlocking Talent project in Malawi, providing students with tablet computers loaded with local language courses in numeracy and literacy. Read how he helped improve learning outcomes for thousands of children.