Newborn deaths and infection rates have plummeted since VSO opened this intensive care unit in northern Uganda three months ago for babies born too soon or too poorly.
Warning: This article contains images of a newborn baby being resuscitated, which some readers may find upsetting.
This is the incredible moment a newborn baby fought for life. Thanks to VSO volunteers and supporters who helped set up a new neonatal intensive care unit (NICU), she survived.
This little girl was born on the crowded and chaotic maternity ward of Moroto Regional Referral Hospital in northern Uganda.
But there were complications during a long and difficult labour, which ended in every mother's worst nightmare. The baby wasn't breathing.
The 35-year-old mother may have feared the worst: in Uganda 27 in of every 1000 newborns don't make it. While she was resting on her way to a full recovery, the ward medical officer explained the situation:
Her womb had ruptured during a prolonged labour. The baby was in distress, then stopped breathing. The mother was praying very hard for her baby to be well.

Dennis Esayu, Ward Medical Officer, Moroto Regional Referral Hospital
Thankfully, the hospital has a new specialist unit, set up by VSO, to cope with exactly such a situation. Within a minute, the newborn was under the specialist care of Ugandan volunteer Deborah and midwife Phoebe.
The two used a special newborn resuscitator to bring the baby back to life. This simple resuscitator technology costs just £50 per unit - but it is rare for most hospitals to have even one. Through VSO support, the NICU here has two.
Within just a few minutes the baby was opening her eyes, as Deborah and Phoebe completed their newborn health checklist, cleaned and wrapped her to put her down for a well-earned rest.
"You see, she has decided to stay with us. Maybe this one will become our president one day," laughs Deborah.
Volunteers creating change that lasts
Technology alone is not enough to save lives. Ugandan VSO volunteer Deborah has been at Moroto Regional Referral Hospital since well before the unit opened, offering training to the two midwives here in vital skills like newborn resuscitation.
Deborah, who has a lifetime's experience working as a paediatric nurse, has also shared with local colleagues how to spot danger signs, which when missed lead to unneccessary deaths of babies. Her trainees have learned how to safely insert IVs, isolate babies with infections and maintain a high standard of hygiene across the unit.
The skills Deborah is sharing will remain with local staff long after the end of her volunteer placement, as she explains:
I hope and believe that through my mentorship, the nurses will be happy to continue the work we've been doing here with one heart, with love, even when I'm not there.

Deborah Nangomah, Ugandan volunteer paediatric nurse
Three months on: Signs of success
The NICU at Moroto Regional Referral Hospital opened just three months ago. In that time, 39 babies with complications have been admitted, with infection and birth asphyxia being the most common reasons.
Staff and volunteers are proud to report that 38 babies went home healthy, having received specialist care by health workers trained by VSO, using equipment provided by VSO. Sadly one baby, born prematurely at seven months with birth asphyxia and haemorrhage, did not respond to resuscitation and so could not be saved.
Before, seven out of every hundred babies born at this hospital died within their first week of life. Now the new unit is up and running the survival rate is over 99%.
While it is still early days for the NICU, these early results show promising signs of improved chances for mothers and babies born at the hospital.
"I have never received care like this before"
Of course, the new intensive care unit means the most to the mothers whose premature and sick babies are cared for here.
The nurses are kind. I feel very happy they are helping me watch over my daughter. This care is better than that for my first two children.

Dominica Lomongin, whose baby girl was monitored for infection, having been born on the roadside before her mother could reach the hospital on foot from her village 5km away
Mums who deliver early receive instruction in kangaroo mother care - the skin-to-skin contact that can double a premature baby's chances of survival. New parents also learn about the importance of hygiene in their children's first days back at home.
Historically, newborn mortality has been so common here that many mothers are superstitious: They believe that to prepare for their new arrival in any way might jinx the baby's survival. Now, they could begin to dare to hope.
Happy mothers and midwives
For midwife Phoebe Kobusige, the new unit is a game-changer in a remote hospital that has long suffered acute staff shortages and a paucity of resources.
Since VSO came on board, I personally have saved three lives using the training I have received in neonatal resuscitation alone.

Phoebe Kobusige, Midwife, Moroto Regional Referral Hospital
Phoebe explains: "We midwives have been crying for this unit to open. Before, we had nowhere to isolate our babies with infections. We were forced to keep sick and healthy babies together on the same congested ward, and our babies ended up getting infections because of this. We felt very bad.
"Now there is a very great improvement. On behalf of all the midwives, all of us, I want to thank VSO and those who helped us to open this unit."
---
Providing skilled volunteers, and low-cost high-impact equipment is a cheap way of saving lives. To all of you who have helped us support hospitals like this to provide new mums and babies with the quality care they deserve, thank you.
We always need more health professionals to volunteer. Please see our current opportunities for healthcare professionals
Medical and health volunteering
Latest posts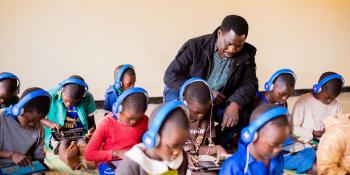 Meet 14 year old Mphatso who dropped out of school without the ability to read or write. He was sat in class with 200 other students unable to learn, so what was the point of attending school? Educational tablets are now giving Mphasto the education he deserves.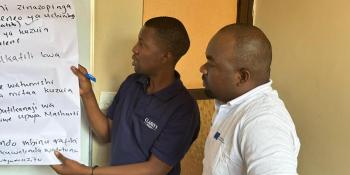 Emeka Enwe, a Finish citizen, and Dotto Joseph from Tanzania might normally live over 4,000 miles apart from each other, but through VSO's blended volunteering model, they've joined forces. Today they're working together on a beekeeping project in Tanzania.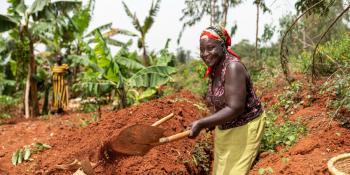 As we mark World Food Day, one statistic should be at the forefront of your mind. Currently one in ten people go to bed hungry each day.