We partner with some of the world's leading companies, including Randstad, Citi and Accenture, to bring about meaningful change.
Our Knowledge Exchange programme gives skilled volunteers from the corporate world the chance to work with communities across Africa and Asia. We value these collaborations enormously, and make sure that we provide creative ways to help companies meet their corporate social responsibility goals.
91% of corporate volunteers strongly agree that their volunteering experience increased awareness of their company's corporate social responsibility and sustainability policies.
74% of corporate volunteers surveyed actively made recommendations for positive change within their organisation.
100% of development partners report they are better able to deliver their programmes as a result of the business skills shared by Knowledge Exchange.
Volunteer programmes for your business
Do you represent a business looking to develop your talented employees, while changing lives in the world's poorest communities?
Talk to us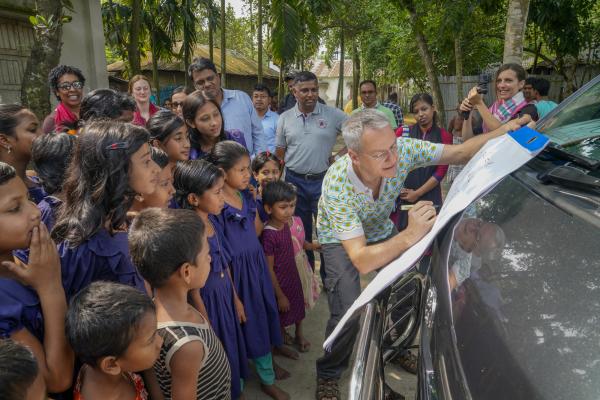 Delivering value to your company
The Knowledge Exchange programme supports your company to:
achieve the Sustainable Development Goals (SDGs) as part of your corporate responsibility and sustainability plan,
develop sustainable leaders of tomorrow,
reward your employees and engage them with your CSR work,
improve talent acquisition and retention,
understand new markets and opportunities,
innovate new products and services,
deepen involvement with and understanding of global supply chains.
Volunteering was the tool we chose to give our senior leaders the insight and first-hand experience required to deliver our sustainability strategy.

Juan Gonzalez-Valero

Head of Public Policy and Sustainability, Syngenta
Developing your employees
Knowledge Exchange placements are proven to develop key competencies of future leaders, including:
innovation, problem solving, flexibility, strategic thinking, empathy and team leading skills,
cross-cultural awareness and communication skills,
the ability to deliver projects and programmes linked to achieving the UN's Sustainable Development Goals,
design thinking and product development to suit emerging markets.
Meaningful placements
Our high standards of volunteering ensure sustainable impact in the communities within which we work, building resilience, inclusion and social accountability.
Corporate volunteering projects focus on:
demonstrable improvements in the lives of communities living in poverty,
building capability and skills of local development partners,
enabling local organisations and communities to have a better understanding of, and engagement with, the private sector,
creating new, sustainable development programmes,
improving the systems and processes of VSO's development work including recruitment, monitoring and evaluation.
Bespoke corporate volunteering packages
Talk to us about your priorities for corporate volunteering: we can work together to combine different elements of existing programmes, or design an entirely original project tailored to your business.