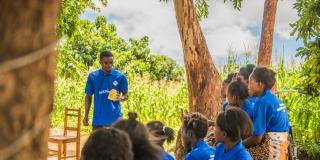 On 8 December 2022, VSO will be hosting the Volunteer Impact Awards, which celebrates the exceptional contribution of VSO volunteers from around the world in creating lasting change in some of the world's poorest communities.
This year we are celebrating the theme of active citizenship and recognising the work of volunteers in empowering the most marginalised to lead their own development and claim their rights to better services.
Volunteers are nominated under the categories of health, education, livelihoods, and impact beyond volunteering.
It will be a ceremony to remember with live performances.
Watch a recap of last years awards, and read about the winners and finalists from 2021
Register now to secure your place