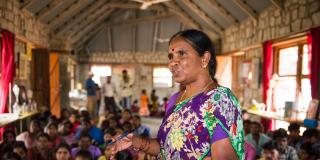 We've worked in India for over 30 years, strengthening inclusive education systems and supporting people to develop sustainable and resilient livelihoods.
We reached 12,918 children through our World of Difference programme.
We supported 6,000 people with disabilities to gain local employment.
Our Kisan Vikas initiative trained 5,000 marginalised farmers in efficient agricultural practices.
Inclusive education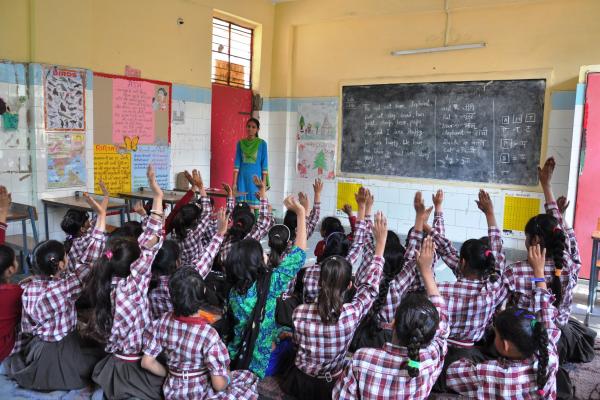 Our education projects are designed and delivered in conjunction with our private sector partners. Together, we use novel technology and innovative approaches to address some of the challenges which can prevent children reaching their full potential – including resource scarcity, large classroom sizes and gaps in teachers' skills. National and community volunteers support in-service teachers through coaching and training, reaching 450 teachers across 300 government schools in the Jharkhand, Delhi and Bundi districts.
We've seen huge successes in improving children's reading: in partnership with Vodafone, we reached 12,918 children and reduced illiteracy levels amongst target groups from 51% to just 5%; while our SMS Story project, which provided teachers with innovative teaching aids sent by daily text message, resulted in schools reporting literacy levels of 63% – compared to 42% in non-participating schools.
Resilient livelihoods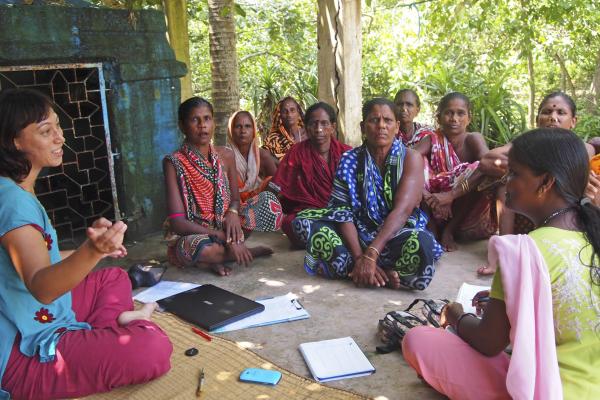 Our livelihoods programmes focus on supporting some of India's most vulnerable and marginalised populations – including women, young people and those living with disabilities – to improve their access to secure and sustainable sources of food and income.
Working with our private sector partners, we provide expert-led training so people can develop the skills and confidence they need to gain meaningful employment. In partnership with Bharti Infratel and Randstad, we supported 3,000 slum-dwelling women into work; and in partnership with IBM and the Samarthanam Trust for the Disabled we supported 6,000 people with disabilities to gain local employment.
In a country where two-thirds of the population depend on agriculture for their livelihoods, we work to boost the agricultural productivity of smallholder farmers, supporting people to grow more in the context of rising food insecurity and increasing environmental uncertainty. We've trained 27 climate-smart agri-professionals, who support rural farmers in Madhya Pradesh to safeguard themselves against the effects of climate change. Our Kisan Vikas initiative trained 5,000 marginalised farmers in efficient agricultural practices, so enabling them to increase yields at a lower cost.
Contact us
We work with a number of corporate partners including IBM, Randstad, Vodafone and Bharti Infratel. To discuss developing a corporate partnership with us, email Sachal Aneja, Asia Pacific Corporate Engagement Manager.
Find out more about corporate partnerships with VSO
Our implementing partners are local NGOs working in education, livelihoods and governance.
If you are interested in supporting our work, or if you have another query, get in touch:
Delhi office address: VSO, Regus -Level 5, Caddie Commercial Tower, Hospitality District Aerocity, IGI Airport, New Delhi - 110037, India
Tel: +91- 11-66782852
Northern Capital Region office address: VSO, Regus - Logix City Centre, 7th Floor Cabin No. 713, near Web City Centre Metro Station, Sector 32, Noida, Uttar Pradesh - 201301, India
Email: vso.southasia@vsoint.org
---
Find out more about our work in: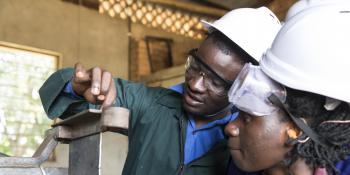 Ensuring that everyone has access to decent employment and market opportunities.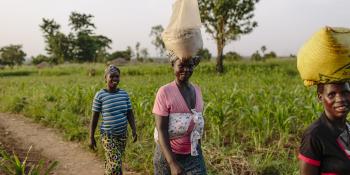 Supporting fairer outcomes for agricultural communities.