Our work in eSwatini focuses on improving the health and wellbeing of marginalised prison populations.
As part of our regional prison health programme across southern Africa, we work to improve the sexual and reproductive health (SRH) and general wellbeing of highly vulnerable prison populations. Our innovative approach uses the power of peer-to-peer education to improve prisoners' knowledge of SRH and communicable diseases, whilst developing inmate-led support groups that provide essential counselling and cell-based care.
Improving the health and wellbeing of prison populations in southern Africa
Contact us
If you are interested in supporting our work across southern Africa, or if you have another query, get in touch with our Zimbabwe Country Office.
---
Find out more about our work in: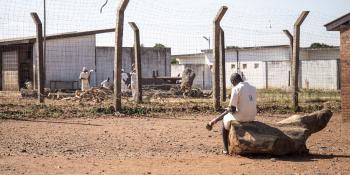 Improving prison health through an innovative combination of volunteer peer support, skills training, and advocating for change.