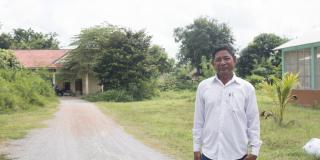 The Improving Market Access for the Poor (IMA4P) programme supports smallholders like Prak Sim to turn their rice farms into thriving commercial enterprises.
Prak Sim, 52, is a father of four. Thanks to training and improved linkages with key players in the market, he's raised his income by 40%:
"I have two jobs. I'm a vet, but I'm also a farmer.
"I have a rice paddy. The main challenge for me is that the seed is not good or reliable.
"I've never changed before. As farmers, we always follow the traditional way – so I just use the one type of seed. That's why we never got a good quality product from our paddies.
"Water is another challenge. Also, when we produce rice, we don't have a market to sell it. We have to spend a lot of money on farming but when we sell the product, we get a low price.
"We are dependent on nature [the weather]. We don't know the market so well, so we have produced the wrong thing that isn't needed.
"IMA4P has found us a solution. They have provided training to us.
"VSO has given us some capacity building, and that means we have knowledge to deliver the training to another farmer. They are guiding us to the market, mobilising the farming community and millers so that we can meet each other and discuss the market. That's new. They've facilitated the signing of contracts between farmers and the millers.
"I would like to thank VSO for this role. We now have the market for rice. Once we've produced it, we have the ideas and the market to buy our product.
"I hope to sell my product with good quality, and my income will increase. Because we've joined as a group, all of us farmers are able to increase our income, by increasing our crop and farming through IMA4P."
I am now comfortable with this income. It's about 40% more than it was before. I can send my children to school and buy us all food. I'm really happy about IMA4P supporting me.
---
Find out more about our work in: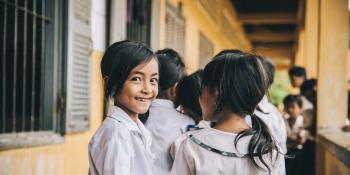 We've worked in Cambodia since 1991, strengthening inclusive education systems and supporting people to develop secure and resilient livelihoods.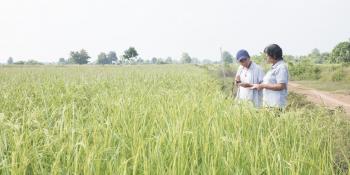 Improving Market Access for the Poor (IMA4P) identifies high-impact value chains, transforming agricultural markets to make them work better for the world's poorest farmers.