In Bangladesh and Nepal, we're working with our partners on an unusual and engaging approach to help address the widespread issue of child marriage.
In Chakrakhali, southern Bangladesh, 15-year-old Suborna dreamt of going into further education. However, her parents struggled to support her and her sister financially, and so Suborna dropped out of school in the eighth grade.
"No one physically forced me to get married but I was mentally pressured," says Suborna, "I thought of my parents and my sister and decided that if I got married it would give my father more of a chance to support my sister's educational expenses."
Suborna is not alone. Bangladesh has one of the world's highest rates of child marriage, along with Nepal, where almost 37 percent of girls are married under the age of 18. Although awareness is on the rise, many communities struggle to talk about the issues openly.
A new approach
To help communities start a conversation, we worked with UK-based NGO Theatre for a Change to pilot an unusual technique, using stories from participants' own lives to help communities spark a conversation on the issue of child marriage, forcing decision-makers to take notice.
In Parabatipur, Bangladesh, a story unfolds on stage. It's the tale of a 14-year-old girl, who had been married young and fallen pregnant, and was suffering from complications. In the final scene, the girl stands on stage alone, holding her body and looking at the audience, saying "please help me". Two women in the front row rise to help the girl to her feet and take her to the doctor, played by another audience member. Ultimately, the play ends with the girl being taken to the police station and having her husband arrested.
This theatre performance encourages audience members to get involved, using a technique called 'touch-tag' whereby participants 'tag' members of the audience, nominating them to swap into the places of characters and participate in the performance.
For Devi Chhetri, an audience member at a performance in Nepal, the play opened her eyes to the issues raised – and showed how she could be part of the solution:
I could really feel the performance. I had little knowledge of child marriage, but seeing the performance today gave me more knowledge and the realisation that from now on I can spread the message amongst my friends and relatives that child marriage is wrong.
Changing behaviours
Research from the project shows that individuals are committing to change their behaviours, by speaking to children about sexual and reproductive health and rights, and refusing to accept child marriage.
These changes have far-reaching ripple effects. Participants who have shared their stories, and joined in with performances, are now seeing changes across their community.
Not only can they [the audience] see the issues, but with role play they can also solve the problems.

Pramila, participant
---
Find out more about our work in: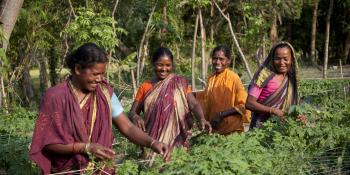 We work across all of Bangladesh's 30 districts, building healthy communities, strengthening inclusive education systems, and supporting people to develop secure and resilient livelihoods.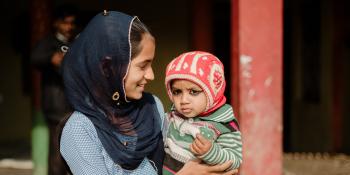 We've worked in Nepal since 1964, building healthy communities, strengthening inclusive education systems, and developing community resilience.
Using drama to empower marginalised groups.