On Tuesday 23rd February, 22 year old Tania Tuzizila from Croydon will be the 20,000th young person to volunteer with the International Citizen Service (ICS) – a youth development programme for 18 to 25 year olds, led by leading international development charity, VSO and funded by the UK government.
For nearly three months, Tania will be based at the 'Banteay Char Livelihoods Project' in north-western Cambodia, which empowers young people living in poverty and teaches them new skills to improve their job prospects. This project is one of nearly one-hundred projects in twenty-five countries across Africa, Asia and Latin America designed to make a long term, sustainable difference in some of the world's poorest communities.
Tania is no stranger to challenging starts herself. Born in war-torn DRC, she fled her home at the age of three with her mother and five other siblings in tow. She grew up in a council house in Croydon, suffered racism and nearly died from TB and pneumonia on her eighteenth birthday. She got in with the wrong crowd, got into fights, got into trouble with the police and was on track to fail her GCSEs until she turned it all around, massively improved her grades and secured a place at university. Now on a year out from her Health and Social Sciences degree, Tania, an aspiring Midwife, is really looking forward to her ICS placement:
"It's absolutely amazing that I'm the 20,000th volunteer. I'm really looking forward to seeing people change before my eyes. I also want to change my perspective. Dreams get smaller as you get older, so knowing that I will leave an imprint on young people's lives means a lot to me. I've always wanted to volunteer and enjoy helping others who are underprivileged or have had a challenging upbringing. Someone once helped my family and I would love to give back to those who need my help."
Now in its second phase, ICS2, which launched in June last year, will build upon the success of ICS1 which began in March 2011. The current contract, which runs until December 2018, will send out 10,400 British volunteers, up from 7,001 British volunteers who were sent out during phase one. British volunteers will work alongside the same ratio of local volunteers across a range of projects designed to improve education, health, employment and the environment. These projects also give local people a voice.
Katy Langham, Head of ICS Programme Delivery at VSO, reflects on the growing success of ICS:
"ICS continues to enable thousands of young people from the UK and from the countries we work in, to fight poverty together. A UK volunteer working in partnership with a young person from the same country they volunteer in, is key to ICS. It's essential for volunteers to be integrated into the communities they are supporting. Building on the success of ICS1, ICS2 will have a deeper impact. We will invest more in our alumni here and overseas. We know that thousands of our alumni are inspired by the power of active citizenship and have helped shape the UK's commitment to implementing the Global Goals. ICS alumni continue to feel responsible for making the world a better place. That's a really exciting prospect! We're also increasing the number of projects which support people to earn a decent living. A secure income is the first step to ending the cycle of poverty. Our projects will help build the local economy, increase people's skills and grow local enterprises, which will generate a fair income and eventually employ others."
27 year old, Esi Addae, from Feltham was one of the first ever ICS Volunteers in 2011. For three months Esi was based in the rural town of Kwale, in southern Kenya. She supported employment opportunities for local young people and also got involved with a toilet restoration project. She fondly looks back on her placement:
"I graduated in Anthropology from Durham University during a recession, so I saw ICS as a great opportunity. Functional toilets are considered a luxury in some parts of the world. One school I worked with had two toilets for six-hundred kids. It was so bad, girls during their period wouldn't come to school. Consequently, boys got better grades. We take so much for granted and it frustrates me that something so simple could ruin an education. When we got the toilets working again, we made a tangible difference to those girls. I felt so proud. ICS is all about initiative and enthusiasm. I learnt a lot about myself, community engagement and how changing small things can make a huge difference. ICS has helped me be the person I am today; more considerate of others and confident. I now see the world in a different way."
Esi is now a Committee Secretary for 'Health Watch England', supporting strategic decision making.
ICS is funded by the UK government and open to all UK based 18 – 25 year olds. Applicants don't need cash, skills or qualifications – just ambition to make a difference.
Summer 2016 volunteer placements are now full. Any volunteer applications received now will be allocated to Autumn 2016. ICS is however, recruiting Team Leaders for this summer (minimum age 23). ICS have placements available until December 2018. For more information visit: http://www.volunteerics.org
For media enquiries or to book an interview, please contact VSO Media Officer: Charlie.Ensor@vsoint.org / 0208 780 7668 / 07795 473 511.
Editor's notes
ICS is a development programme which brings 18 to 25-year-olds together from all backgrounds to fight poverty. ICS is funded by the UK Government and led by leading independent, international development organisation, VSO. ICS is delivered by the following agencies: Progressio, Raleigh International, Restless Development, Tearfund, Skillshare International, International Service, Y-Care International, Balloon Ventures and Challenges Worldwide. ICS is open to everyone, regardless of income. All ICS volunteers are asked to fundraise and receive professional support to help them meet their targets. Fundraising ensures that ICS work in developing countries is able to continue in future.
About VSO
www.vsointernational.org is the world's leading independent international development organisation that works through volunteers to fight poverty in developing countries. Since 1958, VSO has been bringing people together to share skills, build capabilities, promote international understanding and ultimately changes lives to make the world a fairer place.
Latest posts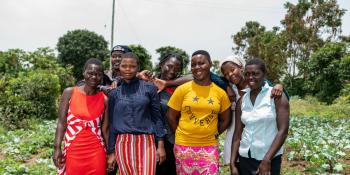 This month, our youth champions took over our @VSOPeople account on Twitter, to share the ways they're tackling climate change in their communities. Watch the video to find out more.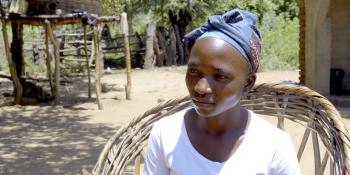 In Zimbabwe, survivors of violence and abuse have little access to mental health services to manage the trauma they've experienced. For those who've been through so much, what support is out there?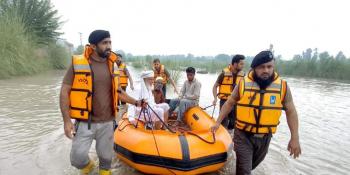 Flooding in Pakistan is a stark reminder that the increasing frequency of extreme weather events, disproportionately affects the poorest societies. Community Emergency Response Teams are in the field providing emergency action.