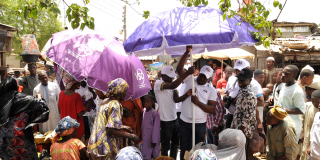 This week we received one of our proudest accolades to date– to be named the UK's most diverse charity in terms of senior leadership.
A report published on 6th June by recruitment company Green Park in Third Sector News analysed more than 1,800 senior leaders at the top 100 UK charities through annual accounts, Charity Commission listings and networking sites to discern ethnic background. It found just 8.1% of the roles were held by those from ethnic minorities, falling to 6.2% in the most senior positions of all.
The senior leadership of VSO was ranked as the most diverse of all, just ahead of other charity sector leaders in this regard, Islamic Relief Worldwide and Marie Stopes International. We're proud of this recognition, and it demonstrates our executive and international board members are made up of a diverse range of nationalities and backgrounds that reflects better the global nature of our work.
Diversity matters to us as an organisation. Working in 24 countries across two continents through international volunteers originating from 26 countries, last year we supported almost 2.5m people living in some of the world's poorest communities through our health, education and livelihoods work. Having a senior leadership team that at least in part reflects the people that we support is crucial in better understanding those communities and ensuring we support them more effectively to deliver their own development.
Diversity is something that we've been thinking about a lot.
A 2017 study found that in addition to UK trusteeship roles being exceedingly white and male, the average age of trustees was 61. To put that in context, in England and Wales around 12% of the population are aged 18-24 – yet this group represents just 1% of those sitting on boards.
Diversity and inclusion matters to us at VSO because it sits at the heart of our work. Our organisational commitment to the agenda of "leaving no-one behind" means we need to ensure we reach out to the most marginalised in the places where we work. But we also know as an organisation that "many heads contain the wisdom", that including multiple voices and perspectives helps make us a more effective organisation.
Having said that, let's not pretend that being an inclusive and diverse organisation is easy. It requires us to be open to challenge. It requires us to think about how our ways of working might continue to exclude people and groups.
This is one of the reasons we have integrated social inclusion and gender into all our programme approaches at VSO. So whether we are working on tackling child marriage in Bangladesh, improving access to HIV and health services for prisoners in Southern Africa, or supporting small-holder cocoa farmers in Ghana, all our programmes have to take account of how our ways of working impact on particular groups within the communities we are working. It also needs to build a clear understanding of those groups that our work leaves out.
A commitment to diversity requires us to constantly rethink our assumptions
One particular area that we are looking at is increasing the number of disabled people volunteering in VSO programmes. Over 300 disabled young people from across the UK have volunteered in the last 5 years on the International Citizen Service (ICS) programme that we manage on behalf of the UK Department for International Development. We want to increase that figure substantially moving forward. This means reviewing and positively seeking to improve our processes and policies across volunteer recruitment marketing, our application process and the necessary safety and security considerations for each placement we recruit towards.
At VSO, a substantial part of our international development work is with and for young people. Last summer we recruited two Youth Advisers to help bring the voice and presence of global youth to our International Board. More than 120 volunteers from across the world put in their applications for the roles – and eventually we chose Takyiwa Danso from London, and Felix Owino, from Nairobi, for their significant achievements during and after volunteering with us, and we have already had some brilliant insights from them.
We also made a decision at VSO that we would move more of our global leadership roles out of the UK and closer to those we serve. Our global operations are now managed from South Africa, while our monitoring and evaluation team is led from India, and our international finance management is directed from Nepal. This means we have to work differently: reaching out to build understanding; listening more carefully to different perspectives; and integrating different views. We can no longer sit in our own internal organisational "communities" if we are to effectively serve communities around the world through our work.
A commitment to diversity requires us to constantly rethink our assumptions about why some voices are heard and are influential and others are not. So while we are proud to be recognised as being the most diverse UK charity in terms of our senior leadership, especially given the current lack of diversity in senior leadership across the UK, we will use this recognition as a spur to do more. So, we start again today by asking "what do we need to do, to do better?"
Read more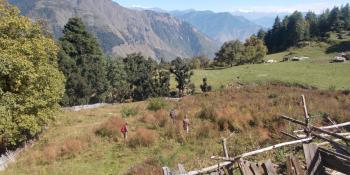 VSO e-volunteer Chris Evans outlines how a tiny pilot permaculture scheme in Nepal successfully spreads environmentally friendly practices and ideas in line with existing cultural traditions.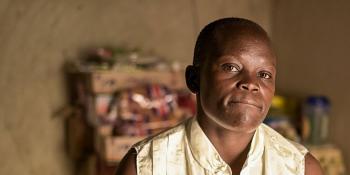 For Vivian, the Covid-19 pandemic was a frightening time. Affording three meals a day for herself and her children was hard with no income. Thanks to VSO supporters Vivian was provided a lifeline, with a new small business grant.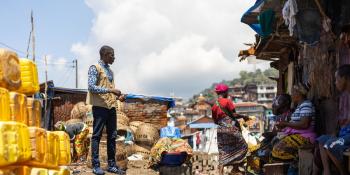 In 2021 a devastating fire broke out in Susan's Bay slum in Freetown, Sierra Leone, leaving 7,000 people homeless. Read how volunteer Samuel jumped in to action.