Tonight we celebrated the incredible achievements of VSO volunteers – helping a charity manufacture sanitary towels in Kenya, fighting to get girls back into school in Uganda, setting up an operating theatre to deliver a hospital's first C-sections in a remote area of Nepal – these are just some of the successes recognised at the VSO Volunteer Awards 2017.
The awards ceremony was held at the Royal Geographical Society in London, and featured 28 finalists and eight winners, chosen from over 150 nominations that have worked across 25 developing countries.
The winners were all chosen for their outstanding work as volunteers, with the judges looking for those who showed extraordinary commitment, a willingness to go above and beyond as well as considering which projects left a lasting impact on the lives of others.
The VSO Volunteer Awards are kindly sponsored by NASUWT - The Teacher's Union
"They've brought real change to some of the world's poorest communities, and show what is possible when we work together in service of a cause bigger than ourselves."

VSO's Chief Executive, Dr Philip Goodwin
Meet the Winners
Stephanie-Marie Müller
International Professional Volunteer Award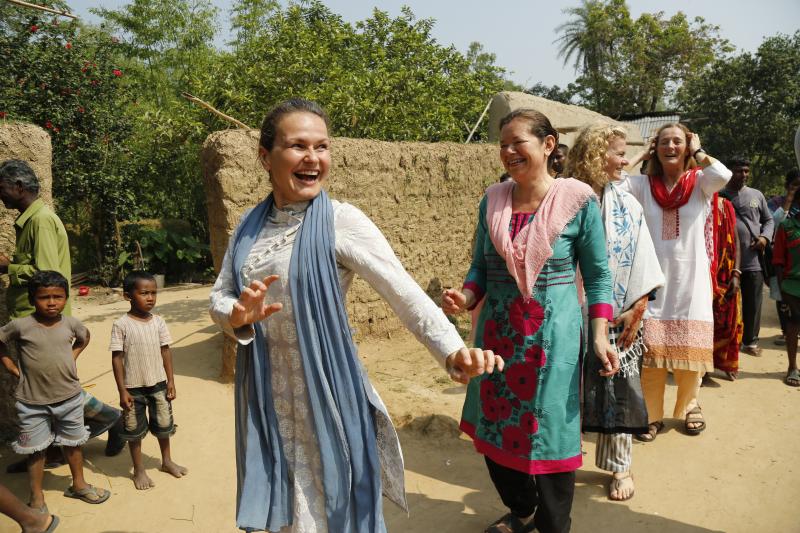 From Germany, Steffi initially volunteered in Bangladesh on a corporate placement. However, after realising HR wasn't her calling, she asked VSO if she could stay on in Bangladesh for a second placement.
Steffi's been in Bangladesh ever since, joining the Growing Together project to help women farmers. She provided essential analysis of the area to the 16 volunteers she was working with, and helped give women the opportunity to grow high-value crops such as chilli and tomato. The impact has been impressive – with 90% of women saying participating in the project had improved their confidence. Throughout she has shown outstanding commitment, even staying in 2016 when most volunteers chose to leave due to security concerns.
---
Ashish Varkey
National Professional Volunteer Award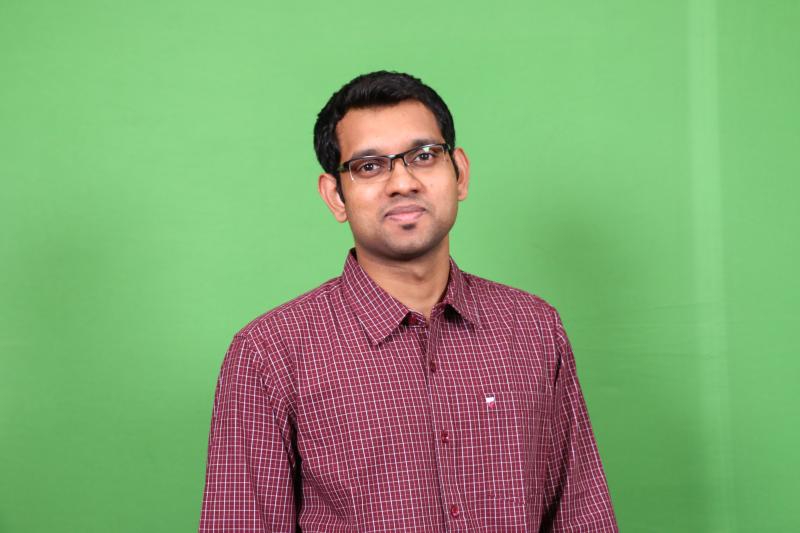 Ashish was a corporate volunteer from Vodafone in Mumbai. By applying his business acumen, he helped women farmers in rural areas of West Bengal.
He began by visiting farmers to understand supply chains. He then studied research articles, met with government officials and used his professional contacts to inform the project's next steps.
Ashish realised to maximise profit margins it was necessary for these farmers to leverage economies of scale. And so, 20 farmers from four villages joined an existing farmers' cooperative. Research showed that with modest investment, these farmers could increase their profit by 100%. In just seven weeks, Ashish transformed the way these farmers sell their produce.
---
Janice Ann Perez
Education Volunteer Award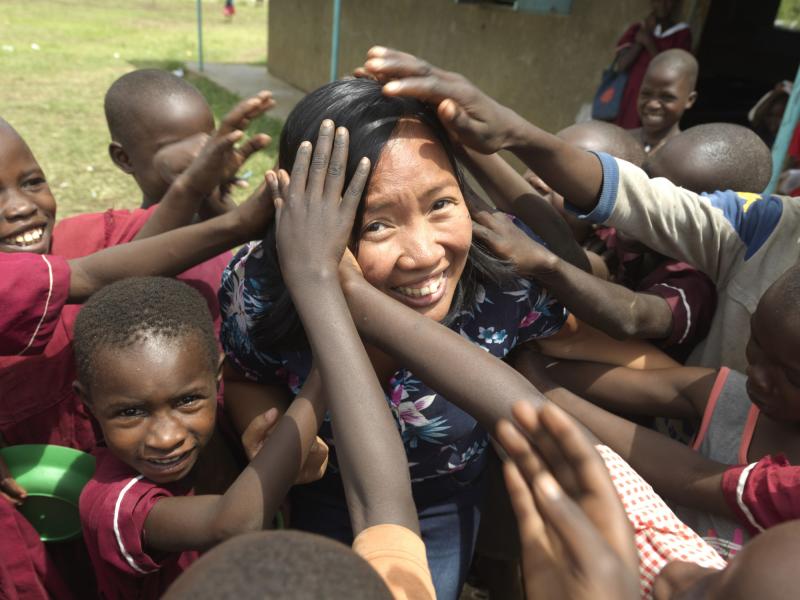 From the Philippines, Janice has been volunteering in Uganda for over two years, after extending her stay to a second placement. She has been providing support to over 100 schools in Karamoja, one of the most deprived regions in the country.
She has developed training resources and manuals to reduce school dropouts, focusing on those most at risk of exclusion, particularly supporting girls to access education. She is hard working, using lesson observation, coaching and feedback to help teachers implement the training.
Motivating teachers and introducing new ideas, teachers see her as one of them, a testament to how she's worked to build relationships and trust.
---
Randstad Youth Employment Team
Volunteer Team Award
The Randstad Youth Employment Team are winners of the Volunteer Team Award for their work in Tanzania. The fourteen corporate volunteers worked to improve career guidance for young people in Tanzania, coming together to work successfully as a team.
They gave careers guidance and soft skills training in 12 schools and made links between the private sector and youths looking for employment opportunities. On another project, the team established career service centres, and as a result 330 students started apprenticeships in April.
Throughout the various projects they've worked on, the team has been commended for acting as role models and quickly learning and understanding the culture. They have also been praised for using sustainable models of development, so that the work they've done in Tanzania will have a lasting impact.
---
Shay Minihane and Patsy van Winden
International Youth Volunteer Award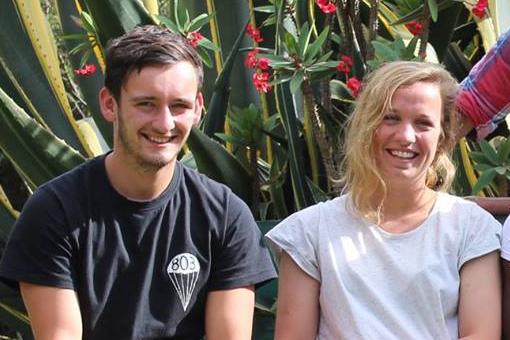 These two British volunteers have been awarded the International Youth Volunteer Award for their work on an ICS placement in Nanyuki, Kenya. They were working with a charity that helps girls attend school during their menstrual cycle. In this area, girls will usually take a week off school while on their periods.
Patsy jumped into action, building a website for the charity that not only gave them an online presence, it was also able to accept foreign donations. Meanwhile, Shay helped set up a workshop for the production of sanitary towels, even sourcing a sewing machine to speed up production. Not only did this help young girls stay in school, it also provided an income stream for the women involved.
Shay and Patsy fundraised for the charity over two events, the first a pub quiz, and the second, a community-based event that raised awareness and funds. The team managed to raise over £500, enough to keep 60 girls in school for 2 years.
---
Emmanuel Opare
National Youth Volunteer Award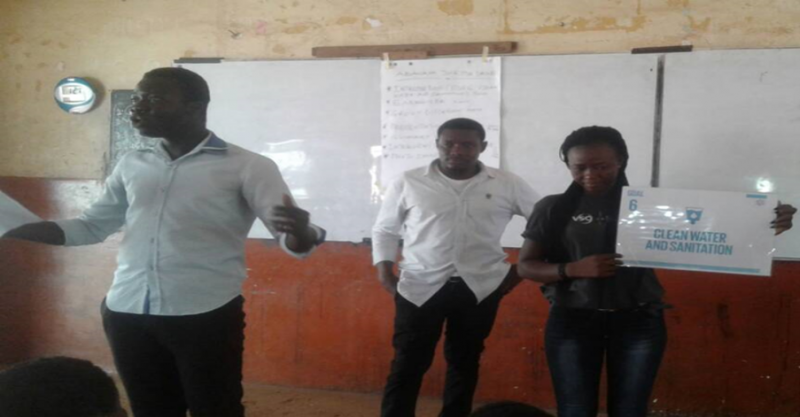 Emmanuel started volunteering as a VSO ICS volunteer, working on a project in Asamankese, Ghana, training women in batik, soap-making, tie-dye and bead making. The project also gave talks in the community on reproductive health, environmental issues and gender equality.
After his first placement, Emmanuel didn't rest on his laurels. He went on to volunteer as a team leader in Jirapa, where he helped create a campaign to highlight the importance of education, and created teaching materials for classrooms.
Since volunteering, Emmanuel's achievements have been impressive. He has gathered over 1,000 books, dictionaries and educational resources to donate to a school near Asamankese. He now hopes to introduce computer skills classes in a school in Jirapa. Emmanuel continues to work with VSO, training new team leaders, offering practical advice and sharing his experiences.
---
Dr Maria Aurora 'Bhaby' Uyvico
Impact Beyond Volunteering Award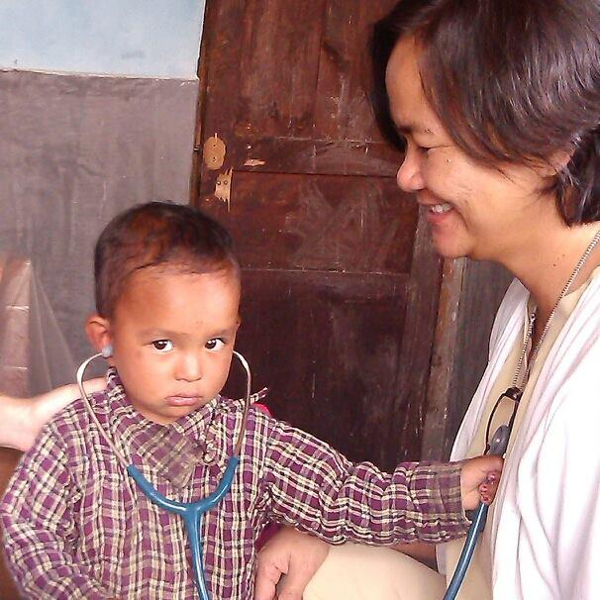 For nearly two years, Dr Uyvico volunteered in the under-resourced and remote Mugu District Hospital in Nepal, to improve access and quality of healthcare for women and girls. She set up an operating theatre, so the hospital was able to deliver its first c-sections, and mentored doctors in c-section and ultra-sound skills.
---
Latest posts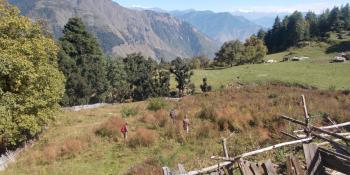 VSO e-volunteer Chris Evans outlines how a tiny pilot permaculture scheme in Nepal successfully spreads environmentally friendly practices and ideas in line with existing cultural traditions.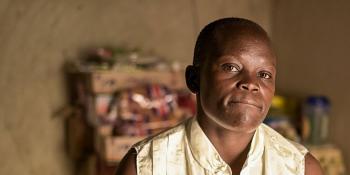 For Vivian, the Covid-19 pandemic was a frightening time. Affording three meals a day for herself and her children was hard with no income. Thanks to VSO supporters Vivian was provided a lifeline, with a new small business grant.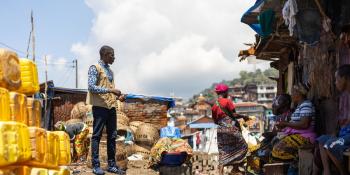 In 2021 a devastating fire broke out in Susan's Bay slum in Freetown, Sierra Leone, leaving 7,000 people homeless. Read how volunteer Samuel jumped in to action.