After many years of teaching in Devon, UK, VSO teaching and education volunteer Ann Marcer recently completed her placement in Lamjung, Nepal. She has been working on a project to encourage more girls to attend and stay at school. Here, many communities place a higher value on domestic work and early 'marriage' for girls than they do on education.
Here Ann takes a look back at what has been achieved with the schools and teachers involved in the project.
Fortunately my last job in Lamjung was to collect data about the lessons and the schools, using the same criteria as had been used at the start of the project, so providing up to date and measurable data.After 22 months working in Lamjung it is time for me to look at what has been achieved with the 12 schools and teachers involved in the 'Sisters for Sisters Education in Nepal Project'. This project aims to encourage more young girls to attend and stay at school to complete their education. These girls are the 'Little Sisters'. They are supported by 'Big Sisters' older girls from the community who have completed their education.
Almost 2 years ago many of the lessons I observed comprised of teachers talking and students listening. In some the teacher talked through the whole lesson and the students did nothing except listen! Lessons were mostly unplanned, taught from the textbook and there were no resources used to help with understanding or learning. Behaviour in some lessons was poor and there did not seem to be good respect between teacher and students. In many lessons students appeared to be bored.
A serious feature of many lessons was the domination by and favouritism for the boy students. This was easy to see because boys and girls sat on different sides of the classroom. I saw teachers facing the boys side of the room for the whole lesson, only asking the boys questions, choosing boys to read and, in one case, only marking boy's homework. Boys were allowed to shout out the answers to questions, even when a girl was asked the question. The girls sat meekly in the classrooms and in most cases accepted this unequal treatment. Having watched one lesson where the teacher completely ignored the girls in the class, I asked him if he had forgotten them. He replied that "They wouldn't have wanted to answer questions anyway, so there was no point in asking them."!
The schools had a similar disregard for girls rights and needs. In many schools the girls toilets had no running water, nowhere private for girls to wash and change sanitary towels and no bin for used ones to be disposed of. In one school the girls toilet door (one toilet only) did not even shut properly or lock. It was not surprising that many girls would not attend school when they were menstruating.
Also boys dominated the everyday life of many of the schools. Boys led daily assembly, represented students on student councils and management committees and were chosen for many important leadership roles. At break times the play areas were normally used for the boys football games, leaving the girls nowhere to play active games. That was two years ago!
And now.....
I cannot say that all these issues have been completely resolved, but in all schools there has been change. Some schools now have mixed gender seating arrangements; girls and boys sitting on the same benches, meaning that teachers can't just face the boys. Many other schools plan to introduce this during the year. In almost all of the 36 lessons I observed there was equal teaching of boys and girls, although there was still some boys domination in a few lessons which went unchecked by the teacher. I observed almost no favouritism towards the boys by the teachers.

It is good to report that, in most of the schools, lessons have improved. In no lesson did I see the teacher talking for the whole lesson and all had some student activity. In many lessons the teacher had obviously planned the lesson and brought prepared materials e.g. word cards, to contribute to learning activities. Behaviour was good in many lessons, much improved from two years ago, perhaps because there is now more respect between teacher and students.
Most schools have included gender sensitive issues into this years School Improvement Plan and Headteachers report that the project has had a big impact on their schools. Some girls toilets have already been improved whilst plans for improving most others have been formulated and included in this years School Improvement Plan.
I've observed girls playing volleyball and football during break times, in the area once only used by the boys. In several schools girls were leading daily assembly and in others they had special responsibilities for other activities.
Female teachers too are becoming more assertive and acting as role models for the girl students.
Finally many girls seemed much more confident, and appeared happy to be at school.
Almost all of the 320 Little Sisters that we have been working with from the start of the project are still attending school regularly, which is a success story in itself!
There are other beneficiaries however, unplanned for in the original project proposal. The Community Mobilisers, who work supporting the Big Sisters and involving the local communities, have grown in confidence and developed new skills. They speak confidently at large meetings of teachers and/or community members about the project or the rights of girls and women. The Big Sisters too have increased their confidence and skills, and I hope many will go on to find work in the future where these attributes can be used. Well done to you all!
I feel sure that this project has made a difference to the future prospects and life chances of at least some of the girls, Little Sisters, that we have been working with. If this is so then the project has been worthwhile.
---
This article originally appeared on Ann's independent volunteer blog and is reproduced here with her kind permission.
Latest posts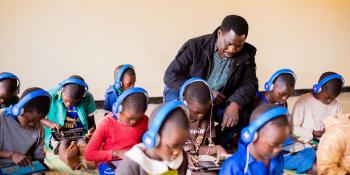 Meet 14 year old Mphatso who dropped out of school without the ability to read or write. He was sat in class with 200 other students unable to learn, so what was the point of attending school? Educational tablets are now giving Mphasto the education he deserves.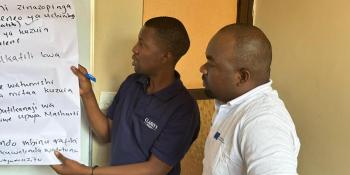 Emeka Enwe, a Finish citizen, and Dotto Joseph from Tanzania might normally live over 4,000 miles apart from each other, but through VSO's blended volunteering model, they've joined forces. Today they're working together on a beekeeping project in Tanzania.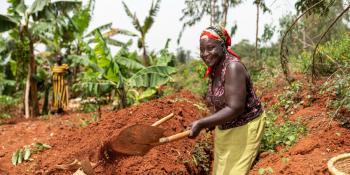 As we mark World Food Day, one statistic should be at the forefront of your mind. Currently one in ten people go to bed hungry each day.