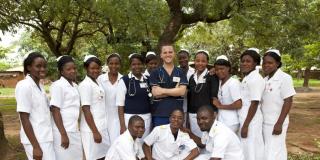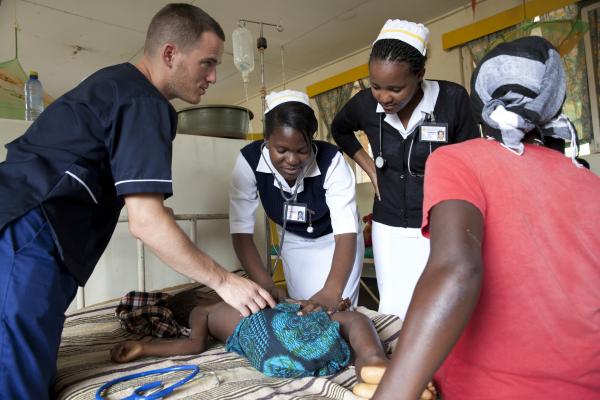 David Atherton, 36, volunteered with VSO in Malawi training nurses and midwives, before going on to support thousands of overseas volunteers and staff as part of VSO's medical team. Incredibly, he found time alongside his lifesaving job and active lifestyle to be crowned winner of The Great British Bake Off 2019.
VSO's International Health Adviser David Atherton doesn't like to sit still for long. But this summer his schedule became hectic - even by his standards - as he began filming for popular TV series, The Great British Bake Off.
"I would get up very early every day and cycle the 15km from home to reach VSO's office in Kingston by 6.30am. That meant I could leave at 3pm and have enough time to get baking practice in. I'd be baking long into the night – a five-hour showstopper takes at least five hours to practice, and then of course there's a lot of washing up!" says David. "But I made sure I always got enough sleep. In my job you see how important sleep is to general wellbeing."
David, whose journey with VSO started in 2012, has always liked being busy: "I get it from my mum, who's exactly the same. She was a VSO volunteer herself in Papua New Guinea in the 1970s, and I always wanted to follow her example."
Life as VSO volunteer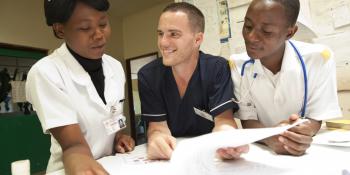 "Back in the UK, I would never get the breadth of experience I've had in Malawi."
Through the UK Aid-funded Tropical Health and Education Trust programme, Yorkshire-born David spent two years training nurses and midwives at a rural hospital in Malawi's Zomba district.
VSO volunteer David worked alongside Malawian nurses and midwives to improve the quality of their care:
"The role of a nurse in Malawi is very complex," says David, "because often they have to work at a much higher level than is typical in the UK. Nurses in Malawi are not specialised, so they're expected to cover lots and lots of diseases, body systems, admissions and assessments, and often have to perform tasks with limited understanding."
David introduced new ideas such as 'head to toe' checks on babies coming into hospital for free immunisation.
"The 'head to toe' examination is a really important low-cost way of being able to diagnose so many potentially life-threatening issues by identifying simple things like looking at how pink a child's conjunctiva is, to diagnose early anaemia," he says.
By the end of the project, nurses and midwives could respond much quicker to emergencies, with one mother saying, "Before, our children could die in our hands with personnel just watching us, but this no longer happens."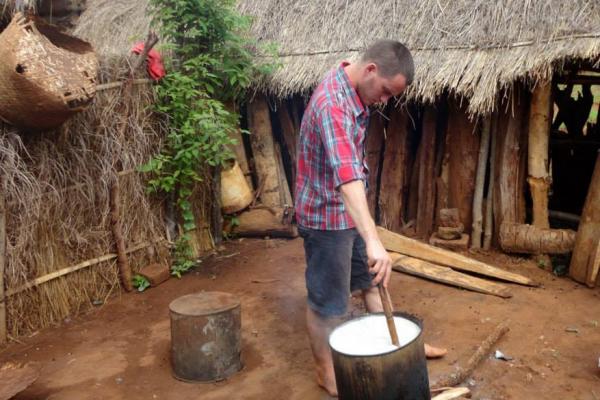 Lessons from Malawi
During David's time in Malawi, he also became very close to the local community and culture. He became good friends with his Malawian neighbour, Odeni, who taught foodie David how to farm.
"I learned so much from him," remembers David, "together we grew an acre of maize and also planted a kitchen garden. I learned how to make Malawian food, like nsima (pounded maize) and thobwa, which is a fermented drink."
David even found ways to share his baking skills with his new Malawian friends, including cooking a cake over a village fire. He also made his own peanut butter – a process that took days including growing and harvesting the nuts, before shelling and processing them by hand.
"You've got no oven, no fancy equipment, none of the things you might be used to in the UK. Being put in a completely different environment like that really develops your resilience."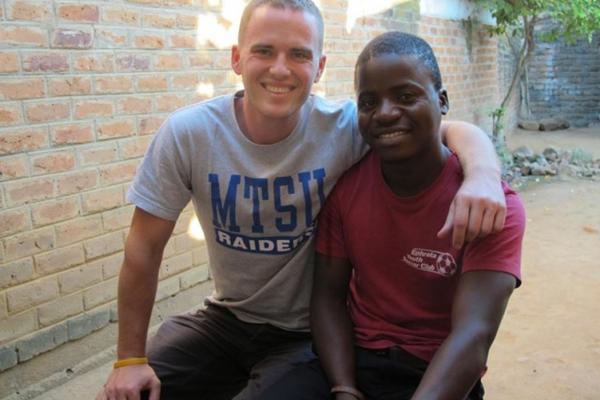 David adapted so well to his new community that he was even given a Malawian name.
"We lived at the foot of this mountain," David remembers. "It was so beautiful that I'd make sure to get up at 4am so I could hike to the top to see the sunrise, and still make it to work before anyone else!"
"The people there must have thought me very strange to do this – none of them had even been up the mountain. So they renamed me Mr Phiri (mountain)."
Volunteering in Malawi made David a passionate advocate of UK Aid and left him with lifelong friendships.
His flexibility and adaptability – two crucial qualities for any VSO volunteer – certainly came in useful in the Great British Bake Off. But it's also vital in David's life-saving day job.
Working as an International Health Adviser
After finishing his VSO placement in 2014, David leapt at the chance to continue working in global health, this time within VSO's medical team.
David's team provides round-the-clock medical support and advice to VSO volunteers and staff in the field, as well as dealing with emergencies and delivering global training in medical issues.
"I couldn't say exactly how many volunteers I've trained and supported at VSO, but it has got to be thousands," says David.
"The most common things we deal with are things like gastroenteritis (traveller's diarrhoea) and skin issues, but we also focus a lot on mental health support. Being overseas and outside your usual environment can be difficult for a lot of people so it's important we are there and give the right support."
Of course, supporting thousands of volunteers and staff each year in over 20 countries means the medical team also deals with emergencies, as well as unusual tropical diseases and parasites.
"The most unusual one in recent memory is a snake bite," remembers David. "We got the volunteer airlifted to a hospital in South Africa and they got the treatment they needed. Bites are the sorts of thing people usually worry about, but I've only seen two in my whole time in this job – so it's actually fairly uncommon!"
"I love my job, because of the busyness and because of the diversity – every day is different. I get to work with people from all over the world. It's working as part of a team to help people. We're all collaborating towards the same goal, and finding ways to help each other."
Stepping into the Bake Off tent
"I would say VSO prepared me well for The Great British Bake Off," says David. "It made me very resilient and determined."That really helped me in the Bake Off tent: I wasn't going to get stressed by a cake not rising or my pastry being a bit soggy, because I'd seen other people getting through so much in life and being so positive. And so I was determined to do the same.
That really helped me in the Bake Off tent: I wasn't going to get stressed by a cake not rising or my pastry being a bit soggy, because I'd seen other people getting through so much in life and being so positive. And so I was determined to do the same.

David Atherton

VSO International Health Adviser and Great British Bake Off 2019 winner
Congratulations to David, Great British Bake Off 2019 winnner!
Read more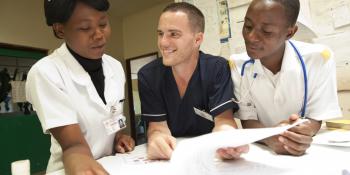 "Back in the UK, I would never get the breadth of experience I've had in Malawi."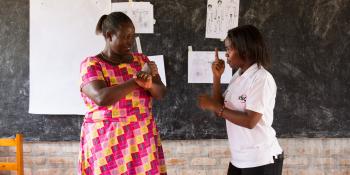 Despite significant leaps forward in global health over the past few decades, millions of people are unable to access the healthcare they deserve. It's now imperative that we reach those left behind before it's too late.