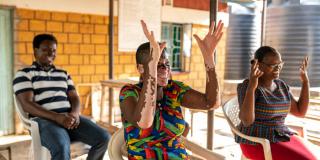 My name is Truphosah Fridah Monah. I am a Kenyan woman with disability, I use a wheelchair for mobility. Professionally, I am a trained Sustainable Human Developmentalist and a Counselling Psychologist. I studied at the Catholic University of Eastern Africa and the United States International University-Africa.
My work as a disability inclusion advisor
"I am a national volunteer in Kenya. I work as a disability inclusion adviser for the Delivering Equitable and Sustainable Increases in Family Planning project (DESIP).
"DESIP is a five-year (2019-24) UK aid funded programme, implemented in a consortium led by Population Services Kenya (PS Kenya), with AMREF Kenya, Options Consultancy Services Limited, Faith to Action Network (F2A) Health Rights International (HRI), Voluntary Service Overseas (VSO) and Population Services International (PSI), funded by UK aid.
"My main activities are to ensure inclusion of people with disabilities in the project through bringing on board Organisations of Disabled Persons (OPDs) and strengthening the capacity of the DESIP partners on matters of social inclusion. I carry out supportive field visits to health facilities to sensitise them on social inclusion as I check on their progress in matters accessibility for persons with disabilities in SRHR/FP services and information.
"I help in developing inclusive Information, Education and Communication (IEC) materials for health care providers to raise awareness of the importance of including persons with disabilities in the services. On matters related to policy, I play a contribute to creating awareness amongst policy makers on the need to consider disability issues when making policies.
The challenges in family planning for young people with disabilities
"There are numerous challenges facing young people with disabilities. These include cultural beliefs about disability that present and portray people with disabilities as asexual, hence they believe they have no need for services and information on sexual and reproductive health and family planning (SRHR/FP).
"The type and severity of their disabilities also are barriers to them when seeking these services. This makes it a challenge for them to exercise privacy when communicating and when receiving services.
"Distance to health care facilities is also a challenge. Youths with disabilities are often viewed as too young to need such services. Their lack of financial independence places them in dependent situations where they cannot afford these services, unless they are funded by guardians or parents.
"Young women with disabilities face double the stigma compared to their male counterparts and young women without disabilities. The same cultures that cause oppression towards women, affect women with disabilities twofold.
"The health care providers have a low level of acceptance when it comes to disability and SRHR/FP. The attitudes of people in the community feed into their willingness to support youth with disabilities.
"These youth are often dependent on others when it comes to personal care, mobility, decision-making, and communication, and are faced with added challenges since they cannot access these services without the support of their caregivers. This then means that the caregivers are the ones at liberty to decide when and if these youth are given access to these services.
"The lack of social networks places youth with disabilities in isolation. This is a big challenge as they lack peer-to-peer support which plays a huge role as a source of information and peer confidence. This lowers their self-esteem and interpersonal skills leading to them assuming a helpless position in matters of SRHR/FP.
Why I became a VSO volunteer
"Before joining VSO, I was creating awareness on disability inclusion through social media platforms. This followed my undergraduate research on Reproductive Health as a Social Challenge to Women with Disabilities. I created a virtual space where myself and other women with disabilities could tell our stories both from professional viewpoint and from our lived experiences.
"I used to do these informally and on purely voluntary basis since it was not a funded project. When I saw a call for volunteer work with VSO I was motivated to apply and work with an organisation that could amplify our voices as women with disabilities in matters of SRHR/FP. I have got to bring on board Organisations of Disabled Persons, among them being women with disabilities who I used to champion inclusion with.
How DESIP is changing the lives of youth with disabilities
"I am immensely proud of DESIP, the work we have done and the results we have achieved. We have influenced matters of SRHR/FP from all corners and at different levels. We have managed to make big impacts in policy by ensuring that the Kenyan Ministry of Health is not only aware of social inclusion, but also adopts the social inclusion approach of service delivery. This is seen in ways like including the aspect of social inclusion in the National Reproductive Health policy, adopting the DESIP proposal to have a section on capturing data on disability in the public health family planning service register.
"I have progressively participated in sensitisation of health facilities on inclusion from angles of accessibility of facilities and acceptance of health workers to use the social inclusion model of service provision. DESIP is playing a big role in participating in the preparation of the Ministry of Health annual work plan and developing the Family Planning standards with the aspect of social inclusion embedded.
Working with Social Inclusion and Gender champions
"I participated in training Social Inclusion and Gender champions. We took them through the training materials and guided them to develop work plans which included giving feedback to their facilities and implementing social inclusion in their service delivery.
"During our supportive field visits to the facilities, I was able to pick out one champion who took it upon herself to ensure that the facility she is in charge of is as accessible as possible and inclusive to the best of her ability. The facility had made their own adjustable couch in the maternity wing to accommodate women with disabilities, the facility had ramps all round the departments and I personally was able to access everywhere with my wheelchair.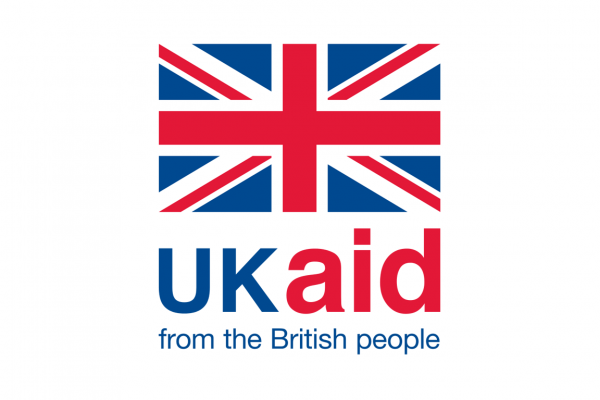 "The facility community health volunteers were able to reach persons with disabilities and this reflected in the register where it was recorded that persons with disabilities were being attended to. The board of directors of the facility had a very positive attitude towards disability and they were wiling and open to learn more. This is the nurse in charge of a facility called St. Teresa Asante Nagoya Health Centre in Rangwe subcounty of Homa Bay county.
'Being the Change' through volunteering for development
"I have improved my training skills, I have been able to physically visit health facility to witness the "before and after" training on social inclusion, I have been able to learn more on project management, monitoring and evaluation through working with professionals at VSO."
Read more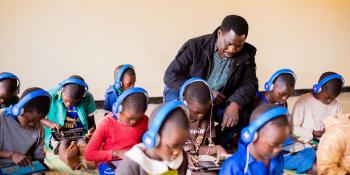 Meet 14 year old Mphatso who dropped out of school without the ability to read or write. He was sat in class with 200 other students unable to learn, so what was the point of attending school? Educational tablets are now giving Mphasto the education he deserves.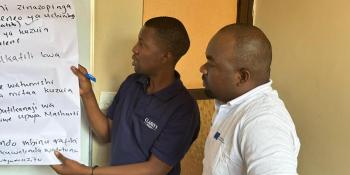 Emeka Enwe, a Finish citizen, and Dotto Joseph from Tanzania might normally live over 4,000 miles apart from each other, but through VSO's blended volunteering model, they've joined forces. Today they're working together on a beekeeping project in Tanzania.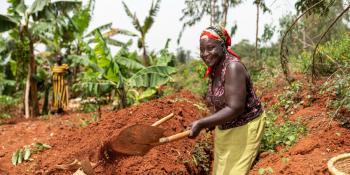 As we mark World Food Day, one statistic should be at the forefront of your mind. Currently one in ten people go to bed hungry each day.