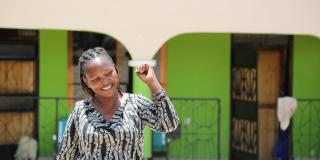 This article first appeared on Business Fights Poverty.
The coronavirus pandemic poses a specific set of threats to women. Whether in the UK or Uganda, there's growing evidence that the pressures of lockdown and the associated economic downturn will lead to a regression in women's rights and gender equality.
At home, women are taking on much greater caring responsibilities for children who have been unable to attend school, while also having to step into an educational role. At work, women are more likely to be in the sort of low-paid or informal work – hospitality, healthcare, cleaning – which either exposes them to the virus or puts them at higher risk of losing their income.
Women-led businesses are facing a crisis. According to the International Labour Organisation, more than a third are run by a single owner, meaning the very existence of the business is threatened by the expansion of women's care role. The progress we've made as a sector in recent years in supporting women entrepreneurs is at real risk.
And yet as Country Director for VSO in Tanzania, I have been struck in the past few months by the remarkable resilience, adaptability and ability to innovate shown by women entrepreneurs. With the right support, women-led businesses can survive and grow beyond this crisis.
What should that support look like? As in so many areas of life, the pandemic has prompted deep thinking on how we do things, and, for VSO, is validating and accelerating changes that were already taking place in our livelihoods programming.
We believe that running a resilient and adaptable business is about so much more than a set of technical or business skills such as bookkeeping, marketing or sales planning. The crisis has proven that business owners must draw on a broader set of abilities, relationships and motivations. This is especially important for women, who face additional barriers. Recent research conducted by VSO indicated that two-thirds of female entrepreneurs we worked with in Tanzania reported experience of gender-based violence including financial, emotional and physical abuse.
One woman we supported is Zakhia, an entrepreneur based in Mtwara in southern Tanzania. Her tailoring business was badly hit by the virus, but she quickly adapted to produce protective coverings instead. VSO and our partners provided the technical support to facilitate this transition, including training on how to make suitable face coverings.
But more importantly than that, we've supported Zakhia over several years to develop the entrepreneurial mindset that has enabled her to successfully assess the risks and opportunities presented by the crisis and respond decisively. Zakhia saw the threat of the virus, drawing on some savings to tide her over – but then spotted the opportunity to adapt, and leveraged her networks to make it happen. She's now turning a profit again, while also training and mentoring others to steer their own businesses through the pandemic.
So, where traditional programming might identify a market opportunity in a particular location and provide off-the-shelf technical training for aspiring entrepreneurs in how to exploit it, our approach is more holistic. We recognise that for women in particular, running a business cannot be separated from their personal and family lives, and the place they occupy in society.
We support them to identify and tackle the barriers they might face – whether resistance from their husband or family, being turned away from the local bank, or hostility from other business owners. This resilience is crucial when a crisis hits, and can help secure the long-term viability of a business.
The approach is based on a combined 'assets' and 'capabilities' methodology which looks at a business owner's situation in the round. We work together to consider her assets – financial and physical but also social and human – and discuss what additional skills or support she might need. But this is underpinned by an analysis of her capabilities – which we define as her ability to make choices about the things that she values. What does she aspire to? What are her priorities? Does she have the power to get to where she wants to be? Addressing these fundamental questions is critical when supporting a woman to become a successful business owner.
Lastly, our approach considers the collective as well as the individual. Any business operates within a network and a social, economic and political context. Through work with partners such as the Tanzanian Women's Chamber of Commerce, we support women entrepreneurs to work together to identify and address the collective barriers they may face. The groups we have supported have successfully lobbied local authorities to improve women's land ownership rights and worked with local banks to increase access to credit. They've also improved female representation on local business councils, leading to new public funding streams dedicated to women and girls' needs. This sort of advocacy is part of parcel of being a successful businessperson – especially in a crisis.
There's no doubt that women entrepreneurs in Tanzania and beyond face huge challenges ahead. But the women we've supported in Tanzania are showing their mettle. In May, as the crisis was really taking hold, businesses we supported in Tanzania created 135 new jobs, and women entrepreneurs were responsible for 80% of these. Across our work, female-led SMEs are reporting a 14% increase in sales over the past three months. The crisis has confirmed for me that the key to this success is a package of support that goes above and beyond the traditional business skillset.
Read more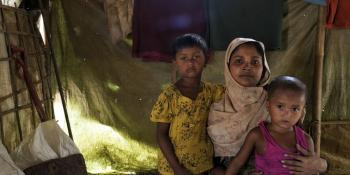 An update on our Volunteering for Development grant by Philip Goodwin, Chief Executive Officer, VSO.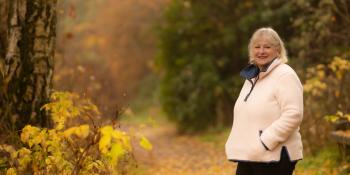 Carol Carson transformed training for student nurses, improved communities' patient care and trained midwives in life-saving skills, before being honoured by the Queen in 2020.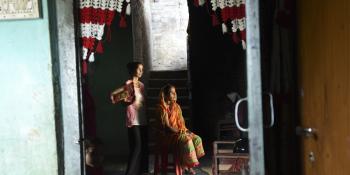 The coronavirus pandemic has devastated so many lives. But it isn't just one pandemic – from plummeting mental health to escalating gender-based violence – the most vulnerable in society are living through multiple invisible crises all at once.