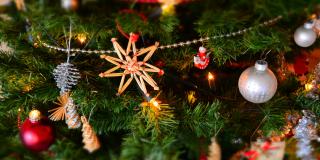 With Christmas on our doorsteps, millions of people around the world are gearing up to celebrate the festive season. Here we discover how no two countries do Christmas the same with a mini round-up of some of the coolest and quirkiest traditions in places where VSO works.
The world's longest Christmas celebration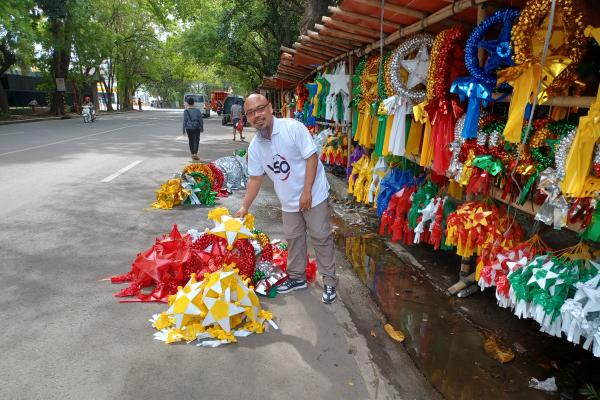 Filipinos love to party and are not a country to shy away from big celebrations! In fact, did you know there are approximately 42,000 major and minor festivals held in the country every year? Faith is an intrinsic part of the Philippines' culture and with over 90% of the population Christian adherents, Filipinos sure know how to go all out at Christmas time.
The country commemorates Christmas for four months of the year during the "ber" months (September, October, November and December) meaning they boast the longest Christmas season in the world! The Christmas fever kicks off on the 1 September with radio stations already blaring festive tunes and tinsel adorning shopping centres. It ends in the first week of January. For Filipinos, "ber" is the celebration of family, faith, fiesta, friends and fun. There is no specific inception period for the "ber" tradition, but it grew organically.
The Philippines is also the birthplace of the Giant Lantern Festival which takes place in the city of San Fernando. During this festival, huge star-shaped lanterns (known locally as parols) light up the city's skyline. Each parol consists of approximately 5,000 or more spinning lights and stands at about 20 feet tall. The festival draws huge crowds and has resulted in San Fernando being hailed as "Asia's Christmas capital."
Here one of our National Volunteers in the Philippines, Kate Rodriguez describes what Christmas means to her and her family.
"Christmas is important to us because it is the time of the year when families gather together no matter what. We eat together on Christmas Eve, share stories, exchange gifts, and share the love. And this is the time of the year for reconciliation and forgiveness. Christmas binds our families stronger."
Hockey sticks at the ready
Ethiopia has long cultural and historical ties to both Islam and Christianity, with roughly one-third of the population identifying as Muslim and two-thirds as Christian. Most Christians in Ethiopia are Coptic Orthodox and the country is heralded as having the second-largest Orthodox population after Russia.
Subsequently, whilst most of the world follows the Gregorian calendar celebrating Christmas (also known as Ganna in Ethiopia) on 25 December, Ethiopia follows the Julian calendar and celebrates on 7 January. However, the celebrations don't stop there! Twelve days after Ganna, on 19 January, a three-day celebration commences known as Timkat.
One of the most common activities played on Christmas Day is Yegena Chewata. This is the oldest traditional game in Ethiopia and is similar to field hockey whereby players use carved wooden sticks to strike round wooden balls.
According to one Ethiopian legend, it was first played by shepherds, who after being informed of the birth of Jesus, were so overcome with joy that they burst into a spontaneous hockey game with their staffs. It is customary for all the male population in Christian-dominated towns or villages to go to the nearby field or open spaces and play.
Santa is coming to town on a camel!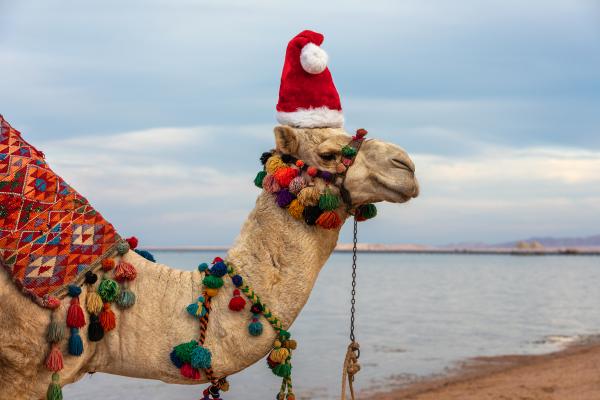 With a high Christian population, Christmas is a big deal in Kenya, with several people venturing back to their hometowns to commemorate the festive period with their families. They also have a few unique traditions you may not be aware of. This includes decorating Cypress trees and enjoying a Christmas day barbecue, which is all about grilled meats known locally as nyama choma.
Also, whilst he isn't a continent-wide African Christmas tradition, in some parts of Kenya Santa is depicted as arriving on a camel or bike. Children also enjoy camel rides during the festive season. It is also customary to visit the sick and elderly at Christmas.
Here Martin Nyoike, National Emergency Response Support-EiE Project volunteer shares how Christmas is celebrated in his home country Kenya:
For most Kenyan families, celebrating Christmas has never been complete without attending mass with children in their new clothes. On this day, I also prepare Nyama Choma- a special meal with my family. This is something I really enjoy doing! After we eat this meal before taking that all important family Christmas photograph! I love being with my family on Christmas Day and this is important to me because during the year, everyone is busy. This is our tradition; we have grown up with it, and I don't think it can change at all."
What Christmas dinner looks like around the world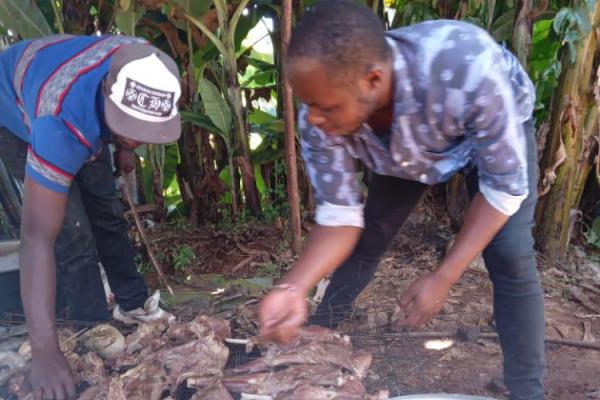 From families heading to their local KFC for Christmas dinner in Japan, to our VSO colleagues in the South African office tucking into deep-fried caterpillars, a typical Christmas meal looks very different in other parts of the globe. Here's an array of some of the dishes that you will find served on the dinner table in the countries where VSO works. Let's dig in…
Rice is king in Nigeria
In Nigeria, it can be argued that Christmas sans rice is no Christmas. Rice is usually served with a delicious tomato stew and chicken. Rice is Nigeria's staple food, and it is common for people to offer bags of rice as a gift during the Christmas period. Chin chin, a scrumptious small sweet fried crispy popular snack, is also frequently eaten during the festive season.
Although Islam is the country's most dominant religion, there are just over 98 million Christians in Nigeria.
Bibingka a desert to satisfy a sweet tooth
Bibingka is a Filipino delicacy that's popular during the Christmas period. Sold outside of churches during the nine-day Misa de Gallo, it's commonly enjoyed after the mass as breakfast or as a midday snack with a mug of hot chocolate.
Make a Bibingka
Prep Time: 10 minutes
Cook Time: 35 minutes
Total Time: 45 minutes
Servings: 3 people
Calories: 734kcal
Ingredients
1 cup rice flour
1/8 teaspoon salt
2 1/2 teaspoon baking powder
3 tablespoons butter
1/2 cup granulated sugar
1 cup coconut milk
1/4 cup fresh milk
1 piece salted duck egg sliced
1/2 cup grated cheese
3 pieces raw eggs
1/4 cup grated coconut
Pre-cut banana leaf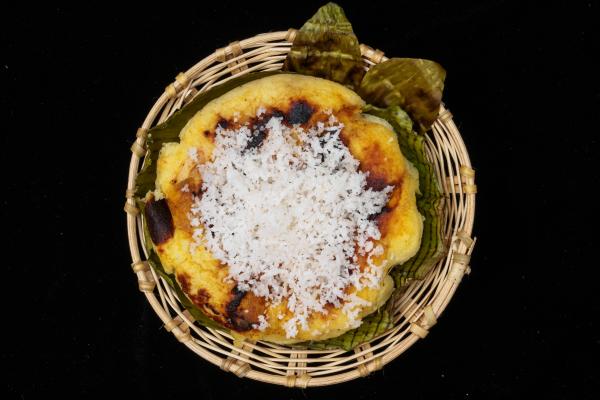 Preheat oven to 375 degrees Fahrenheit.
Combine rice flour, baking powder, and salt then mix well. Set aside
Cream butter then gradually put-in sugar while whisking.
Add the eggs then whisk until every ingredient is well incorporated.
Gradually add the rice flour, salt, and baking powder mixture then continue mixing.
Pour-in coconut milk and fresh milk then whisk some more for 1 to 2 minutes.
Arrange the pre-cut banana leaf on a cake pan or baking pan.
Pour the mixture on the pan.
Bake for 15 minutes.
Remove from the oven then top with sliced salted egg and grated cheese (do not turn the oven off).
Put back in the oven and bake for 15 to 20 minutes or until the color of the top turn medium brown.
Remove from the oven and let cool.
Brush with butter and top with grated coconut.

Serve. Share and enjoy!
Recipe from: https://panlasangpinoy.com/rice-cake-bibingka-recipe/
Read more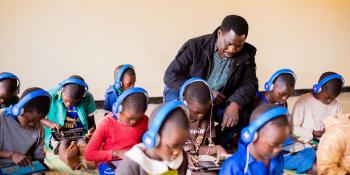 Meet 14 year old Mphatso who dropped out of school without the ability to read or write. He was sat in class with 200 other students unable to learn, so what was the point of attending school? Educational tablets are now giving Mphasto the education he deserves.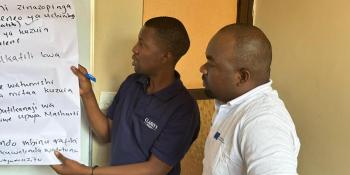 Emeka Enwe, a Finish citizen, and Dotto Joseph from Tanzania might normally live over 4,000 miles apart from each other, but through VSO's blended volunteering model, they've joined forces. Today they're working together on a beekeeping project in Tanzania.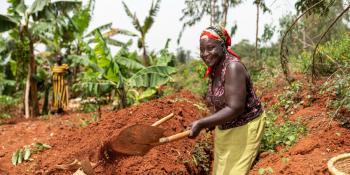 As we mark World Food Day, one statistic should be at the forefront of your mind. Currently one in ten people go to bed hungry each day.