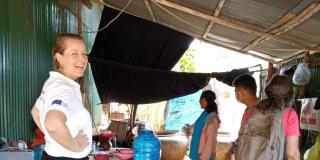 Nicoline from the Netherlands volunteered on VSO's Rural Employment for COVID-19 Economic Recovery (RECOVER) project in Cambodia, helping rural communities to build sustainable livelihoods. Her experience not only helped communities to take charge of their own income, but also supported her own growth and personal development. This is her story.
"My name is Nicoline, and I'm 35 years old. I live in Amsterdam. Currently, I work at Randstad as a Project Manager in the HR department.
Randstad is the world's largest recruitment agency. One of our benefits at Randstad is the corporate volunteering partnership we have with VSO. I've just come back from a four-month stint as a corporate volunteer in Cambodia, and three years ago, I also volunteered in Machakos, Kenya. Unfortunately, after six weeks in Kenya, COVID-19 hit the world and I had to go back home.
After two and a half years, I was very keen to finish my adventure, so I called VSO.
The RECOVER project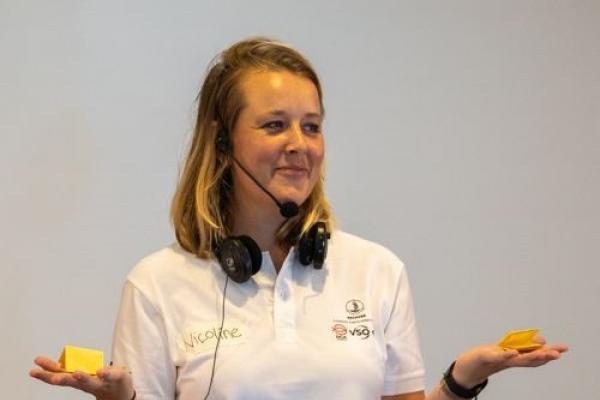 I wanted a fresh experience, something totally different to the volunteer role than I'd had in Kenya. When I started my role in Cambodia in September, it was as a Capacity Building Technical Specialist for VSO's RECOVER project in Battambang, which helps rural communities who face numerous challenges in securing their livelihoods.
I focused on coaching and helping VSO staff and local trainers to become coaches themselves. The main goal of my job was to build the team's capacity and support the project in helping people's economic recovery after the pandemic.
One of the main activities of the project was collaborating with vocational training centres to provide agro-processing training, which included a five-day training session on making banana chips, soybean juice, jam, and snacks. The vocational training centres are the experts in their field and were able to provide specific guidance on things like how to cut bananas or make soybean juice.
There were of course some challenges. We wanted to support people to start their own small businesses and ensure that the trainers and our community volunteers were able to coach and help the entrepreneurs develop themselves.
Volunteering is not only about helping others, but also about expanding your own perspective, and personal development.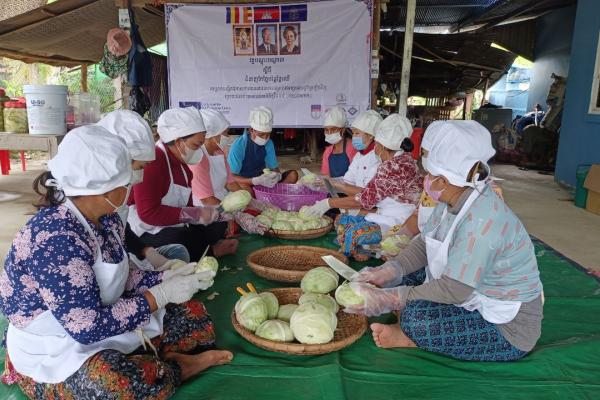 It was easy for the teachers and community volunteers to guide entrepreneurs' on where to buy blenders or where to sell products, but this meant that the entrepreneurs weren't developing the confidence or skills to start and grow their own businesses.
Therefore, my role was to help the teachers and community volunteers understand the importance of coaching and how it can help entrepreneurs become successful. We needed to empower them to think for themselves and develop their own business plans. This required a shift in mindset and approach, but it was crucial to achieving the project's overall goal.
So that's really something that I tried to emphasise – that as well as solving people's problems, it was just as important to give people the skills to solve them themselves.
Navigating a new culture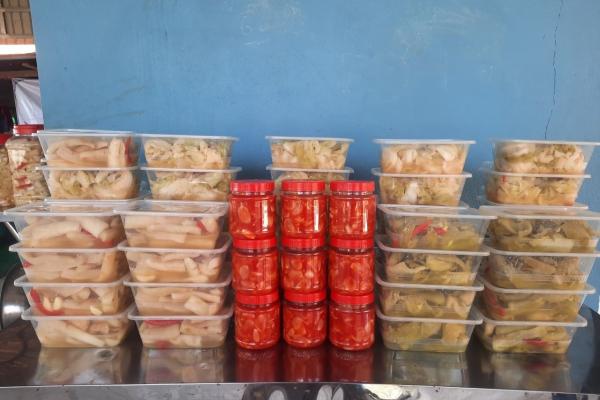 Cambodian people are very humble, friendly, and warm. I felt very welcome when I arrived, but building a real connection takes time and effort, however, we were quickly made to feel like part of the culture and family.
Bringing about change is always a two-way process. Initially, I found it difficult because I am used to working in a very results-driven, effective, efficient way. In the first few weeks I felt like everything was moving too slow and I couldn't make much impact, which was frustrating. Eventually I found that I really had to focus on the small changes that make the big impacts.
This realisation came after weeks of research, asking questions, and seeing how community volunteers worked with people in the project. The small change I felt made the biggest impact was in coaching trainers on how to ask good questions instead of giving instructions.
By the end of the placement, I also saw small personal changes in my colleagues, such as improved English language skills and setting their own boundaries. These might be small change in the grand scheme of things, but they ultimately combine to create quite significant shifts in attitudes and behaviours.
The benefits of volunteering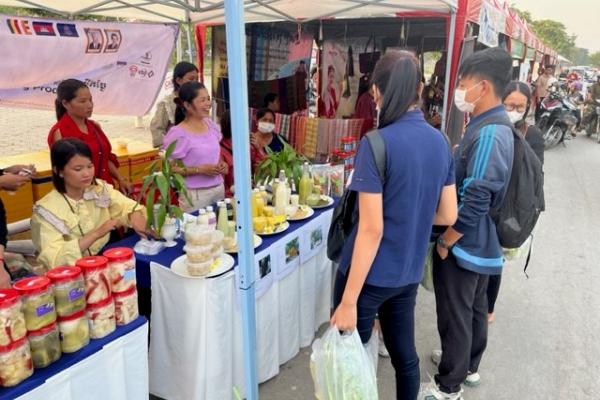 In our corporate world, we're always so focused on achieving results quickly and efficiently. In Cambodia, it's not just about the outcome; it's about the approach and your relationships with those around you. I learned to slow down and appreciate the process. Being in such a different culture, even for a just a few months, helped me to become more humble as well as appreciating my own strengths.
Volunteering is not only about helping others, but also about expanding your own perspective, and personal development. It might seem a bit self-serving, but there's nothing wrong with wanting to improve yourself while making a positive impact on the world.
Broadening my horizon and seeing things from different perspectives helped me realise how fortunate I am to live in a place like Holland, and to appreciate the small things in life.
I wanted to do something that challenged me, because things that challenge you will ultimately give you confidence. Just because something is difficult, it doesn't mean you can't do it – and with that self-confidence, you can make an even bigger success out of it.
A day in the life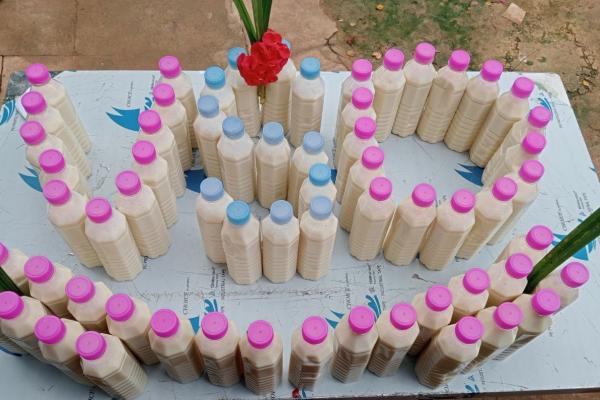 In Battambang, the office was small. There were only three local Cambodian colleagues and me, but we had a great time working together. We enjoyed a lot of interaction between colleagues and community volunteers who worked in the field with the entrepreneurs, which made it more interesting.
When you first get to the office in the morning, you have to take off your shoes and work in your bare feet. Most of my day involved attending meetings with the other project coordinators or the entire project team to discuss my coaching guidebook. We had to work together to plan which training would be best and how to organise it. I spent a lot of the rest of my time researching and writing it.
We took lunch breaks at a local place around the corner. I really loved that part because it's a great way to experience the Cambodian culture.
We also had a few training days where I gave training to the local trainers and community volunteers. The training days were entirely different. We usually held the training sessions in a hotel with a large group of trainers, community volunteers and a translator.
Volunteering for development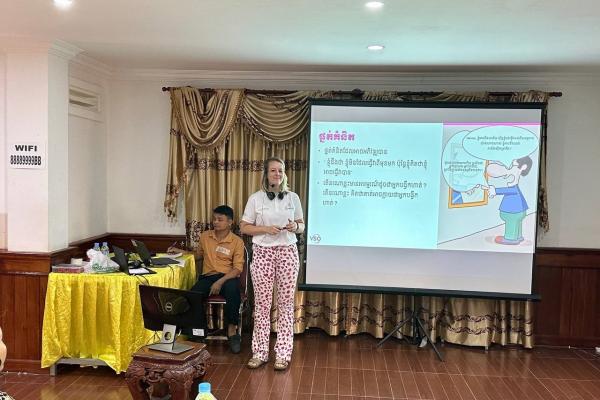 I believe that development work through volunteering is essential for helping others achieve success in their lives. As a volunteer, you must be careful not to be the saviour but rather a facilitator that supports others in their journey towards success. 
One thing that's always on my mind when working with volunteers is the importance of sustainability. It's easy to fall into the trap of being the "expert," but I firmly believe that everyone has something valuable to contribute. As a coach, I learned that the locals were the real experts, and I made sure to incorporate their knowledge into the guidebook I was writing. After all, they are the ones who know their community best. 
The most memorable moments for me are all the times I got to interact with the trainers and community volunteers. Those were the times when I felt the most energised because I could see the impact.  
Why volunteer with VSO? 
Volunteering with VSO enriches your life. I recognise that it might seem scary at first, not knowing where you will end up or what your job will be, but that's part of what makes it so special.
Working in a different country, immersing yourself in a new culture, seeing things from a different perspective, and developing yourself because of that will only get you further in life. In the end, it can be a truly transformative experience that brings positive energy and lasting memories. I would recommend it to everybody."
Volunteer with us
Inspired by Nicoline's story? Explore our latest volunteering opportunities to find out how you can use your skills to make a lasting change through volunteering.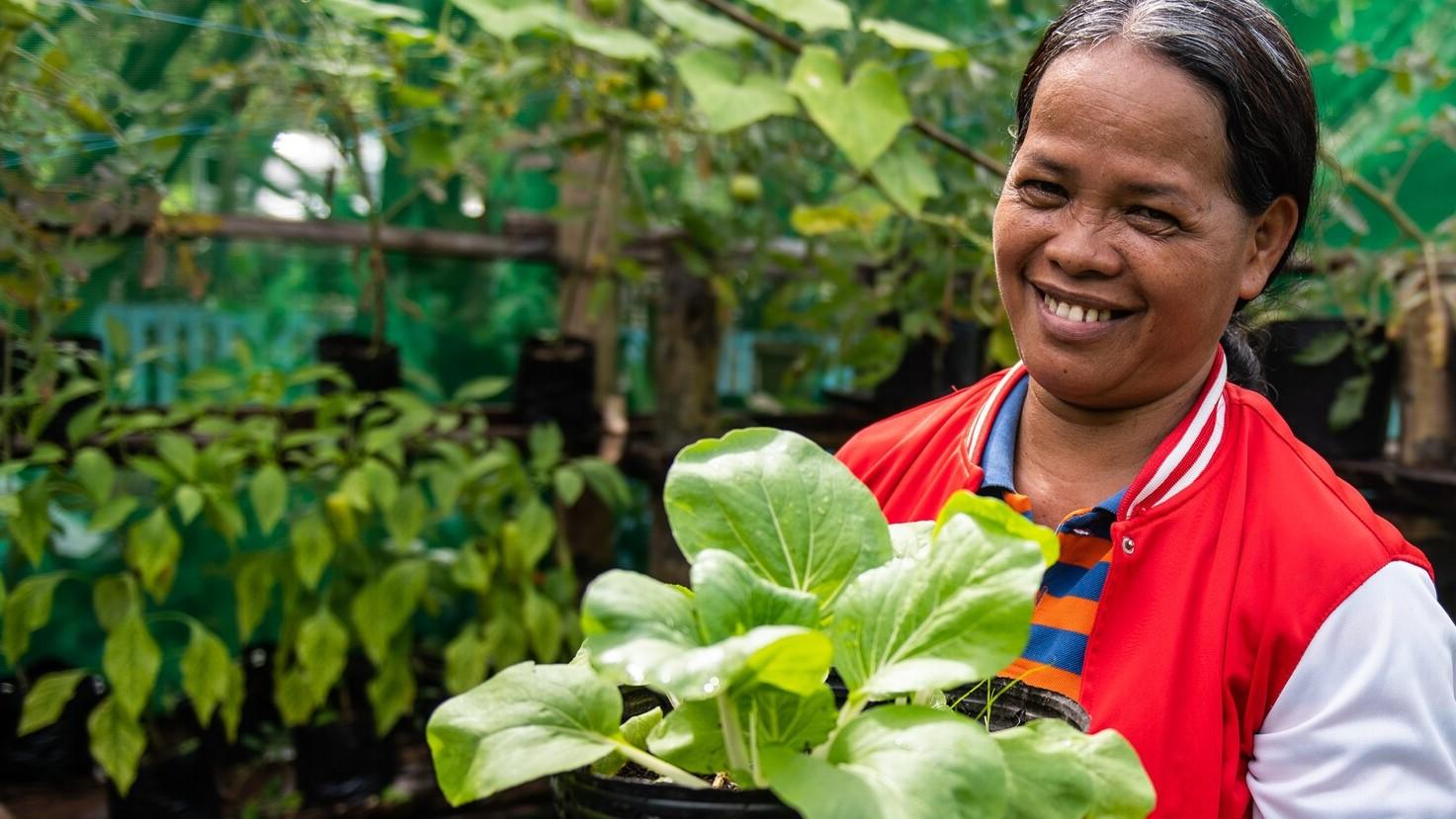 Support us with a donation
Read more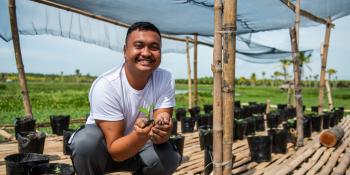 Volunteers are an incredible resource, who are making a vital contribution to the delivery of the sustainable development goals. They are also stepping up to question, to challenge, to hold decision makers to account for their actions.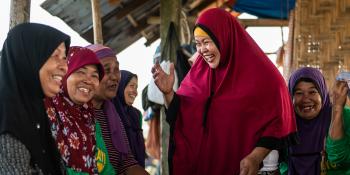 In a secluded marshland in the southern Philippines, women are emerging from the solitude and loneliness of their homes, reclaiming their place in the community and learning new skills – and it's all thanks to your support.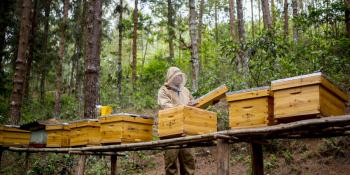 Tanzania is a land rich in minerals, and mining is one of the country's leading industrial sectors. However, the extractive industries cause many problems. But now there's an economic alternative to mining through....bees! Read more