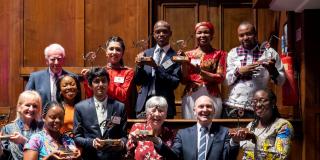 VSO volunteers, supporters and friends came together on 5 December to celebrate the impact of volunteering for development at the Volunteer Impact Awards.  
Esteemed guests including VSO's Patron, HRH Princess Anne, filled the auditorium of the Ondaatje Theatre at the Royal Geographical Society in London to watch the ceremony.
The event was hosted by two former volunteers: the veteran BBC journalist Mike Wooldridge, and the economist & blogger Mary Agbesanwa. They, and an array of esteemed guests, presented nine awards, recognising the volunteers from all over the world who have gone above and beyond in their service to people in poverty over the last year.
Highlights from Volunteer Impact Awards 2018
---
Find out more about our Volunteer Impact Award winners 2018:
Education Volunteer Award - Anne Law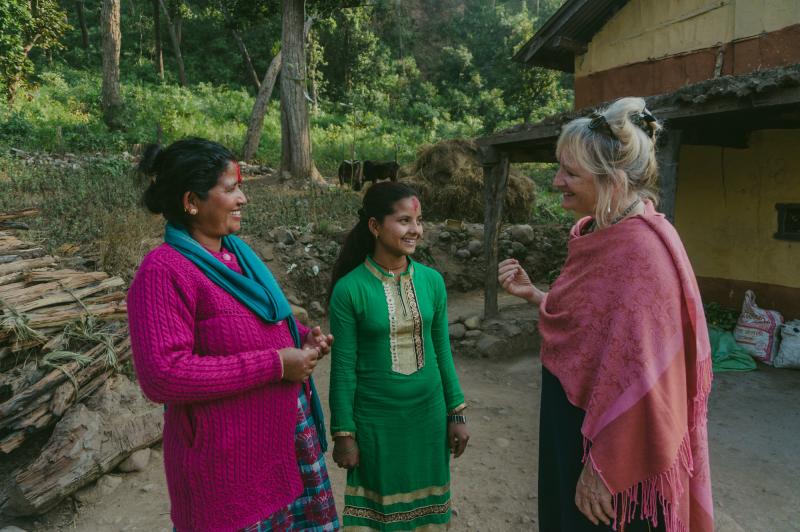 Vice President of NASUWT (who kindly sponsored the awards) Dave Kitchen presented the award for education volunteer to Anne Law, who is currently volunteering to improve the quality and inclusiveness of education in Nepal.
"In my own experience, over five years as a volunteer I have seen enormous change in the communities," said Anne, collecting her award.
"Parents who were not at all interested in girls' education are now completely on board with it and are very grateful for all the help, so it's making a huge impact."
Youth Active Citizen Award - Edmund Mbigili
Three volunteers from our International Citizen Service (ICS) youth volunteering programme were the nominees for the Youth Active Citizen award, which recognises an individual who has used ingenuity and creativity to create meaningful change in a community.
The award was presented to Edmund Mbigili, who organised a unique forum to support youth in Dodoma, Tanzania, where about half of young people are unemployed. The forum successfully secured free training for 100 young people, plus the use of land for them to run agribusinesses.
International Volunteer Award - Monica Atim
Monica Atim won the International Volunteer Award for her work in a severely marginalised and remote region of Zambia, which reached over 8,000 young people with information on sexual and reproductive health topics.
"I am proud to be a part of this process, whereby young boys and girls, who once could not speak because of cultural barriers, who were unable to speak in front of their elders, are now standing up and claiming their rights," she said.
Monica, who is Ugandan, volunteered on the Training and Local Knowledge project for three years, in which she set up a referral system, a weekly radio programme and youth-friendly corners in six different community health facilities.
Community Volunteer Award - Francis Kandeh
The Community Volunteer Award recognises the increasing importance to VSO programmes of volunteers who create change in their own home communities by bringing a deep understanding of their local context.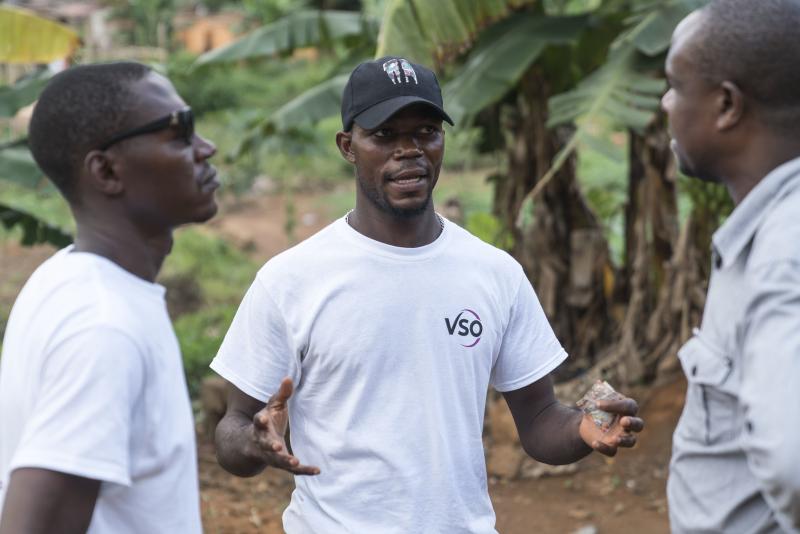 The worthy winner was Francis Kandeh, a young Sierra Leonean who has been volunteering to make his home community in Freetown more resilient. Francis was not able to attend the ceremony in person, so his award was received by a friend. 
Speaking the day after the awards, he reflected on his journey as a volunteer:
"VSO supported me, trained me and helped me to do volunteering better. They have counselled me and encouraged me not to give up. I never knew I was making an impact until I was shortlisted for the Volunteer Impact Awards, so it has changed my life."
In the wake of the terrible 2017 Freetown mudslide and flooding, Francis set up three school clubs, which have reached 5,000 people with measures that are helping reduce the risk of future disasters.
Volunteer Team Award - VSO Alumni Association, Bangladesh
The 235 Bangladeshi volunteers who make up the VSO Alumni Association in that country were recognised through the Volunteer Team Award.
Receiving the award on the team's behalf was Joseph Mahtab, the group's president. He has helped the association build partnerships with youth organisations and media outlets to promote the group's awareness-raising campaigns on issues ranging from violence against women, to child marriage.
"Child marriage is a big problem in our country, because people are living under the pressure of poverty," said Joseph. "But change is happening by the year and the rate of child marriage is decreasing because of activities in the communities."
Earlier this year, the team led a sticker campaign on public transport in Dhaka to raise awareness of a national helpline for survivors of violence to access justice.
In-Country Volunteer Award - Harrison Kariuki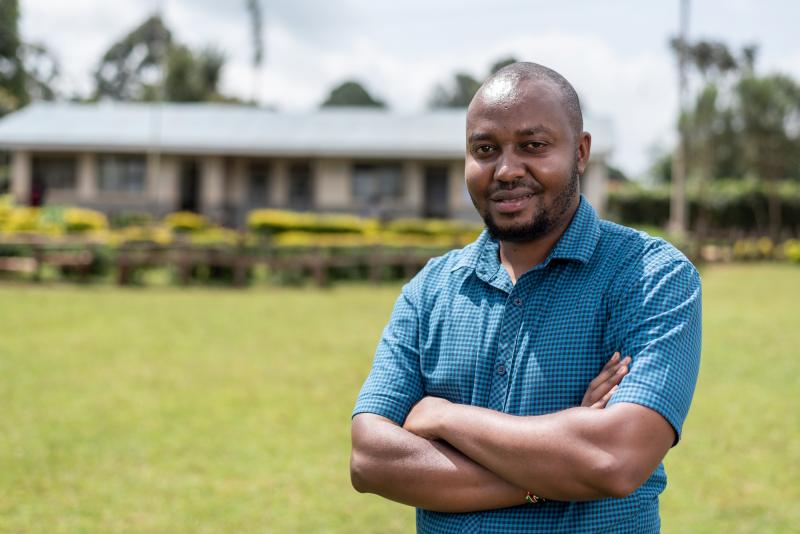 Harrison Kariuki's work changing attitudes to disability in his native Kenya were rightfully recognised through the In-Country Volunteer Award.
He gave his service first through the ICS youth volunteering programme, and more recently training young deaf people and their parents to communicate through Sign Language, often for the first time.
Harrison, who is deaf, has shown immense resilience and passion working in communities where disability is often seen as a curse. Collecting his trophy, he said, "I am very delighted to get this award – it means everything to me."
"Many young deaf people in Kenya are stuck, they are not able to access services because of communication barriers."
"I've been creating awareness, sensitising young deaf people and talking about the importance of them believing in themselves."
Harrison also has supported deaf youth to set up their own business by teaching them entrepreneurship skills.
Youth Leader Award - Alina Sarfraz
Alina Sarfraz, who has spent years dedicating herself to youth volunteering projects in her native Pakistan, won the Youth Leader Award.
She said, "I can no longer separate myself from volunteering. Working with young people energises me and motivates me to continue."
Through the Pakistan Youth Initiative, Alina helped other young volunteers to support interfaith peace-building and social cohesion.
Voluntary Workforce Award - Iris Fowler
Iris Fowler, who has volunteered with VSO's supporter care team in its UK office for the past 18 years, was recognised with a Voluntary Workforce Award.
She has given 7,500 hours of her time to VSO, worth an estimated £80,000 to the charity.
Collecting her award, Iris said, "I love it, it's just nice to be part of such a good thing. When I retired from full-time work, I wanted to do something and I knew about VSO."
"This is the first award I've ever won, so thank you! I think the need for VSO now is greater than ever"
Impact Beyond Volunteering Award - Gladys Muthara and Susan Waruingi​
About half of all VSO volunteers become more socially active after completing their placements, and the final award of the evening was designed to recognise them.
The winners, chosen by a public vote, were Gladys Muthara and Susan Waruingi. Both from Kenya, Gladys and Susan met while taking part in an ICS youth volunteering project in Nigeria. The experience inspired them to use the skills they'd learned once they returned back home.
"I think ICS showed us that change is possible, that you can change young people's attitudes," said Susan at the awards evening.
Gladys and Susan were inspired to set up the Teens Weave Stars project, which brought together young people in slum areas to share their experiences of youth violence. They were successful in changing attitudes, sharing skills and recruiting a network of more volunteers to support the work.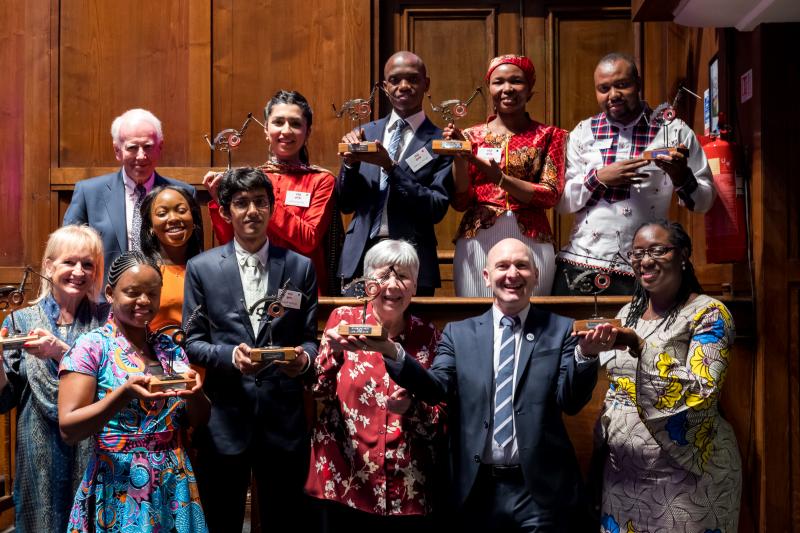 A lasting message
After the final trophy – trophies which were all constructed by a group of young VSO-supported welders from Dar es Salaam, Tanzania – was handed out, the Volunteer Impact Awards were closed with words from HRH Princess Anne, and VSO's Chief Executive Philip Goodwin.
Taking to the stage, HRH Princess Anne remarked:
"What we have seen tonight represents the true diversity of volunteering today. Because it is from people, from different communities and backgrounds and countries, who all come together to help that creation of a better world"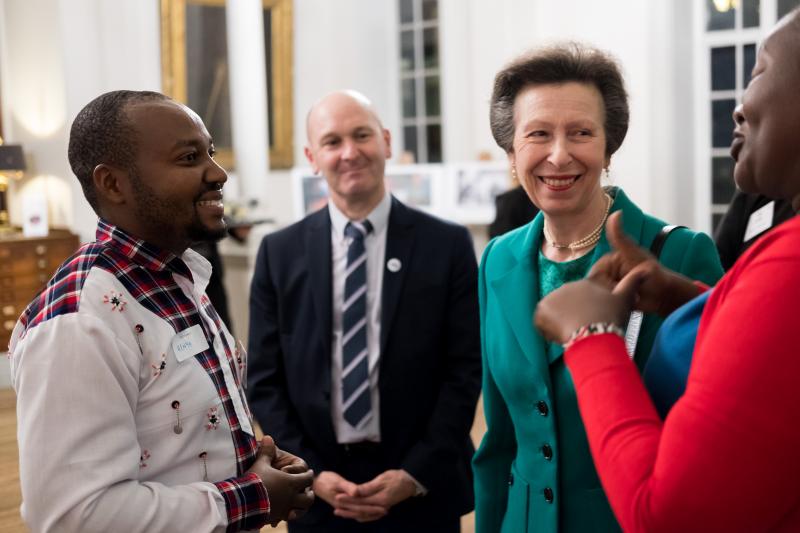 Rounding off the evening, VSO's Chief Executive thanked all its volunteers and supporters for enabling such incredible impact:
"I want to thank you all for the time and energy and the commitment you have devoted to VSO – many of you, over many years with no expectation of thanks.
"And I hope that having heard tonight's incredible stories from our volunteers you are also feeling inspired to continue supporting this vital work in whatever way you can."
Headline Sponsor

NASUWT, The Teachers' Union, are the headline sponsor for the VSO Volunteer Impact Awards 2018. With thanks to NASUWT. 
Visit NASUWT website
Find out more about our Volunteer Impact Awards
Latest posts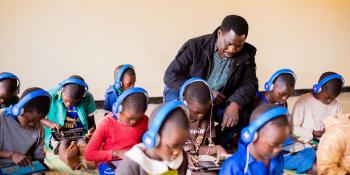 Meet 14 year old Mphatso who dropped out of school without the ability to read or write. He was sat in class with 200 other students unable to learn, so what was the point of attending school? Educational tablets are now giving Mphasto the education he deserves.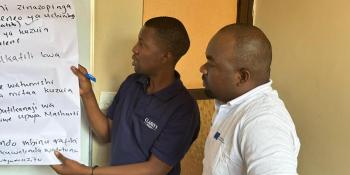 Emeka Enwe, a Finish citizen, and Dotto Joseph from Tanzania might normally live over 4,000 miles apart from each other, but through VSO's blended volunteering model, they've joined forces. Today they're working together on a beekeeping project in Tanzania.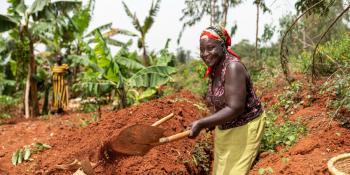 As we mark World Food Day, one statistic should be at the forefront of your mind. Currently one in ten people go to bed hungry each day.