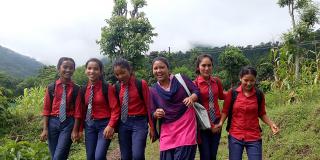 She married at 15 and dropped out of school. Now 27, Rachana Batha is a mentor to young Nepali girls and tells Samik Kharel how they can have a very different life to hers.
Two years ago, Rachana Batha successfully convinced the family of 12-year-old Jyoti to scrap their plan to organise her marriage. Batha's influence means Jyoti's life is following a very different path – she wants to join the Nepali Army when she finishes high school.
Batha is 27 and is part of VSO's Sisters for Sisters Education project. She mentors four young girls, including Jyoti, in Surkhet district, western Nepal.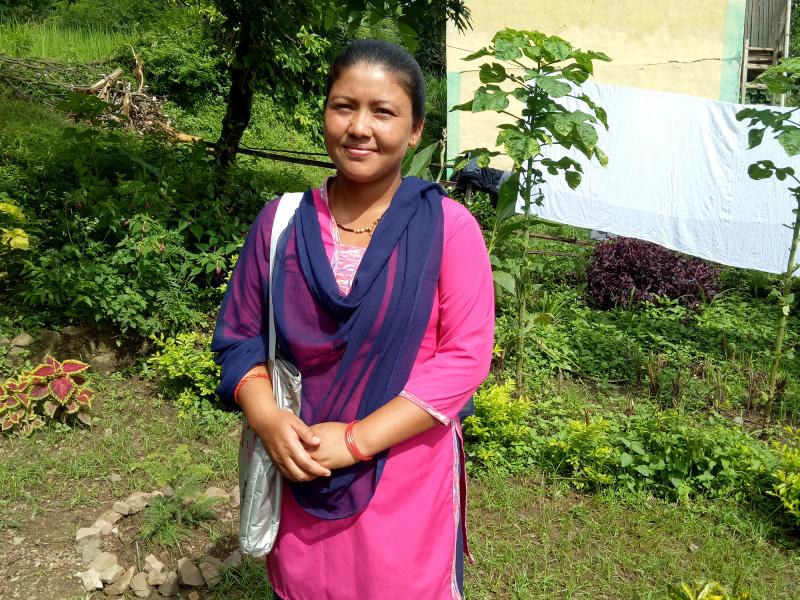 Sisters for Sisters focuses on supporting young, vulnerable girls to stay in education and avoid child marriage, through assigning an older, experienced "Big Sister" like Batha to mentor and advocate for "Little Sisters" like Jyoti.
Sisters for Sisters addresses barriers to girls' education at individual, social, cultural and institutional levels. Batha mentors and provides emotional and academic support to her four Little Sisters. She received thorough training before being matched with the girls, who are from the same community as Batha.
The four girls are now doing well at school and are also involved in extra-curricular activities. "Over the years they have gained more confidence and participate in everything happening at school," says Batha. She's impressed her mentees want to join the army, and become nurses and veterinary doctors. "At their age, I did not even know what I wanted to be. Now I am giving them advice on how to follow their career path," she says.
"women can help women more than anyone else, especially in a country with a patriarchal system"

Rachana Batha.
Supporting her four Little Sisters is especially important for Batha as she was married at 15 and faced huge difficulties in continuing her education. "If only there was a Big Sister for me, I would not have been married early and I could have completed my education without any hassle and pressure," she says.
After her marriage Batha dropped out of school and, as the youngest daughter-in-law in the family, she was expected to focus on housework. "I was working all day from early morning, cooking, gathering grass, feeding the cattle, cleaning the house, washing clothes and every possible work in a household," she recalls. "At night, although tired, I would try and study and go through my books – it was the most exciting time of my day."
Batha persisted with furthering her education. After two years she enrolled in classes, selling her marriage jewellery to fund her studies. "I always valued education much more than anything. These ornaments would have no value to me, I just wanted to go to school."
Batha gave birth five days before sitting her school leaving certificate exam. "I was weak and walked two hours to the headquarters to take these tests, and I took my baby with me as well," she recalls. "It was a really difficult time and my mother helped me a lot and encouraged me to attend the exams."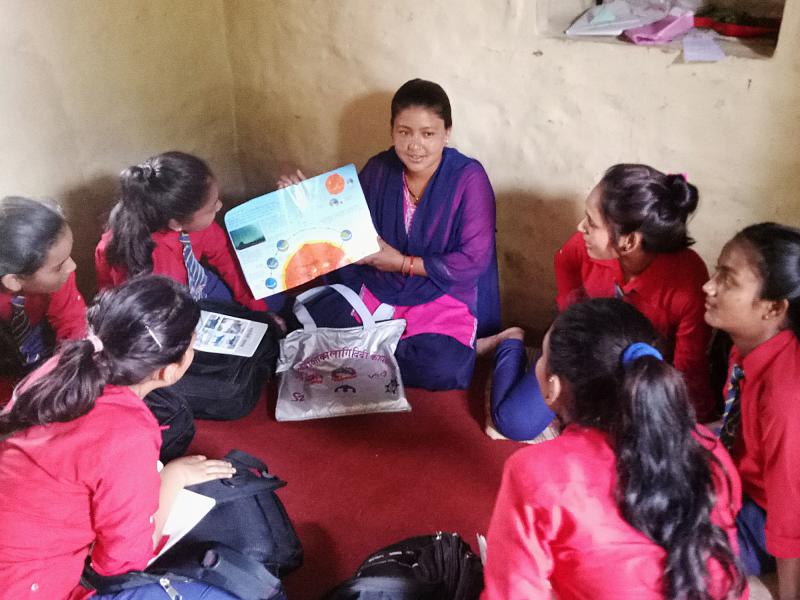 She passed with flying colours, surprising many of the people around her. It was a moment of realisation for Batha, too. "This is when I realised that women can help women more than anyone else, especially in a country with a patriarchal system. Women understand each other and share the same dreams and problems," she says.
This is why she is so committed to supporting girls and young women to stay in education. "Just educating myself was not the purpose," she says. "I wanted to help others going through the same problems as I did."
Batha feels the major challenges are convincing families to send their daughters to school regularly and stopping child marriage. "For these families to consider your advice seriously, you have to first be part of their family and build a strong relationship. This can only happen with regular interactions, regular visits to their houses, being their helping hands during the festivals and advising them on their daily lives too.
"Girls attending school regularly and avoiding early marriage depends on the income of the family; the weaker the household income the more vulnerable the girls are. Their parents have to work poorly paid jobs and with many children they cannot afford education, and boys' education is prioritised," says Batha.
Attitudes are slowly changing, she feels, with more families postponing their daughters' marriages in favour of encouraging them to study. However, Batha believes girls are not treated equally to boys when it comes to education. "Society has not yet realised girls need more support than the boys when it comes to education," she says. She feels more female teachers would help.
"I didn't have any sisters of my own, but now I have four and I encourage them to do whatever they want to do"

Rachana Batha.
She takes her responsibilities as a Big Sister very seriously. "I didn't have any sisters of my own, but now I have four and I encourage them to do whatever they want to do," she says. "It's a difficult task and a big responsibility to pave the way for their education and give them the right advice," she says.
Being a Big Sister has inspired Batha to become more active in her community. She is now involved with a village co-operative, the village development committee and protecting community forests.
Like her Little Sisters, Batha has big dreams; she hopes to serve her community, whether at a personal, local or national level. However, to achieve her dream, she knows education is the key. "For now, I want to continue my education. My plan is to enrol in college and major in education," she says.
---
Through projects improving maternal health, tackling gender-based violence, educating communities and supporting women's economic independence, VSO is working to advance gender equality across the world.
Latest posts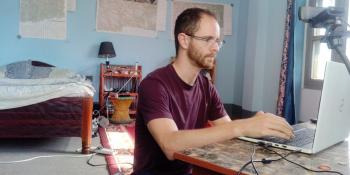 Remote working? You're not the only one! More than 40 international VSO volunteers are giving online support to projects around the world, despite having had to return home because of COVID-19.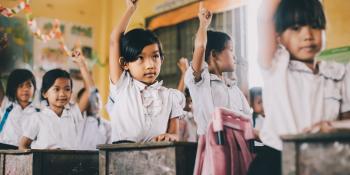 Education volunteer Mary Watkins shares practical tips to learn from the pragmatism and ingenuity of these teachers in the world's poorest communities.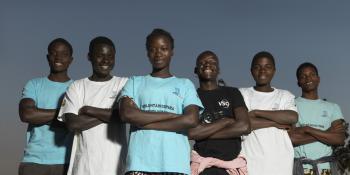 The coronavirus pandemic has prompted a rush of volunteers - it's an inspiring moment, and a reminder of the benefits and lasting power of volunteering.