Voluntary Service Overseas (VSO) began in 1958 when Alec and Mora Dickson recruited and sent 16 British volunteers overseas in response to a letter from the Bishop of Portsmouth asking for people to teach English in Borneo.
Much has changed since then. VSO has engaged over 72,000 volunteers to work on development programmes in more than 120 countries.
Milestones in VSO's History:
1958 – Alec and Mora Dickson start VSO, after receiving a letter from the Bishop of Portsmouth requesting volunteers. The couple recruit and send 16 volunteers to south-east Asia
1959 – First women volunteers, Althea Cordon and Bronwyn Quint
1971 – First overseas office is set up in Papua New Guinea opened
1983 – VSO puts together official strategy for its education work
1999 – VSO begins helping people with HIV and AIDS
2000 – VSO opens its first southern recruitment base in Kenya
2001 – VSO launches first national volunteering programme, recuiting people to volunteer in their own countries
2010 – People First strategy launches, outlining how VSO will bring people together to lead the way in combatting marginalisation and poverty
2012 – 2,000 young people from the UK and 24 other countries volunteer across the globe through the VSO-led ICS partnership
2015 – VSO's work through volunteers is recognised as key in achieving the United Nation's Sustainable Development Goals
2017 – 30,000th volunteer takes part in the VSO-led International Citizen Service, youth volunteering partnership
2018 – VSO celebrates its 60th anniversary
We've gone from being a UK charity to an international one. In 2018/2019 alone, we supported over 1,000,000 people through health, education and livelihood programmes.
Today, VSO is a truly global organisation. We recruit skilled volunteers from all over the world, and from all sectors of society, including business leaders, parliamentarians and young people.
Currently, over 30% of our people come from within the country of their placement. We also send increasing numbers of people from one developing country to another.
We're always looking for new ways to turn human energy and ingenuity into lasting change. We still send professionals to share their skills with their local counterparts, but we've embraced a range of methods that allow us to provide whatever kind of help is needed most, including promoting international understanding and action, knowledge sharing and youth exchanges.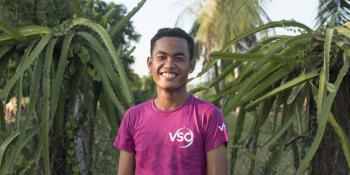 VSO volunteers and partners reached over 1,000,000 people last year.