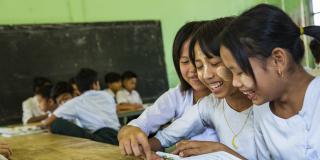 We've worked in Myanmar since 2014, building healthy communities and strengthening inclusive education systems. We currently run programmes in four regions: Yangon, Naypyitaw, Mon and Northern Shan.
We reached over 19,000 people in total in 2018-19.
Our inclusive education programme benefitted 11,428 learners in 2018-19.
Our Student Participation Initiative trained 234 teachers.
Healthy communities
Our health programme in Myanmar focuses on supporting women and girls who are survivors of gender-based violence and other traumas. In partnership with UNFPA, VSO volunteers are working to increase the capacity of community health workers and government staff to deliver mental health and psychosocial support services in Rakhine and Kachin States.
Inclusive education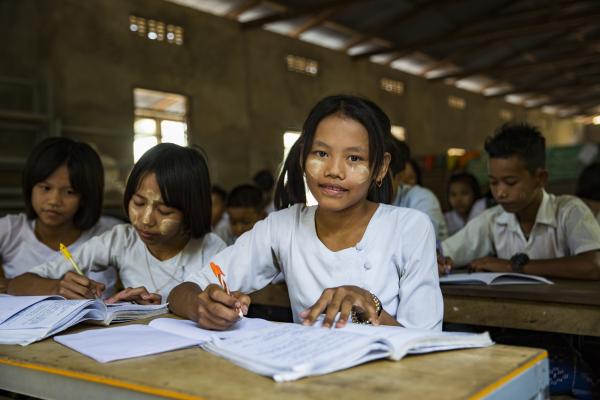 We're working to overcome existing barriers to high-quality education for all, by developing teachers' skills and knowledge in inclusion and child-centred learning. As part of the Towards Results in Education and English (TREE) project, expert volunteers are based across 25 education degree colleges, providing specialist training, support and professional development for teacher educators and student teachers.
The project will directly reach over 1,700 teacher educators, in turn ensuring that thousands more student teachers complete their training equipped with the knowledge, skills and confidence to respond to the diverse learning needs they will encounter in the classroom.
Contact us
We work with a number of partners in Myanmar including the Ministry of Education, Save the Children, and Rural Indigenous Sustainable Education (RISE).
If you are interested in supporting our work, or if you have another query, get in touch:
Address: 111/A-1, University Avenue Road, Ward 10, Kamayut Township, Yangon, Myanmar.
Postal Code: 11041.
Tel: +95 (0)1 7511147, +95 (0)1 7513884
Email: vso.myanmar@vsoint.org
Volunteer with us
We are always looking for more skilled specialists, particularly in the area of inclusive education.
Find out more about volunteering with us in Myanmar
---
Find out more about our work in:
Supporting the most vulnerable people to realise their sexual and reproductive health and rights.