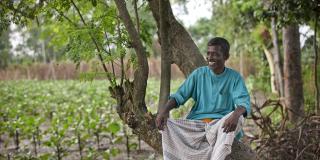 Abdul Latif has been farming all his working life, but he's still learned a lot of important lessons from being part of the Bugra Para farmers' group – part of our Growing Together project, working to make small-scale farming more profitable.
Through establishing cooperatives and supporting farmers' groups, we're working with partner Syngenta to increase yields and raise incomes for smallholders in the Rangpur and Dinajpur districts of north western Bangladesh.
One such smallholder is Abdul Latif, who has adopted new techniques after joining the local farmers' group: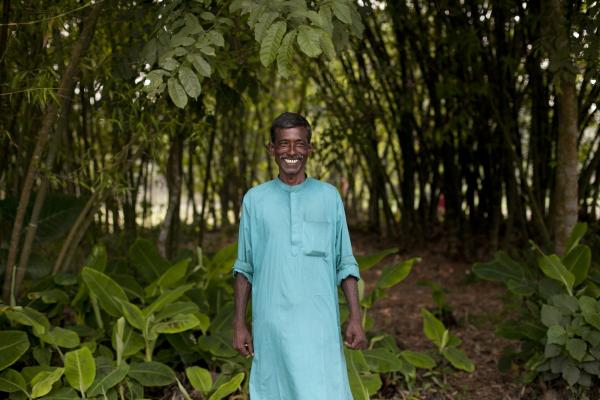 "There are three people in my house: me, my wife and one daughter – she's 16 years old and is still in school. My wife and I work on our land together. I have always been a farmer. Farming is our only source of income and although we work hard, the demands of the family are always greater.
"I have a third of an acre of land which is just beside my home. I grow bitter gourd, turmeric, ginger, aubergine and tomatoes – whatever is seasonal. I also lease a quarter of an acre of land. I've been leasing this land for ten years. I take care of the land, and after harvesting I keep half of the crop and the landowner keeps the other half.
Better investments
"There has been little in the way of support for small-scale farmers such as myself. I learned about farming from my father, but often we were not farming using proper procedures, so we never made a big profit. Farmers can invest a lot of money in their farms and still make a loss.
"This is because they do not have access to good quality seeds, fertiliser and pesticides.
Working together
"I've been involved in agricultural activities my entire life but I have never worked together within other farmers like this before.
Through the project we have this opportunity to learn to work together.
"The group is new, but we have already learned about worm composting, which is completely new for me. I'm going to be trying it out on my own land. Thirty other group members are going to try worm composting.
"I've learned about getting the right dose of fertiliser which is important. Sometimes farmers are so focused on making a profit that they use too much fertiliser and pesticides and they destroy the land. We need to cultivate land in a good way - in a way that doesn't harm people or the land."
---
Find out more about our work in: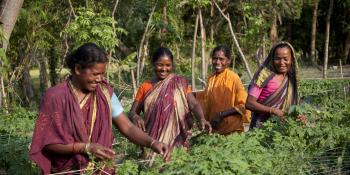 We work across all of Bangladesh's 30 districts, building healthy communities, strengthening inclusive education systems, and supporting people to develop secure and resilient livelihoods.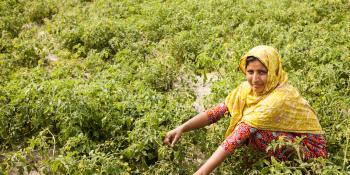 The Growing Together programme harnesses our collective expertise in agricultural techniques and value chains to grow smallholder farmer household incomes.