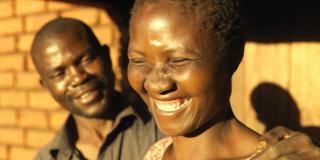 After being trained as a solar engineer as part of the Solar Mama project in Malawi, 62-year-old Eililoy Kamwendo is witnessing first-hand how attitudes towards women are changing in her community.
Eililoy was selected as one of eight semi-literate women who received intensive training in India to become a Barefoot Solar Engineer (BSE), equipping her with the skills and knowledge to install and maintain solar equipment in homes across her village.
A life-changing opportunity
"We have four children, aged between three and 12 years old.
"VSO came to the school. They explained to the chiefs: 'We are looking for courageous women who can go to India.' So the chiefs called for a meeting of the women, and they asked us, 'Who wants to volunteer to go India?'
"I put my hand up. I wanted to see India. I used to see 'Made in India' written on a lot of things like tyres, motorcycles, so I was always interested. These things made me curious.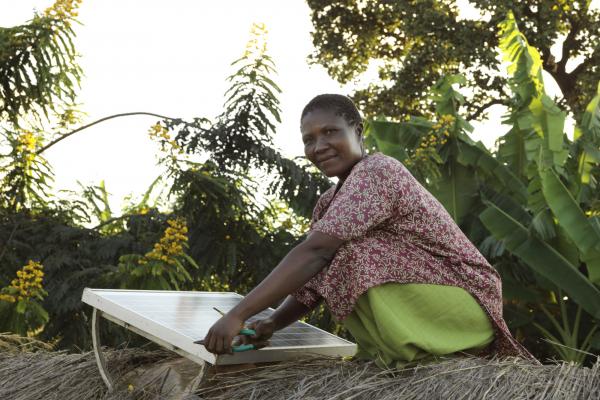 "At first my husband was not happy. I felt it from him. He wasn't being open, but I could tell that he was against it. I don't think he thought I was serious at first. As time went on, whenever I would try to discuss it with him he was very quiet, not saying anything. So one day, when I woke up I told him, point blank: 'I am going to India.'
"My husband and I are both involved in farming work. I also have other jobs as a wife in running the household. I usually get up at around 5am to sweep the yard, wash the dishes, prepare food for the family and fetch water.
"While I was gone, my mother-in-law helped with the children, and my eldest son took responsibility for fetching the water. My husband started cooking for the family. Normally he would only cook when I was sick, though he would sometimes complain about it. When the kids were sick he would take them to hospital.
"When I would speak to my husband on the phone from India, I would usually ask about the kids, how they're doing. At first I was very sad and worried. It was the first time I'd been away from them. He would always tell me everything was fine, so I would think OK, it's not so bad, everything is OK and they are managing.
I have learned such a lot through this experience. I'm more confident and fearless now.
"I was worried about leaving my children, particularly the two-year-old, because she was getting sick a lot. I was scared that something might happen and I wouldn't be around.
Changing perceptions
"Here in the village, people expect women to just be at home, cooking for the family, ensuring the kids are fed and wearing clean clothes. Being a solar engineer is strange.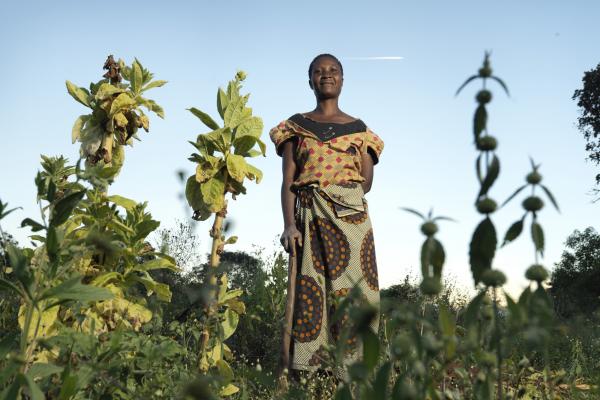 "Now people have started to change their perception towards us.
"The salary is helping. Our main source of income is farming, which is seasonal. It's just the two of us, and the kids are young. So I use the money to hire someone to help with the farming.
"Three of the children are in school, but my youngest hasn't started, as she's not 6 years old yet.
"I hope that they will be more educated than me. That my daughter can be like those women in India, engineering, or working in offices, because in Malawi now in the village people think women cannot do anything, but I know women can do a lot of things so I hope my daughter can go somewhere in life.
"When I was on the plane I saw the air hostesses and I was so impressed. I wished that for my daughter. But, Malawi is poor so if that doesn't happen I hope she can be a nurse or a traffic policewoman.
My children show a lot of interest. When I'm fixing lanterns for people they're always there watching. I have taught my eldest son."
I know women can do a lot of things so I hope my daughter can go somewhere in life
---
Find out more about our work in: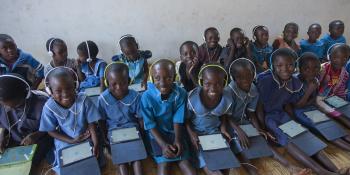 We've worked in Malawi since 1958, building healthy communities, improving inclusive education, and supporting people to develop secure and resilient livelihoods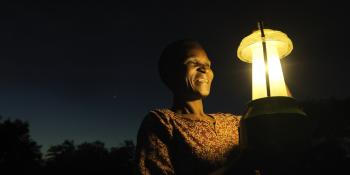 The Solar Mama rural electrification project is simultaneously bringing electricity to rural communities, and empowering women in those communities through education and training.