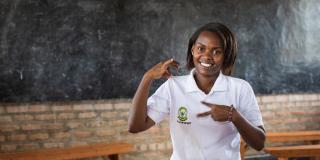 Around the world, people with disabilities face additional barriers to getting quality healthcare. Brown Niyonsaba, 31, is a young Deaf woman volunteering to change this in her native Rwanda.
A right to healthcare
Health services should be open to all. However, for Rwanda's half a million people living with disabilities, there's a gap between the services that they actually need, and what currently exists.
Many people with disabilities have difficulty accessing education and then later in life struggle to find paid employment, all of which makes it more difficult to access healthcare and health services.
To complicate issues, the problem goes beyond a lack of access to information and services: people with disabilities are more vulnerable to risky behaviour and sexual violence. People living with disabilities are more likely to suffer a sexually transmitted infection, and three times as likely to be physically or sexually abused, or raped.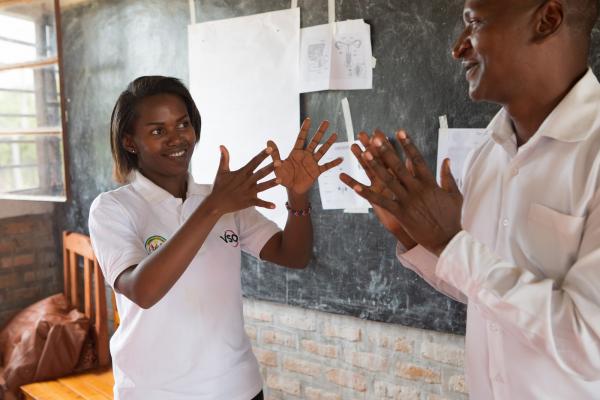 The biggest barrier
In a school in Rwanda's Nyagatare district, Brown Niyonsaba, 31, is speaking with Deaf students about sexual and reproductive health (SRH).
In her work as a VSO volunteer on the Imbere Heza project, Brown is breaking down the biggest barrier these students face: communication. A lack of sign language interpreters means that some Deaf people might not receive the information they need to protect their health.
Brown has taught SRH to over 80 students, and is supervising a team of Rwandan Sign Language instructors to train 140 community health workers and nurses at local health centres. The training covers the alphabet, common terms and specialist equipment used in SRH services.
Her work is vital – sharing knowledge of Rwandan Sign Language is a lifeline for Deaf people to understand their health. Without it, young Deaf women and men are put at risk and don't have an equal opportunity to succeed.
An equal chance
Brown has experienced first-hand how support for disabilities is often neglected.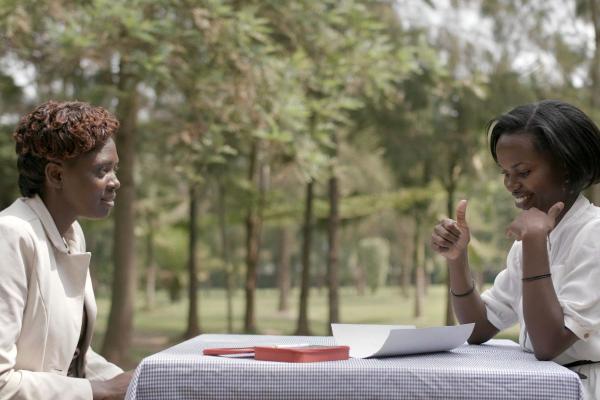 While Brown grew up among relatives and family friends who were very supportive for her education in a mainstream school, this learning environment didn't always support her needs.
"At my school, teachers didn't know sign language. I would try to read the teachers' simple gestures and read what was written on the chalkboard. Whenever I needed some explanation, I would write to them and wait for their answer."
Brown went on to study at university and achieved a degree in IT, before training as a sign language instructor. She is motivated to use her experiences to help deaf people reach their full potential.
Her dream is to empower all deaf people like her to have an equal chance of expressing their ideas, growing as individuals and contributing to Rwanda's development.
Empowering others to become self-reliant
Brown's decision to volunteer was inspired by her mother, who always encouraged her to give back:
"My mother used to remind us of the family and friends who were offering us support, encouraging us to go to school and to become self-reliant, and that we should support others just as we are helped.
"I only believed my mother knew the right thing. I grew up an ambitious person, knowing that everything is possible as long as you work toward a vision."
I want to continue to be an example for others as I share my knowledge with them.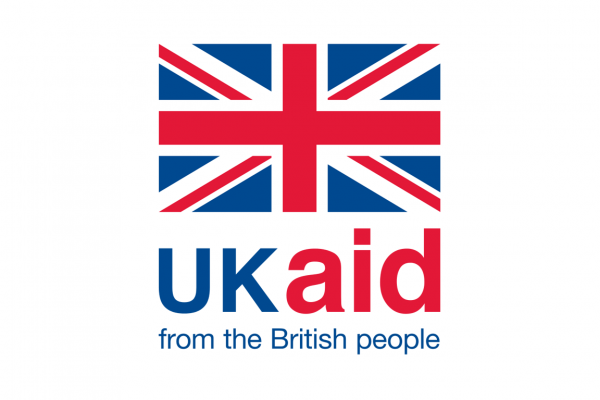 Brown's work is helping deaf people access the information on sexual and reproductive health they deserve. Meanwhile, for Brown herself, volunteering with VSO is a golden opportunity to fulfil her dream to empower all people with hearing difficulties to live a full life.
Going beyond healthcare
Beyond supporting people to access quality healthcare, we are working to equip Deaf young people with the skills they need to become self-reliant, by running training sessions on vocational skills such as hairdressing, tailoring and craft-making.
We are working on scaling up Imbere Heza to meet demand across the entire Nyagatare district, reaching more Deaf young Rwandans.
Find out more about our work in: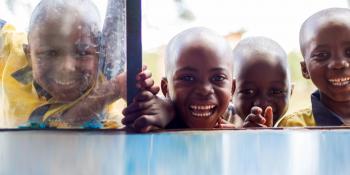 We've worked in Rwanda since 1998, building healthy communities and strengthening inclusive education systems.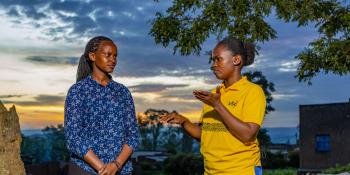 Improving sexual and reproductive health and rights for marginalised and at-risk Deaf young people.