Rebecca Clark, a deputy head teacher from inner-city London, swapped the concrete jungle for greener pastures in the leafy district of Rusizi, Rwanda. She spent two years volunteering on a project supporting the development of education leadership across thirty schools. Here she shares her experience:
I worked in thirty schools, visiting around three schools per day to help senior staff improve their planning, teacher development and lesson evaluation.
Ultimately, a better education system creates more opportunities for Rwanda's young people.
Life as a volunteer
I was based in Kamembe, which is the furthest town from Rwanda's capital, Kigali – a six hour bus ride away.
When I got up, the first thing I did was to check the weather. I lived near a rainforest and with Rwanda's two rainy seasons, it rains most months apart from June, July and August.
If it had been raining all night, there was a strong possibility I wouldn't be able to reach some of the schools the next day.
My 'moto taxi' would pick me up around 7.30am. The schools are varying distances away - some as far as two hours. Some days I'd spend up to five hours in transit as a passenger on the back of a motorbike.
I loved the travelling - off road through fields, tea plantations and the occasional forest.
At school
Arriving at a school, I would always be noticed by the pupils. They would wave at me and greet me from their classrooms. I would try not to disrupt their learning, but sometimes it's impossible not to.
Many schools had new classrooms, made out of brick with a concrete floor. The class sizes were big, yet the children were still cramped onto the benches attached to their desks.
Mostly the walls are scantily clad with a few posters made from rice sacks.
Lack of resources
Many schools had no electricity. A lack of resources and 'teacher-centred' teaching was also common. The pace is much slower and things rarely go to plan. I had to be flexible and not let it frustrate me. I kept reminding myself - change does not happen overnight.
After work
Week nights were generally spent at home. I'd usually cook dinner on a two-hob electric cooker or if there was no power, i'd use my charcoal stove instead.
I spent lots of time with my neighbours and my neighbour's children, who came around often.
Working with head teachers
Head teachers warmly welcomed me.
I would coach and mentor head teachers and together we'd talk about action plans for the year ahead.
One memorable day I observed a science lesson with a head teacher - the pupils were learning about mammals that day. VSO actively encourages teachers to use teaching aids in their lessons to stimulate learning, but I didn't expect a live goat to be paraded around the classroom – that was a new one for me!
Lunch stop
Typically, I would return from my morning school visits at around 2pm, which was when I'd stop for lunch. In Rwanda, you can't just grab a snack between school visits, as it's considered rude to eat on the street in public.
After lunch, I'd visit another school - sometimes this would mean another two hours on the motorbike, but I don't mind because the scenery is very beautiful.
Living and working among the local people is pretty amazing. It made me feel very proud.
Read more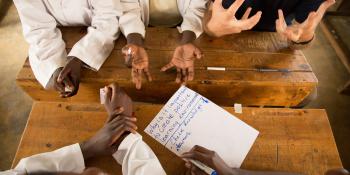 Two retired UK teachers decided to embark on a completely new challenge: Wendy is improving teaching standards in Rwanda, while Helen is making education more inclusive in Nepal.
Open the door of classrooms around the world and you'll find a surprising range of challenges – as well as some truly incredible teachers dedicated to changing children's lives.
Thousands of Rohingya children are living in the refugee camps. They're out of school and risk being left behind for good, but VSO education volunteer Fiona Kirby is working to help them