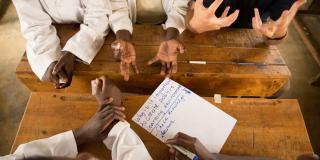 Two retired UK teachers decided to embark on a completely new challenge: Wendy is improving teaching standards in Rwanda, while Helen is making education more inclusive in Nepal.
"I see VSO as the gold standard of volunteering, so I only wanted to work with them."
Wendy is a retired head teacher from Kent, UK. Seven months ago, Wendy decided to put her skills and experience to the test, embarking on a two-year placement working on VSO Rwanda's Building Learning Foundations project.
The aim of the project is to raise standard in maths and English across every primary school in the country, and since arriving, Wendy has already begun to notice a difference in the classroom.
"Teachers now know how to do things like introduce learning objectives, review yesterday's lesson and praise learners."
I see VSO as the gold standard of volunteering, so I only wanted to work with them.

Wendy Fox
In Nepal, Helen Horton, 66, is about to enter the field as a teacher trainer on the Sisters for Sisters project, which pairs younger vulnerable girls with older female role models, to encourage them to stay in school.
Like Wendy, volunteering was something Helen had considered doing when she was younger, but it was only when she retired that she decided to take the plunge.
"I thought about volunteering with VSO when I first qualified, and it was the one thing I regretted never having done.
"I spent the first part of my career working with young people with learning difficulties, and then after 20 years I went into teacher training and spent 15 years doing that. When I retired at the end of 2014, I was ready for a change."
The challenge
As a district teaching adviser in Rwanda, retired head teacher Wendy is facing a whole new set of challenges.
"Schools here can easily have 2,000 children, with the teachers working double shifts to cater to them all.
"Teachers are poorly trained, poorly paid, and have no teaching aids to help them."
During field visits, Helen Horton has seen some of the challenges she will come up against when she is deployed to Lamjung, Nepal.
"Pupils can have a two hour walk each day to get to school, and some are children as young as five.
"These children have to walk up steep mountain paths, and often through highly forested areas.
"This has an impact on their education, with the pupils arriving at school tired, possibly hungry and with a full school day ahead of them."
A world of difference
"My first impression of a Rwandan classroom was how empty it was of resources and how full of children," says Wendy.
"Typically, a class will have 50 children, and there are no teaching assistants. The children are very quiet and impeccably behaved.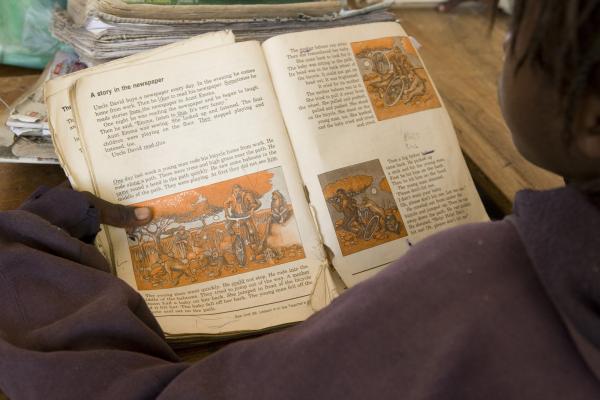 "Each child has a tatty notebook – for absolutely everything!
"The teaching they receive is largely through exposition and chanting facts – loudly and enthusiastically. Maths is all taught in the abstract and many children struggle."
For Helen, it's all about finding creative ways to overcome resourcing challenges.
"In the UK, we're used to working with fully equipped science labs," Helen said.
"I encourage teachers to find ways to use the natural resources around them to teach science concepts.
"For example, using stones on the beach as tools for counting, or taking a shoe box and turning it into a pinhole camera."
Giving back
Teachers like Helen and Wendy have the skills and experience that so many schools in developing countries are in dire need of.
"VSO is about using people and people's expertise. It's more sustainable to empower people rather than simply sending chunks of money.
"I chose to volunteer with VSO because I saw it as an opportunity to use my experience and knowledge to give something back," said Helen.
"I always said I wanted to do a stint of volunteering, so I took the chance when I retired," recalls Wendy Fox, 66, who is currently on a placement improving teaching standards across nearly 80 Rwandan primary schools.
Read more
Open the door of classrooms around the world and you'll find a surprising range of challenges – as well as some truly incredible teachers dedicated to changing children's lives.