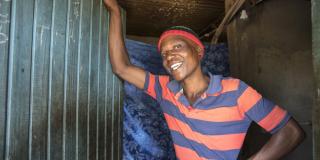 We've worked in Zimbabwe since 1982. We work to build healthy communities, by addressing gender-based violence and improving health in prisons.
On February 14th, 2023, our team experienced a terrible loss when three of our national volunteers were killed in a motor accident in Zimbabwe. We are all in shock at this news. The thoughts of everyone at VSO are with the families and friends of those who have died or been injured. It is also a particularly difficult time for the entire VSO team of staff and volunteers in Zimbabwe. VSO is supporting all of those directly and indirectly affected.
We confirm that all field activities in Zimbabwe are temporarily suspended from today Wednesday 15th February to February 28th, 2023.
During this period the project office in Harare will remain open to support those affected by the incident.
All queries should be directed to press.office@vsoint.org.
Healthy communities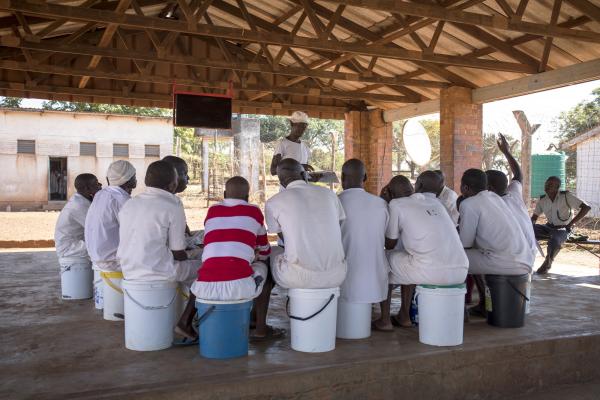 In collaboration with the Zimbabwe Prisons and Correctional Service, local government departments and partner NGOs, we work to support prisoners' wellbeing and access to health services, with a particular focus on responding to high rates of HIV infection and AIDS amongst prison populations. We train inmates as volunteer peer educators, who provide essential information, advice and psychosocial support to their fellow prisoners – encouraging them to get tested and manage their condition effectively.
Through vocational skills and livelihoods training, we prepare prisoners for their life after release, supporting them to earn a decent living and reintegrate successfully into the local community. We also empower prisoners to understand their rights to healthcare and hold authorities to account, through a community scorecard system that provides an invaluable feedback mechanism and a space to improve the relationship between inmates and authorities.
Improving prison health and wellbeing
Through our Gender Empowerment and Development Programme, we're working to improve the sexual and reproductive health (SRH) of vulnerable women and girls by increasing access to comprehensive health services, supporting opportunities for economic empowerment, and advocating for change at the policy level.
Alongside our partner Women in Law Southern Africa, our Speak it Loud! project is working to empower existing women's movements and build their capacity to address violence against women and girls in the Mashonaland Central, Mashonaland West and Manicaland provinces.
Contact us
We work with a number of partners including the UK's Foreign, Commonwealth & Development Office (FCDO), the Zimbabwe Prisons and Correctional Service, Women in Law Southern Africa, and local government entities.
If you are interested in supporting our work, or if you have another query, get in touch:
Address: 54 Golden Stairs Road Ashbrittle Emerald Hill, Harare, Zimbabwe.
Tel: +263 2423 35967 / 335712
---
Find out more about our work in: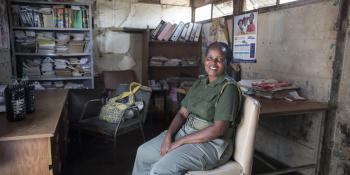 Improving the health and wellbeing of marginalised and neglected prison populations.