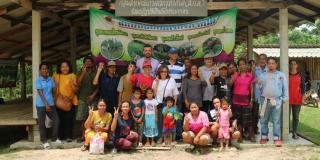 Our work in Thailand advocates for volunteerism at the community, national and policy level.
We're helping civil society organisations and volunteer centres mobilise volunteers through Volunteer Programme Management and Development training. This includes developing a curriculum for volunteer management systems, and delivering volunteer management training to almost 150 organisations.
We're also a member of the sub-national committee on volunteering, which includes representatives from ministries and civil society organisations to advocate for volunteering at a policy level. The government has recently endorsed this group as The National Volunteer Coordinating Centre.
We raise public awareness about the importance of Volunteering for Development and sustainable volunteering. In collaboration with local volunteering organisations, we have engaged more than 1,000 people in public events such as The National Conference on Volunteerism and The Good Society Expo.
Our Youth Voice programme works to strengthen the capacity of civil society organisations and youth groups so they can improve young people's ability to participate in governance and policy-making at local and national level. This supports the meaningful and effective participation of young people in governance, so reducing marginalisation and exclusion in Thailand and contributing to the Sustainable Development Goals.
Bangkok regional hub
Bangkok is our regional hub for programming across Asia. It supports programmes based in:
South East Asia
Cambodia
Myanmar
the Philippines
Thailand
Central, East and South Asia
Bangladesh
India
Nepal
Pakistan