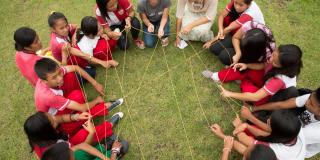 We've worked in the Philippines since 1964. For over 55 years, we've partnered with local organisations and government agencies to support communities across the country.
We particularly focus on the island of Mindanao, which experiences higher-than-country average infant mortality rates and contains eight out of the country's ten poorest provinces – some with poverty levels as high as 70%. This inequality feeds conflict both within communities and between armed groups and the government.
We work with local partners, and with both international and Filipino volunteers, to rebuild social cohesion by addressing poverty and other drivers of conflict. We support youth volunteering initiatives, especially in fragile areas of Mindanao, in order to empower young people to improve their leadership skills, develop a sense of agency, and play an integral role in addressing social issues within their communities.
Contact us
Address: 2/f Sazon Building Mc Arthur Highway, Matina, Davao City, 8000 Philippines
Tel: +63 960-501-6438
Email: vso.philippines@vsoint.org
VSO in the Philippines is aware of individuals falsely claiming to represent VSO and using VSO's trademark to solicit money from organizations for fake projects and other fictitious activities.
Please do not make any payments to individuals claiming to be a VSO employee or volunteer without checking with VSO if the person is a bona fide representative.
VSO will take action against individuals who falsely represent themselves as a member of staff or volunteer.
VSO takes false representation and fraud very seriously. If you are approached by anyone claiming to represent VSO, please contact Lowell Traiso immediately on 09605016438 or email Lowell.Traiso@vsoint.org