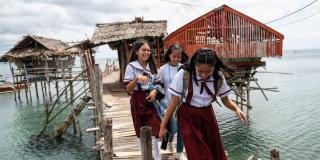 We've been working in the Philippines since 1964. For over 55 years, we've partnered with local organisations and government agencies to design and deliver projects to support the needs of communities across the country.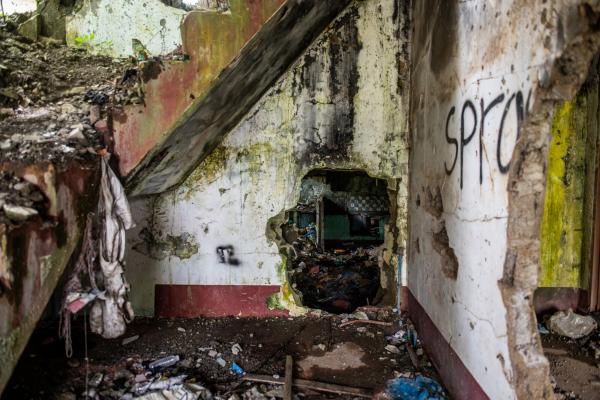 Although the Philippines has made significant strides in reducing poverty, inequality and deprivation persists. The country is also extremely vulnerable to the effects of climate change and natural disasters.
Most of our work is concentrated on the country's southernmost major island, Mindanao. Mindanao has long had the highest poverty rates in the Philippines, with levels reaching 40% in some provinces.
Mindanao has also been anchored in decades of religious conflict and strife, which have hampered growth and development in the region.
Our work in the Philippines focuses on climate change adaptation and resilient livelihoods, transforming fragilities, education and youth engagement work.
Livelihood and climate resilience
With an average of 20 typhoons a year, rising sea levels and ocean acidification, the Philippines is often cited as one of the countries most at risk from the climate crisis.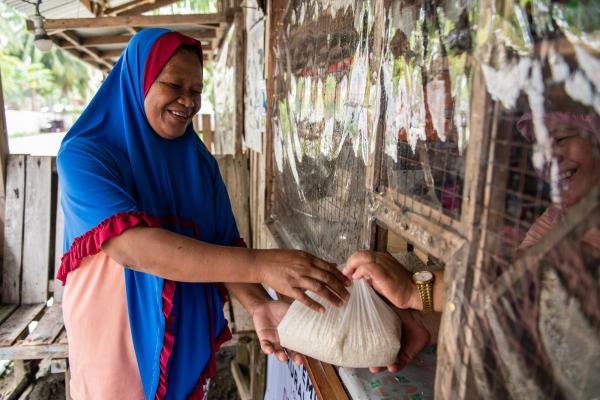 Being an island nation, the Philippines relies heavily on fish for food. In fact, it's the 8th biggest fishing nation in the world. However, extreme weather is threatening marine life and coral reefs, an important food source for fish.
In partnership with LAFCCOD, VSO has set up a marine protected area in Lanao Del Norte, Mindanao. This helps safeguard coral reefs and sea life from destructive maritime activities like dynamite fishing.
VSO is also helping communities that rely heavily on fishing diversify their income streams through rice retailing and biofertilizer initiatives. Women come together to concoct organic biofertilizer made from molasses, fish waste, water and shredded plant waste. This is then sold for a profit.
VSO is supporting ecosystems by transforming two areas into ecotourism sanctuaries. Through a thicket of mangrove trees, tourists pay to saunter along a boardwalk and soak in bountiful nature and wildlife.
The local community benefits from the income this generates. Mangrove planting activities take place at the ecosanctuaries, helping to protect the communities against typhoons.
Watch: The Humble Mangrove Tree
Did you know that mangroves, a mangled tropical wetland tree, are underrated climate change superheroes? These remarkable trees protect coasts, ecosystems, homes and livelihoods, yet they are currently under threat. Check out our video which tells the impressive story of how VSO volunteers in the Philippines are harnessing the hidden power of mangroves, nature and community to create real sustainable change for families.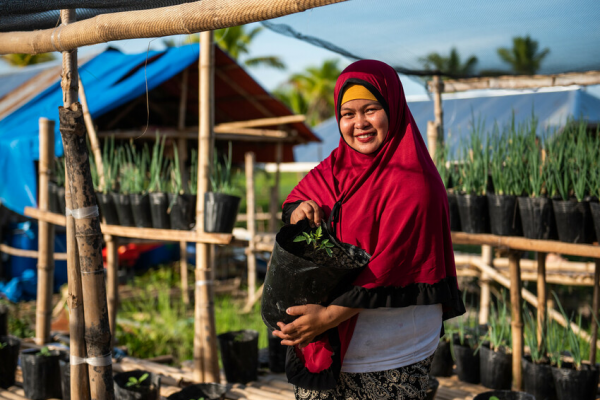 Transforming fragilities
Mindanao has long had a history of conflict, with communists, Muslim separatists and clan militias all operating in the area. To this day, the region remains a hotbed for militant activities and religious insurgencies.  
In 2017, the Marawi siege between ISIS-affiliated organizations and the Philippine military forcibly displaced 98 percent of the total population of the city. The Marawi siege was the longest battle in modern-day Filipino warfare, and many of its former residents are still marooned outside the city.
In the aftermath of the siege, VSO provided dressmaking training to women who had escaped ISIS. This has given them a source of income as their businesses were destroyed in the war.
VSO's work also contributes to the normalisation track of the Bangsamoro peace process. It supports former Moro Islamic Liberation Front (MILF) combatants and their families to access livelihood opportunities, build peaceful and resilient communities and respond to the challenges of environmental degradation. Despite the MILF forging a peace deal with the government in 2014, the peace remains fragile.
VSO is supporting marginalised women through a BARMM study. This investigates the situation of women in three of six major MILF camps in Mindanao, to bring forward gender, peace, and security issues towards sustainable peace.
Inclusive education
Opportunity 2.0
Approximately 9% of young Filipinos aged 6 to 24 are out of education. Opportunity 2.0 is a 5 year program that supports systems in the Philippines to provide second-chance education to 180,000 out-of-school youth (OSY).
It also aims to train more than 1,600 teachers and trainers, and engage 2,200 employers in 15 key cities, including Davao City, Cebu and Manila. Opportunity 2.0 focuses on making a difference in the lives of Filipino out-of-school youth by ensuring they have access to learning and earning opportunities.
The Opportunity 2.0 project also contributes to global leadership through the Volunteering Programme Development and Management (VPDM) course. This supports organisations in government and the private sector to develop responsible and impactful volunteer programs and to advocate for and recognise the value of volunteerism as a strategy for development.
Contact us
We work with a number of partners including the UK's Foreign, Commonwealth & Development Office (FCDO), USAID and Lanao Aquatic and Marine Fisheries Center for Community Development (LAFCCOD). If you are interested in supporting our work, or if you have another query, get in touch:
Address: 2/f Sazon Building Mc Arthur Highway, Matina, Davao City, 8000 Philippines
Tel: +63 960-501-6438
Email: vso.philippines@vsoint.org
Stories from the Philippines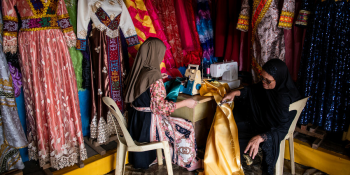 Every minute, 20 people are forced to leave everything behind to escape conflict or persecution. But they aren't just crossing international borders to seek refuge in other countries. For some people, that isn't an option.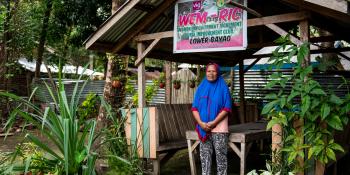 As our planet warms and our weather gets more extreme, raising awareness and galvanising climate action is more vital than ever. Learn how you're helping the communities bearing the brunt of climate change, adapt and survive.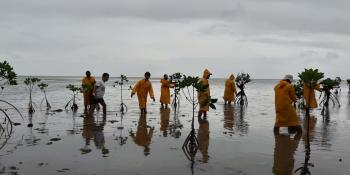 Climate change, typhoons and poor fishing practices were threatening the way of life of a coastal community in the Philippines. Then volunteers came together to plant mangroves to turn the tide.