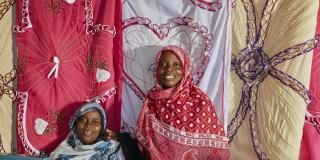 With one of the world's youngest populations – almost half of the country's 55 million citizens are aged under 25 – Tanzania's economic growth is being driven by young people.
Creating jobs is critical to ensuring countries like Tanzania are lifted out of poverty. But riding this wave requires more than just individuals with business aspirations for themselves. It demands those who want to create employment for more young people like them - and we spoke to entrepreneurs who've done just that.
They include Felister, a single mother of three who's grown her tailoring business in Mwanza from scratch. This year she's taken on her 33rd employee, another single mother – and signed her biggest ever contract, for £22,500. Meanwhile, in Zanzibar, college graduates Namboto and Tatu have grown their sewing shop into a profitable training centre for dozens of young people to acquire skills as they earn.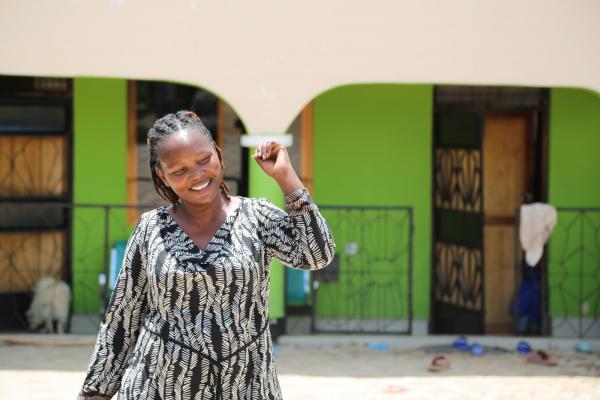 "It started with my £17 sewing machine"
When Felister Matoke Nyange, now 41, fell pregnant as a teenager, she didn't realise that becoming homeless would change her fortunes forever. From starting with a £17 sewing machine in the mid-1990s, she's used the support of VSO volunteers in the northern city of Mwanza on the Tanzania Local Enterprise Development (T-LED) programme to develop her tailoring business.
"My life began when I was 16," said Felister. "I'd fallen pregnant while still in secondary school, and when my family found out, they chased me out of my childhood home. The father made life hard for me. I had to leave, but I didn't have the money, so I made it my goal to earn enough to escape."
With a loan of 50,000 TSH (£17 GBP), Felister bought her first sewing machine.
"Becoming a tailor was my route out of desperation, and over the next couple of years, I began renting a small workshop in the town. I invested my profits in another machine and employing my first member of staff to work for me – all while working and raising my children on my own."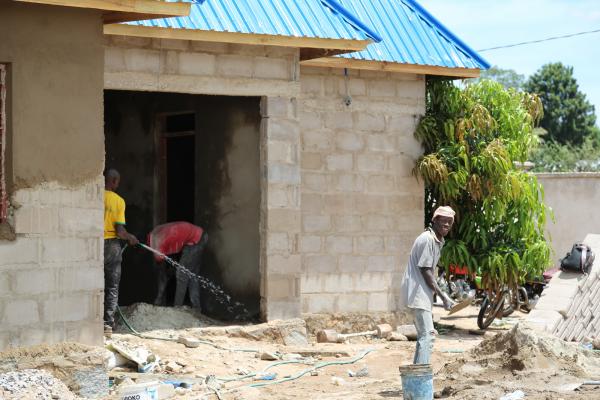 "I needed to be trusted with access to capital"
Like many of the entrepreneurs we work with through T-LED, a lack of access to equipment and connections stopped Felister from having the tools to advance her business. But with access to capital came the opportunity to grow.
"I was trusted by one of VSO's partners with a loan for 4 million TSH (£1,300 GBP), which I used to purchase another two machines to begin expanding my business. Before, the banks wouldn't risk financing my business. But now, they would grant my applications. I was so happy.
"People had started recognising the potential in me for the first time. Over the coming years, I kept taking loans. The day I had an application for 15 million TSH (£5,000 GBP) accepted, I went and bought the land I currently live and work on. It was a huge moment for me to own my own place."
VSO's international and Tanzanian volunteers showed Felister how to better manage her finances and increase her profits and prepared her to exhibit at the 2018 East Africa Trade Fair.
"That day I brought in over 68 million TSH (£22,500 GBP) in orders from an international school. I was over the moon, but the school said they wouldn't give me an advance. I desperately wanted the order, and although it was risky, I said it wasn't a problem – I'd get a loan from the bank. When they heard that, they smiled and offered me the money. They simply wanted to see my passion."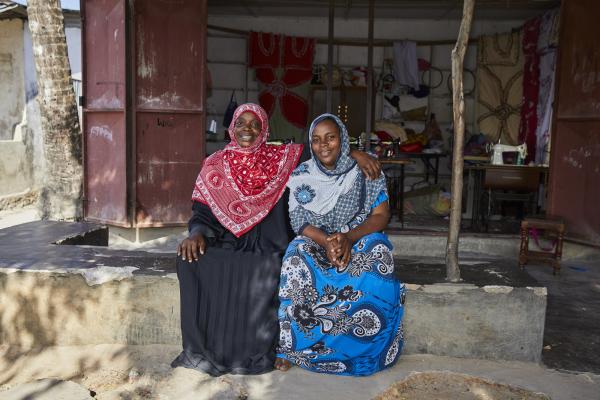 "Work changed everything for me - it made me feel good"
Felister's story is not unlike that of Namboto Al-Haji, 29, and Tatu Mohammed Makame, 29. The pair, who grew up on the beautiful tourist island of Zanzibar, off the coast of Tanzania, graduated in 2014 from a tailoring course at the VSO-supported vocational college in Mkokotoni.
In Zanzibar, 31.3% of 15 to 35-year-olds are jobless. Like Felister, Namboto and Tatu found themselves trapped in a personal situation they wanted to get out of – and recognised that by gaining skills and starting their own business, they could find their way out.
"I didn't have dreams of being a tailor when I was a child. But the unemployment situation in Zanzibar made me idle," said Namboto. "I ended up questioning what I could do to get out of that situation. When you're at home, alone, doing nothing, you feel pity for yourself. Work changed everything for me. Interacting with other people, training people – it makes me feel good."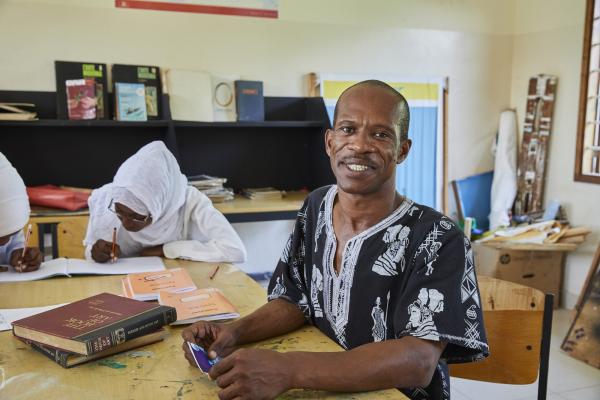 Traditional teaching is becoming irrelevant to the island's changing economies
Cultural conservatism within Zanzibar's almost completely Islamic population often serves as a barrier between women like Namboto and Tatu and their financial independence. It's a problem that's amplified by the widening gap between traditional skills taught in mainstream schools that are becoming increasingly irrelevant to the island's fastest-growing economy: tourism.
"There were other places – people, I guess, on the street who could have taught us," Tatu added. "In fact – we were learning from these street tailors before we even enrolled at college. But we wanted to formalise our skills, to get accreditation and learn things we couldn't learn outside specialist vocational education with a specific focus on finding employment."
While at college, Namboto and Tatu's tutors passed on skills taught to them by VSO professional volunteers on the Vijana Na Ajira (VNA) project, like record keeping and book-keeping. Basic business practices are often not learnt as part of the curriculum at school, but make a huge difference for those starting their own company.
"We had the training while at college – but it was hard to really engage until you're running your business," Namboto explained. "Luckily for us, we worked with VSO ICS youth volunteers after we'd started the collective – and they refreshed us in these skills. This time we really paid attention!"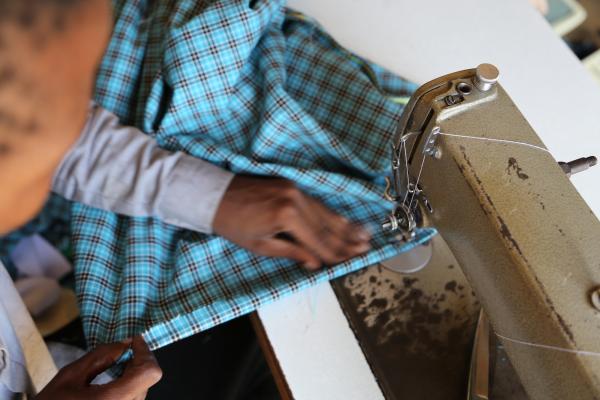 "We're helping our students move on in life"
After graduating, the pair put their skills to use, setting up a sewing shop that's since grown into a tailoring school for students at the college to get experience working on real projects for clients. Five years later, they've trained dozens of young people in the skills needed to find employment.
Namboto and Tatu offer students a choice of one of two courses. The first: a six-month dressmaking course, at a cost of 7,000 TSH (£2.30 GBP) per month. The second, a more complex three-month embroidery workshop, costing 30,000 TSH (£9 GBP) per month. They currently have 28 enrolled.
"They spend their time learning how to make dresses, how to tailor, to do alterations – or for those looking to advance their skills, on the more delicate parts of tailoring, such as embroidery, decoration and making bedsheets," explained Tatu.
"For many of our students, their life at home is hard. By studying with us, it gets them out of the house, allows them to support each other socially and professionally and teaches them a skill.
"We're helping them move on in life."
"I met a young woman who reminded me of myself"
It's a socially-inspired goal that Felister also feels compelled to follow.
"One day a young woman with a small child came to me. She'd fallen pregnant, had been chased away from home at 14 and was looking for work. She reminded me of myself, and I made the only choice I could – to invite her to live with me and train her in tailoring."
Since then, Felister has given 32 more people tailoring skills and permanent employment at her factory. One ex-employee, Veronica, is disabled. She learnt how to tailor from Felister, and was even helped to start her own business that T-LED now supports.
"By 50 I want to own a big factory. VSO volunteers have been connecting me with a consultant who's helping me to access finance – this time a loan for 100 million TSH (£33,350 GBP). It's a huge risk but if I want to expand in materials, equipment and premises, that's what I need to do.
"None of this would ever have been possible without VSO. It's meant my business can grow and I can be there for more young marginalised women in a way that I never had for myself."
---
Find out more about our work in: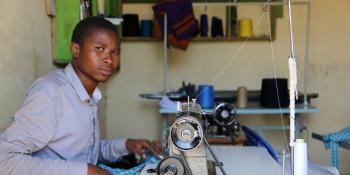 The GAC-funded Tanzania Local Enterprise Development (T-LED) project is supporting small- and medium-sized enterprises (SMEs) to thrive, and increasing employment opportunities within them.