Impact beyond volunteering
Our Impact beyond volunteering study explores how the experience of volunteering creates lasting changes in VSO volunteers themselves, impacting their future behaviour, career choices and influence on others.
Key findings
More than half of VSO volunteers become more socially active following placements.
The research shows that people who have volunteered with VSO tend to behave and act differently as a result of their experience.
The level to which this is true varies according to a number of factors, including the category of volunteer, the length of their service, their age, their motivations for volunteering and the nature of their individual placement.
Widespread lasting impacts include:
increased levels of social action
a broad range of new skills and knowledge
changes in career path or direction
enhanced influence over others
changes to practices.
Download Impact beyond volunteering: Full report [PDF]
Download Impact beyond volunteering: Summary [PDF]
What happens to VSO volunteers after their placement?
The study identifies three main kinds of impacts: social action and influence, career and goals, and changed practices.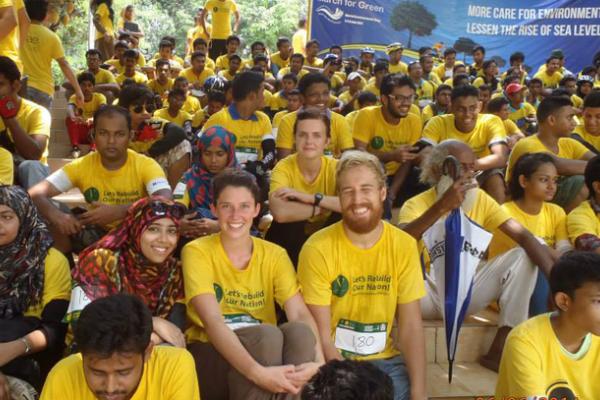 Change in social action and influence
More than three quarters of volunteers (77%) report changes in their social action after volunteering, with 55% of the total being more involved as a result. More than eight out of ten attribute these changes to their experience as volunteers.
An increase in volunteers' cultural and self-awareness inspires many to influence others upon their return, including by challenging negative stereotypes and behaviour.
These influencing actions take place at a range of levels:
Personal – volunteers influence the people in their immediate circle, from stimulating an interest in volunteering and international development among friends, family and colleagues, to a change in their own consumer patterns, to influencing the way in which the volunteer raises their own children.
Group – volunteers engage in advocacy, awareness-raising and campaigning through schools, colleges and community groups, as well as through traditional and social media.
Organisation - volunteers influence organisations from the inside for example, corporate volunteers attempting to influence their company upon their return, to those in the development sector using their volunteer experience to inform their way of working.
Government – volunteers seeking to influence government from within and outside government institutions: from individual actions such as writing to or lobbying MPs, to contributing to policy and advocacy efforts through NGOs, or going on to directly advise governments.
Global - volunteers become involved influencing through global networks that feed into global debates on inequality and social action.
Change in career path or goals
Volunteering commonly leads to an increase in professional experience, as well as heightened personal drive or motivation. This leads to changes in volunteers' paths after volunteering, including some common themes:
Career change: Pivoting towards a career in humanitarian work or international development, or towards the sector worked on in placement,; from a different career background.
Re-affirming an existing commitment to a career in international development.
Taking on greater responsibility or being promoted upon return to pre-placement role (especially corporate volunteers).
Being exposed to potential employer organisations while volunteering.
Gaining increased clarity on a future career or life path.
Change in practices
New ways of working
Volunteers commonly cite their experience as the reason for adopting a calmer and more considered approach to their life after volunteering. They have a greater focus on building empathy and understanding, both at work and in life beyond.
At work, volunteers are increasingly open to sharing and collaboration, and are committed to reach the most marginalised and excluded people. Those volunteers who go on to work in the development sector commonly say their approach to programme design, volunteer management, and partnerships has evolved as a result of their experiences on placement.
Increased personal strengths
Positive changes to personal attributes are commonly reported, including adaptability (86%), resilience (82%) and confidence (84%).
Ongoing connection to the cause
Over one third of volunteers continue to support individuals or groups in their placement location. One in five go on to do further work in their country of placement.
Why does volunteering change people?
While volunteers in the study drew explicit links between their experience as volunteers and later changes to their careers, social action and practices, it is important to recognise that they represent an extraordinary group of people. Volunteering may bring forth or catalyse changes for which seeds were already sown. It is especially notable that:
a majority said that they were motivated to volunteer primarily by the desire to make a difference (54%);
only 7% of volunteers were not at all involved in any form of action before their placements;
a majority of volunteers said that they gained new knowledge, skills and value on placement;
an overwhelming majority of volunteers found their placements challenging, with four out of ten finding it 'very' challenging. In the majority of cases these challenges did not lead to negative outcomes but rather enhanced resilience, adaptability and learning.
About the research
The study was conducted using a mixed methods approach, based on participants drawn from a network of approximately 15,000 returned VSO volunteers on the alumni database.
Data was collected through:
the contributions of around 600 volunteers on an on interactive web-based discussion platform,
63 in-depth semi-structured interviews,
2,735 responses to an online survey.
This data set included a broad range of different categories of volunteers from regions including Africa, Asia and Europe. It included experienced professionals, young people, private sector employee volunteers and parliamentarian volunteers.
More information
For more information, contact Miriam Karim, Knowledge and Learning Coordinator: miriam.karim@vsoint.org.
Download Impact beyond volunteering: Full report [PDF]
Download Impact beyond volunteering: Summary [PDF]